A Journey Through Central India
by Shikhar Parjan
2011-02-02
---
During the planning stages leading up, and right through my India trip of Feb-Mar 11', friends and acquaintances alike, from the fellow traveler in a Sleeper coach, to my best buddies, would ask me as to why I would want to head out to places and points located almost in the middle of nowhere, far away from home and spend my precious time out in the boondocks. After all, they argued, India had changed so much (and it has, indeed changed a lot, mostly for the good) - cow-towns from the 70s like Gurgaon have grown into gleaming mega-polis and there is much that is 'just like abroad' right here in India - with the jazz, blues and Sushi bars, themed pubs - so why would I be not wanting to 'check them out'? And by all means, I am all for the fun and leisure activities around them that many enjoy - it's just not something I think of spending my vacation time.
Well, briefly put, that is all 'fun and jazz' but for me, the real appeal lies in places which pass by as blurs on the journey to more important places, locations where there is less chance of being run over by hordes of madly clicking locals and foreigners alike, aching to get that perfect shot of the Taj Mahal, preferably in the then-in-vogue 'Dabangg' movie pose of within the grip of their thumb and index fingers; locations where there is 'less' (though I can't say none) chance of finding 'paan masala /gutka' wrappers, and more of finding some peaceful contemplation opportunities….. and besides, if I was a Mall rat, I would have no need to drive beyond 15 minutes from my home to find that experience, and never feel the need to travel….. So there it is - a perfectly suitable 'imperfect' answer.
Back to the trip …..
After an exhilarating Day 2 (Feb 02) spent in the desolation of Dara Pass (see report here , dusk found me boarding the 12956 JP-BCT (Jaipur-Bombay Central) Superfast from Ramganj Mandi, bound for a quick trip to Ratlam, a distance of 194 km, with a 1830 h departure and arrival at Ratlam at 2140. As usual, there were a couple of squatters on my side lower berth, goofing off, who I motioned to get off my seat. Instead, they simply 'scooched over', indicating me to 'adjust'. One of them asked me skeptically if the seat was indeed mine ('Aapki hai kya..?) without moving a muscle…Not in a mood for any conversation, after the long, hot day, I turned and simply unharnessed (actually just dumped) my 25 kg backpack right on top of the first guy, and planted my hiking boot on the squatter's foot for good effect. Yelps of pain rang out - sad but necessary, as I don't get why people insist on not vacating their seats when they know it's not theirs. That quickly got them away, scowling and muttering. I quickly unwound my gear, spread my sleeping bag, and set the alarm for 2 hours later, and soon was asleep.
Ratlam is a large Railroad station on the Western Railway, situated in the 'shoulder' region of Western Madhya Pradesh state, abutting the western state of Gujarat. It has been an important trade and road crossroads- as it has major highways connecting cities in MP, Rajasthan and Gujarat states, From a Railway enthusiast standpoint, Ratlam has, right from the steam era maintained a strong influence on the Mumbai-Delhi western line. Locomotives, and crews have changed here, and its locomotive fleet bearing 'red-white-blue' livery with a flying wings insignia makes it pretty distinctive to spot amidst the multitude of indifferently attired locos. When the Rajdhani Express was introduced between Mumbai
and Delhi, twin Ratlam Diesels were, for a long time, the power in charge till the route was electrified and brought under electric traction.
Ratlam also is one of the few stations, such as Jabalpur, which still has a gauge other than the Broad gauge (BG) prevalent across over 90% of Indian Railways. It is the terminus of the Meter gauge (MG) network that heads of in a South Eastern direction to reach to Akola, Maharashtra, connecting via Indore, MHOW and Khandwa stations. Once extensive across India, reaching out and connecting, like a parallel rail universe, towns and cities like Trichy, Jaipur and Varanasi, the MG gauge is rapidly dying out, wherein these lines are being converted to BG under a project called 'Project Uni-Gauge' or shut down completely.
It was on one of these lines, the Ratlam-Akola line that I was planning to head out the next morning. This line is akin to the hypotenuse of a right triangle, which is formed by the Western Railways Mumbai- Delhi line I had just arrived on, with the East West Calcutta-Mumbai line's Bhusawal-Akola line forming the base. To keep things interesting, the track begins in the flat plains at Ratlam, then heads off to the rapidly growing Industrial/commercial city of Indore, then to the British era garrison cantonment town of MHOW (an acronym for the non-Indian sounding 'Military Headquarters of War') as it was at the right geographical location to safeguard from the then-feared Japanese invasion from Burma. From there, the track heads to the low hills and forested valleys of the Vindhya- Satpura ranges, and enters the Choral Valley (a tributary of River Narmada), and then to the junction town of Khandwa, where the Central Railways (formerly Great Indian Peninsular Railway or GIPR) Bhopal-Khandwa-line meets it on its way to Mumbai. From there, vistas of forested and semi-arid valleys accompany us as we cross the upper reaches of the Deccan plateau landmass, till the journey's end on the decidedly Maharashtrian town of Akola.
As Ratlam approached and I woke up refreshed, I got off the JU-BCT Express, which pulled in to Ratlam on time, and had some piping hot chai, and hot aloo puri sabzee from a vending cart that was doing some good business. The day had been a long tiring one, and I wanted to have a nice shower.
It seemed that the size of the cups serving tea on Indian trains has progressively gone down, as the price seems to be maintained at around Rs 5/-, resulting in smaller serving sizes. I for one, need copious amounts of the hot beverage, usually resulting in chai-wallahs making an automatic stop at my seat, and pouring their concoctions, usually drunk from a large mug, as it annoys me no end to get these thimble-sized cups and their meager contents. After getting 4-5 cups together in my mug, I was suitably refreshed to find a place to stretch out.
This being around 10 PM is a pretty busy time for Ratlam, as trains headed for morning arrivals into Delhi and Mumbai pass through it from 9 PM ~ 2 AM. Every few minutes would reveal a lone headlight snaking up into the station, as the PA system kept up a barrage on never-ending announcements.
I settled down on a bench close to the starter signal on Platform 1, planning my next few hours. My morning train to Akola was not headed out till 6 AM, so I had the entire night to rest. As trains would pull in, the crews from the locos would empty out, and they would impatiently urge the platform 'box boys' to ensure their travel boxes reached the crew retiring rooms on time. The box boys, in turn, would
kick around the boxes of those crews once they had walked away, in a show of defiance.
Since I had tickets for onward journey, I could find a 'retiring room' which is accommodation in Railway- maintained rooms at the station itself. In a surprisingly efficient transaction, I got a nice clean room in the main station building up on the 2nd floor, all for 300 Rs. More than the cost, it was important to me that I was close to the station for the early morning trip. With the keys to the retiring room, I walked over towards where the MG siding was, only to see passengers disembarking from that day's Akola- Ratlam Service. The empty rake would then be taken to the yard, where it would be, hopefully cleaned up and then lined up on the platform for the morning departure. Returning to the retiring rooms, I rolled out my sleeping bag atop the bed, and turned on the hot water geyser for a nice bath, and then went to sleep close to midnight. Finding a working hot water geyser in a Railways accommodation was alone worth what I paid for the room to wash away the fine dust from Dara/Jhalawar region I had come from that day.
I woke up around 5 AM, and half an hour later was ready and had turned in the room keys at the booking counter, and walked off towards the MG platform. It was early Feb, and no sign of the sun breaking through anytime soon. The broad gauge platform had mercifully turned quiet as most of the trains had crossed but the Meter Gauge (MG) platform was a hub of activity, with the Akola bound 52975 Ratlam-Akola Fast Passenger train lined up ready and a few dozen decidedly local crowd waiting with the assured boredom of someone who has been up and down a few dozen times on this service.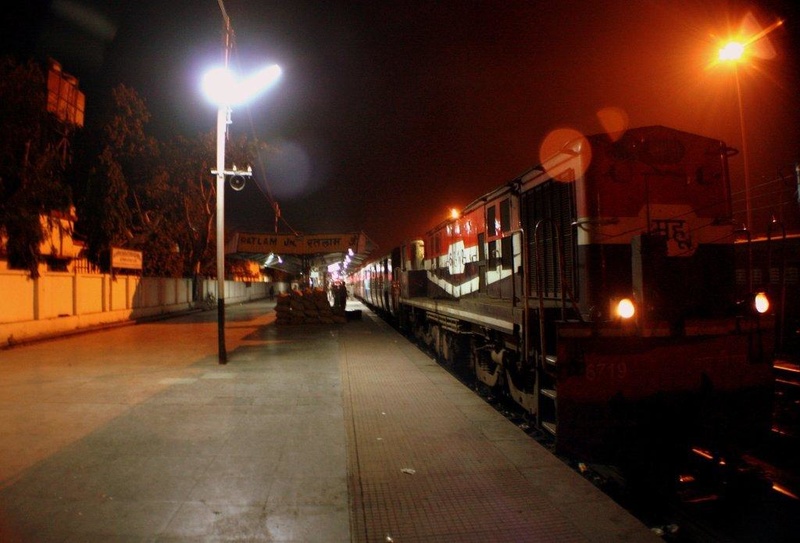 Hardly anyone was there in the reserved compartment, and not surprisingly so, as most travelers are day travelers or the mainstream 'janata' who would often be mixed with the non-paying types hanging on in their coaches ready to decamp on the sight of vigilance staff.
Out of the glare of the silver and gold halogen mast lights, in a golden light, with the distinctive red- white-blue livery of the Ratlam shed, and a throaty growl of a modified 60s Volkswagen Beetle (the Nazi-era model, not the cute new avatar), was our power of the day, MHOW based YDM4 with the road number #6719. I was glad to take catch a few snaps in the darkness as soon the train would cover its journey mostly in daylight, or so I thought. The loco crew were drinking piping hot cardamom flavored chai from a flask, and its aroma could be smelt over the diesel fumes - I would have killed for some of that chai at that time in the morning..
I returned back to my coach, about (about 4-5 coaches down), as the ticket examiner was making non- reserved passengers bail out in a hurry. As Meter gauge has diminished in its reach, its place has been quickly taken by the private transport lobby who offer quick point-to-point service but for many of India's travelers, trains are the sole lifeline of scores of villages, so even non-profitable lines are allowed to operate with the 'social responsibility' factor.
Come 6 AM, and the locomotive gave off a couple of hoots and we were off, the Volkswagen sound had a noisy washing-machine like sound accompanying it as it quickly revved up, and clattered across the points out of Ratlam. Puny and cute as these locomotives are, they pack a few 1000 HPs and even with a
10-12 coach load (compared to the 24-coachers of many BG Expresses, they can and do move at a brisk pace.
Since daylight was not expected for another 30-45 min, I stretched out for a quick snooze. Around 7 AM or so, after a couple of brief halts, we had the sun streaming in through slatted windows and I found myself at the long-by-even-Indian-standards station of 'Fatehabad Chandravatiganj' which seemed an amalgamation of 2 villages, apparently none of them would let the other have the honor of the station being named after its rival, so they combined the names on the station board -or so I imagined.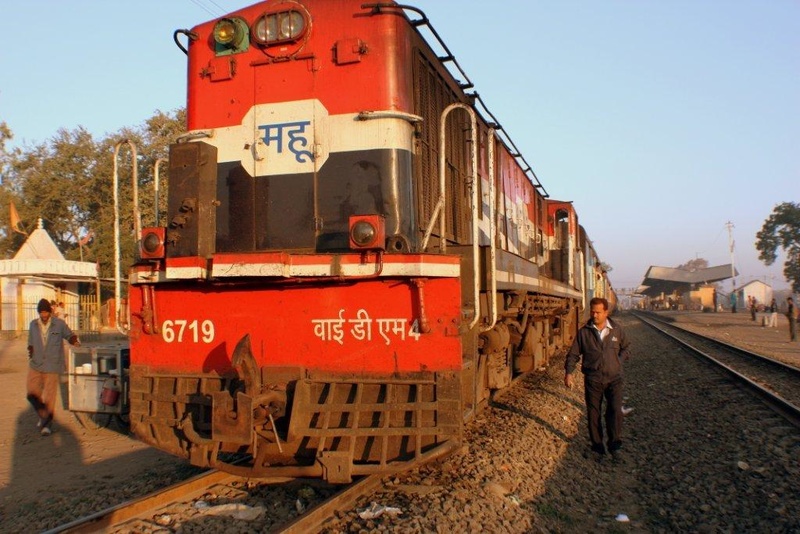 The morning was brisk and cool, and the semaphore guarding the approach of our station was satisfyingly down indicating a crossing with an oncoming train on this single line. That meant that we would be there till the time the oncoming train had come in, and that meant a halt of another 10 minutes. I walked to the head of the train, and took a sun-bathed snap of # 6719 reassuringly purring away in its Volkswagen mode.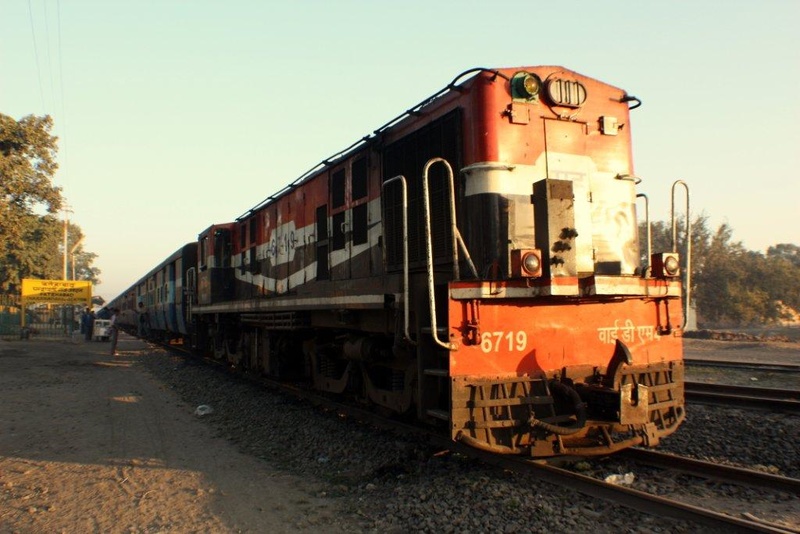 These YDM4 class locomotives have long outlived their intended useable lives, and are pretty much doing yeoman service by the dint and labor of their support crews and operators, who know them intimately and do what makes them tick. Pretty much on the run for 18-20 hours on most days, as most sheds have a dwindling number of these pack animals on their roster, occasionally losing them to derailment, fires or general unsalvageable breakdown. Their luckier brothers have been exported to Malaysia/Singapore or other Asian countries and are content to haul short haul runs of no longer than a few hours a day. They have a 1950s-looking, uncomplicated coupling mechanism, and I took a close snap of it.
Out of the light morning wisps of ground fog came a rumbling and honking YDM4 #6315 with a passenger service, also from MHOW, whose sheds are the sole custodians of these locos on this particular line. Not long after that, we were off on our way.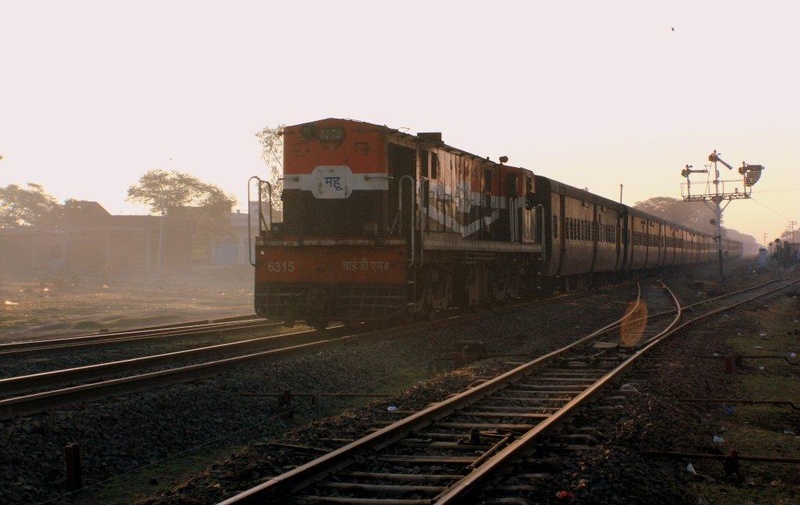 Another couple of stations later, we pulled into Palia station, where we had another crossing, with the token exchange (authority to proceed) given by the decidedly non-technical way of handing it to the moving train, albeit at slow speed, to the incoming driver on a cane-made hoop. The station person holds up the 'token' and the driver extends his arm out and grabs it… has worked for the past 100-plus years and likely to continue at least on this line, till it is 'modernized' and soul-less non-blinking MACL signals take care of the human interaction. MHOW YDM4 # 6353 brought this Ratlam bound service from MHOW/Indore.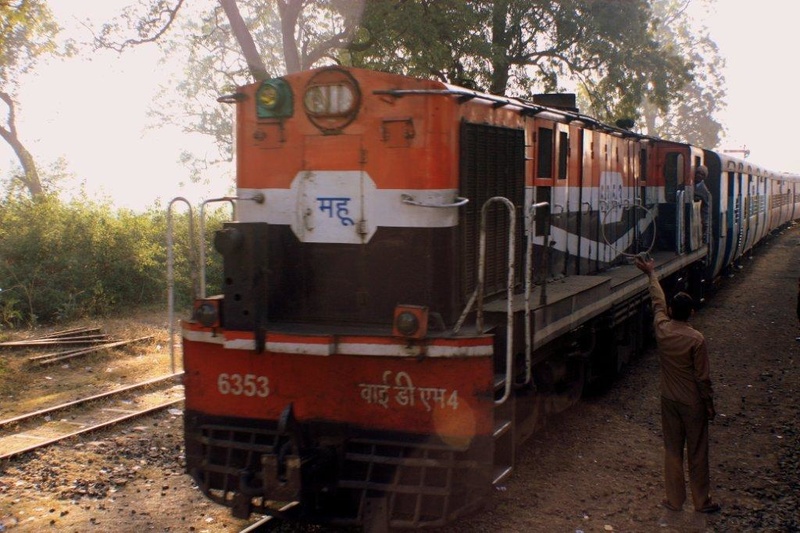 Another side note for those not familiar with the intricacies of railway operations….
A few years back, most of India's rolling stock converted to 'air braked system' from the older 'vacuum brakes' and along with that came a change in color from the older maroon, to present sky blue. Of course, as this line is on borrowed time, as it can be gauge converted to BG should the railways decide, it is still on the maroon air-brake system, but that has not stopped coach sheds from putting on blue livery on the coaches of the still vacuum braked stock - as a result many services on MG, including mine, sport the incongruous and technically impossible mix of maroon and blue coaches, though they remain decidedly vacuum braked…. Like many things in India, things are not what they seem to be at first glance.
With this crossing, we were pretty much on a straight shot to Indore. As we approached Indore, another of those incongruous (for those familiar with the railways' operations aspects) sights greeted us. Closer to Indore is the Pitampur Industrial belt which has been electrified due to the need to move heavy freight trains with iron-ore, limestone, coking coal etc to its industries. In most cases, a MG line is shut down for gauge conversion, and it usually doubled and at times electrified in one go. Rarely is the case where the 2 run parallel, seldom to the 2 gauges cross over and, with the exception of the MG electrified network around Chennai, they hardly ever come under wires. As we approached the outskirts of Indore, the single BG electrified line from Guna, came from our left, and lo and behold, we were on a scissor crossing, with the MG line crossing BG and the electrified section…For the 95% of general population, this is a 'so what?' story but for rail fans around the world, these are the operational curiosities that are interesting…akin to what those collecting Shelby 500s or Mustangs find in their beasts.
From that point, we ran parallel to the BG line all the way to Indore, where we pulled into a busy MG and BG platform. The overnight Indore -Delhi Express rake was parked on the BG lines, though this was still a smaller than expected station for a city of Indore's size. The electrification has surprisingly not reached Indore city, but I am sure that would change. Our train was offloading dozens of milk cans and assorted vegetables and fruit baskets brought by enterprising villagers for sale in Indore, and they were unhurriedly crossing the lines with their wares in a smooth operation, oblivious to the bustling train movements around them.
I was keen to visit MHOW for the first time, as heard a lot about this tiny British-era cantonment town. MHOW also is the home shed of all these YDM4 locomotives, and reaching there did not disappoint, with a pit line on PF1, and a wide yard with 6-7 lines in its stabling yard.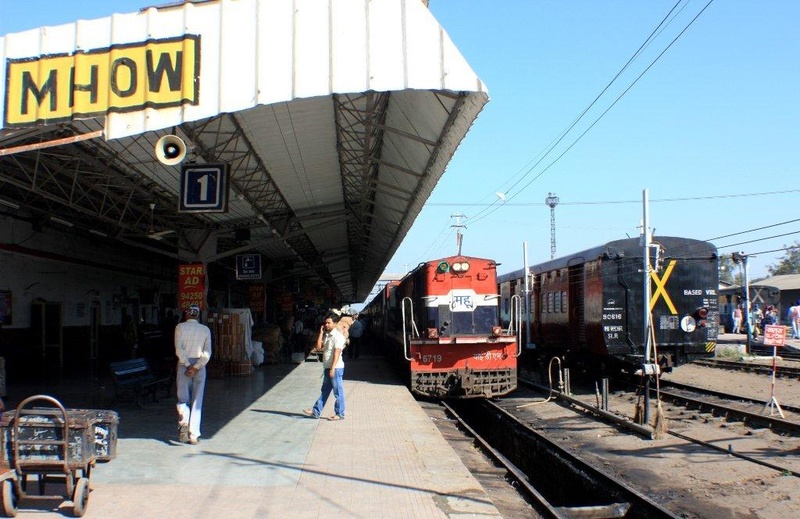 While I ruminated on whether I should try calling out some long-lost friends, I didn't realize that in a few weeks, I would be revisiting this quaint town, for a different purpose, hot off a trip to Kasara Ghat that would materialize the very next month. We left MHOW and clattered over the points as we headed to the more scenic section of the trip.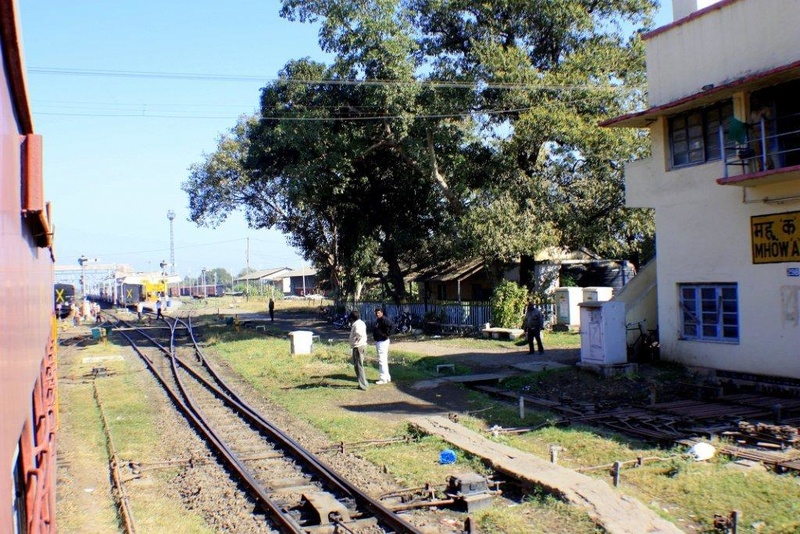 Out of MHOW, is a hill range that forms the Choral river Valley watershed, and feeds into the Narmada river as a right bank tributary. From a rail fan standpoint, I was traversing it in the less-favored direction, as doing this journey by daytime from the other end (Akola end), brings the famed 'Dhulghat spiral' (a spiral track orientation where giant spiral is made on a hill slope for a train to gain height to cross a gradient/ hill) and the use of a 'helper locomotive (called a banker') to push the train up the hill formation or a 'ghat' that we were to descend. However, I had to traverse on my current route, as I needed to reach Bhusawal, which is near Akola, where the annual convention of like-minded rail nuts - the Indian railways fan club (IRFCA) was taking place, so approaching this the other way was not an option as I had my heart set on taking another desirable journey, on the KK Express, for my return to Delhi after the convention.
At Patalpani, whose literal meaning is 'water that goes to the deep underground', so named after a spectacular waterfall, we came to a halt. This station marks the commencement of the brief, but rugged range that we would descend.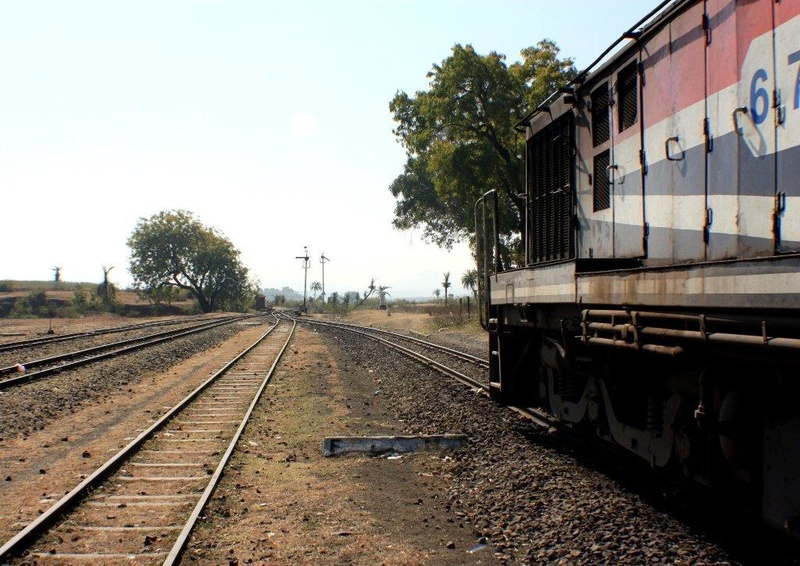 In the distance, the signal indicated another train was coming up the single track, which meant it would be pushed by a 'banker' locomotive. Further ahead, the dark silhouette of the ranges appeared before us, though I still could not see the waterfall. This being the end of winter season, there was hardly any greenery left on the grass, and it was safe to assume the waterfall would be more of a trickle.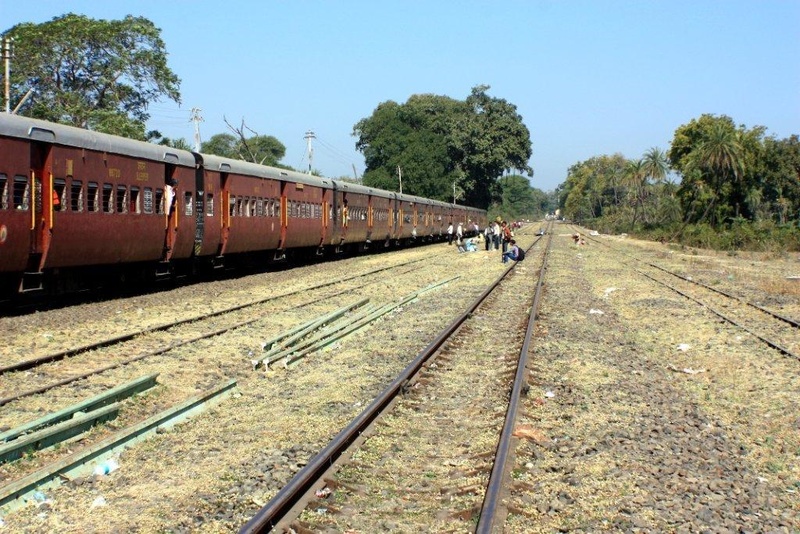 With some time to kill, most of the trains' daily travelers had hopped off the coach to take in the sun, and squatted on the vacant track lines of Patalpani. This looked like a station thankfully unchecked by the mad dash to modernize, and large stately 'peepul' and other tropical trees swayed by the small cluster of homes of local railway employees. An open-sided shed housed the simple levers controlling the points to let the trains on and off the single platform, and a single caboose sat idle on a less used track, seemingly awaiting its return to mainline traffic. Months later, another rail fan took the same pic, and apparently the same caboose still lies forlorn.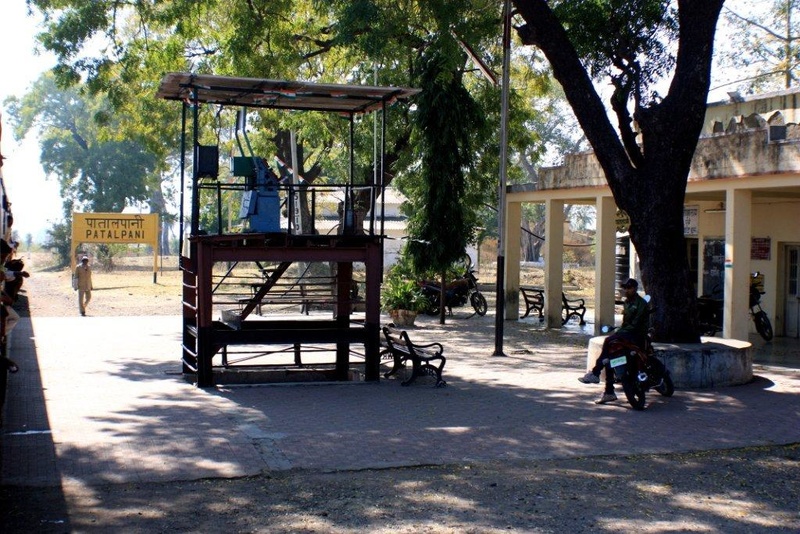 Up came the sound of a throaty gurgle as a panting YDM4 (# 6638) seemed to brake in visible relief, having survived the haul of the unforgiving ghat section with its charge. As it came to a halt, another leisurely token was exchanged with the ground staff. The points were immediately reset by the station staff, and we were given the 'proceed' signal to descend the ghats on the single line section.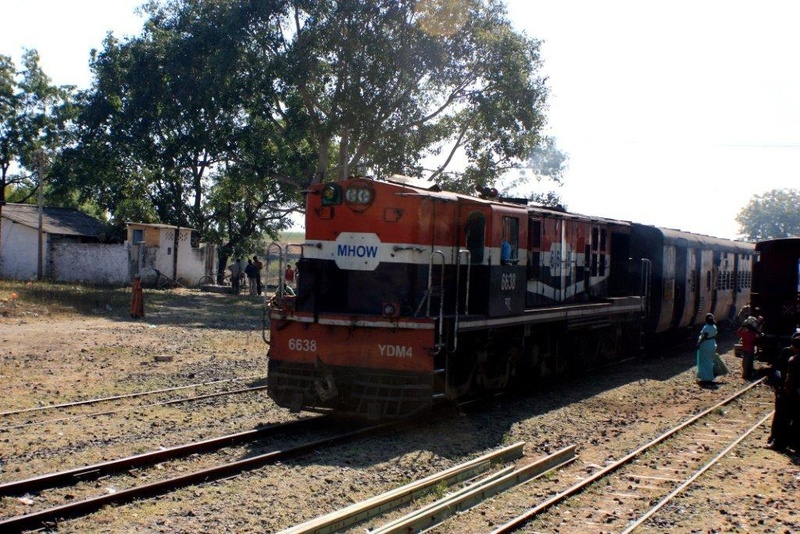 As we crossed the tail end of the newly arrived passenger, right behind the brake van, was the banker locomotive, YDM4 # 6726, which would be detached at this point, as banker locomotives are (mostly) needed on the ascend. I bet the guard who stood smart in a suit, would be having a throbbing headache as he was right in front of a furiously chugging locomotive.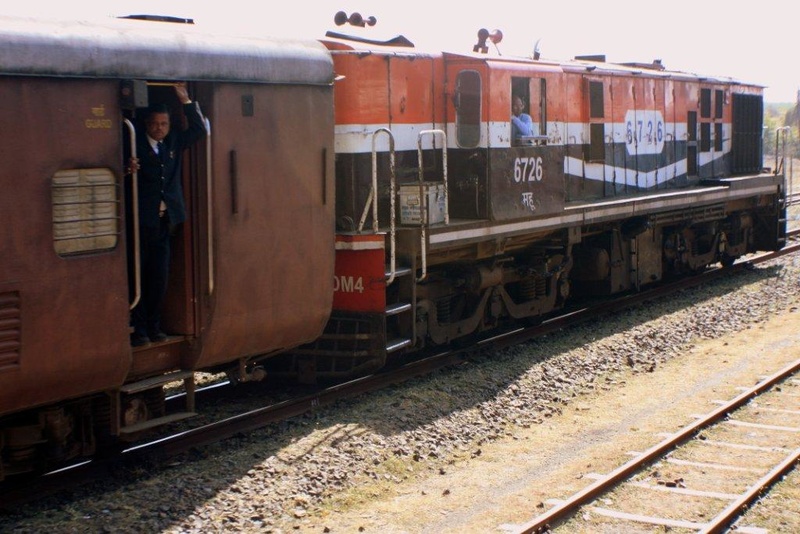 On mainline Broad gauge though, ascending bankers become - you guessed it - brakers on the descend to provide extra braking effort for 24-coach trains, as seen on Mumbai's Kasara ghat section. However, on the lightly loaded Meter gauge section here, there was no need beyond the single YDM4 to help in 'ascend only' situations.
We soon crossed the points, leaving the solitary caboose and the inbound service to have the throne at Patalpani, and got back on the mainline.
Almost as soon as we rounded a brief turn outside of the station, the track went through a series of steep rocky cuttings flanked by massive boulders. Most of the youth were practically hanging out of the doors - I had seen many images where people would be sitting on the rooftop, but apparently, the still cold weather and enforcement by police had put an end to the practice. Following their gaze, I saw about 100 yards away, the rock mass fall off to a spectacular deep chasm, possibly 75-100 meters into thin air. Through the center of it ran a slender stream, the Choral river creating an equally slender waterfall- Patalpani.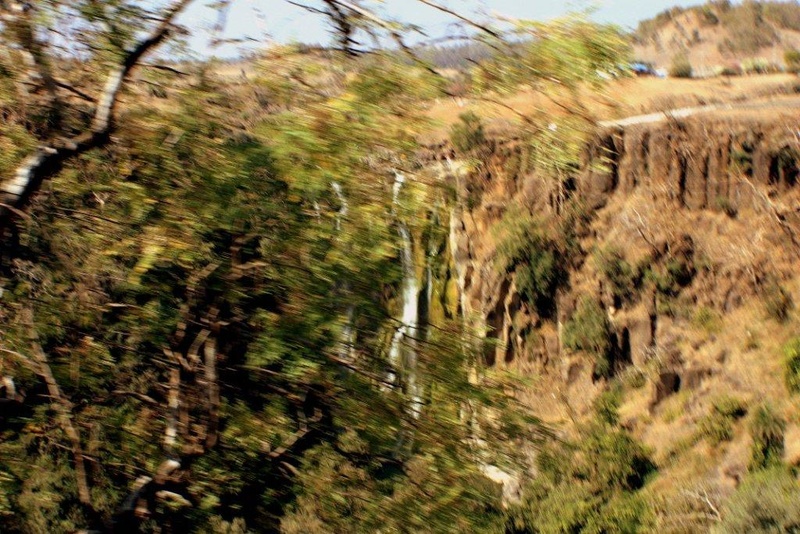 The deceptive power of the waterfall recently turned fatal in the monsoon season as a bunch of picnickers were swept away before horrified spectators, and it was all caught on camera. The waterfalls disappeared in a blur, and I could only imagine how they would look like in their primal, monsoon glory, justifying the name
Beyond the waterfalls, the valley began to open up, and we found ourselves crawling through a ridge, with the track skirting the left flank and green fields emerging below. The Choral river had again turned to a benign stream, and trickle on its journey to meet the Narmada, probably close to Omkareshwar.
I began chatting with the local passengers in the sparsely populated sleeper coach. Most of the train was occupied by unreserved passengers, and I was glad I booked this trip, as the 2nd Sleeper class was relatively unoccupied and I was left to my own devices. The next station 'Kalakund', meaning 'black pool of water' is so named as the Choral forms multiple pools of water, along its course, and one of it was probably deep and dark enough to be so named. I could see the water bed lined with multiple pools in the distance, serving the local flora and fauna. The valley began to open up and our position about 60- 70 m up on the hillside gave us a clear view of what was coming further ahead… the vista of tunnels and spurs beckoned.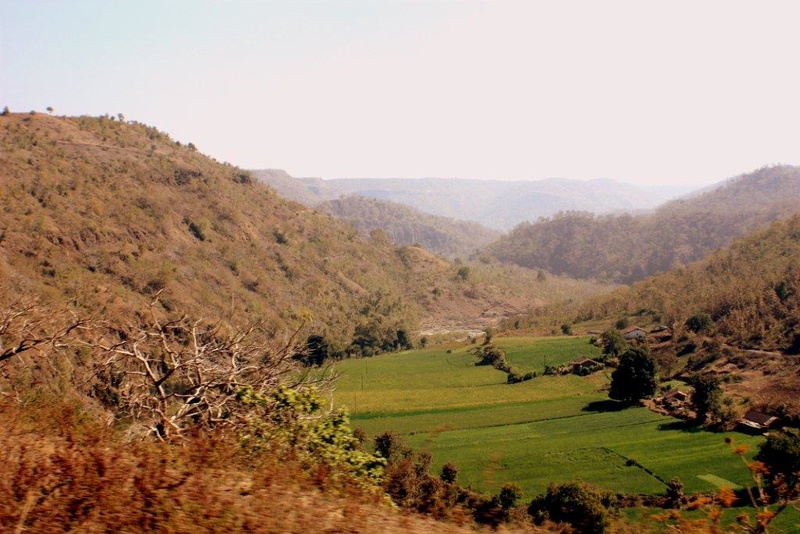 The very first tunnel was visible from about a 1 km before, and seemed to appear as if a cutting had
been blasted through the hillside, and then, somehow filled back up, going by the deep gash it was situated in, forming a narrow reentrant of sorts.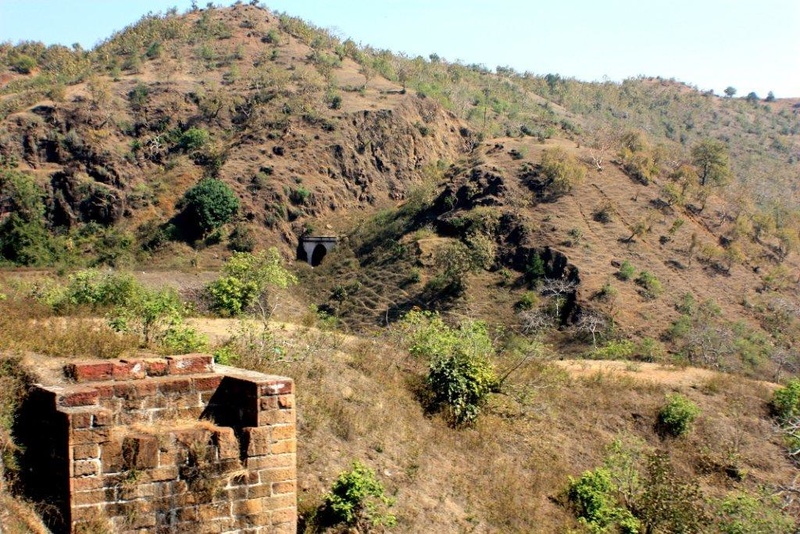 The loco crawled to a hat and someone hopped off right before the tunnel. I was thankful for the slow speed as it let me juggle my still and video cameras and also soak in the ambience at a leisurely pace. As the video would testify, the ride is not all that smooth, due to the oscillations of the coach, and it is pretty easy to drop any photographic equipment, or worse, tumble out on my ample backside.
We went through 4 tunnels in all, hiding and emerging and losing steady altitude. This was tropical bliss, with swaying clumps of bamboo, and an unhurried leisurely lifestyle unfolding across us. Looking back we could see our drop in elevation as a steel bridge that spanned a stream that we had crossed seemed to appear at a descent height.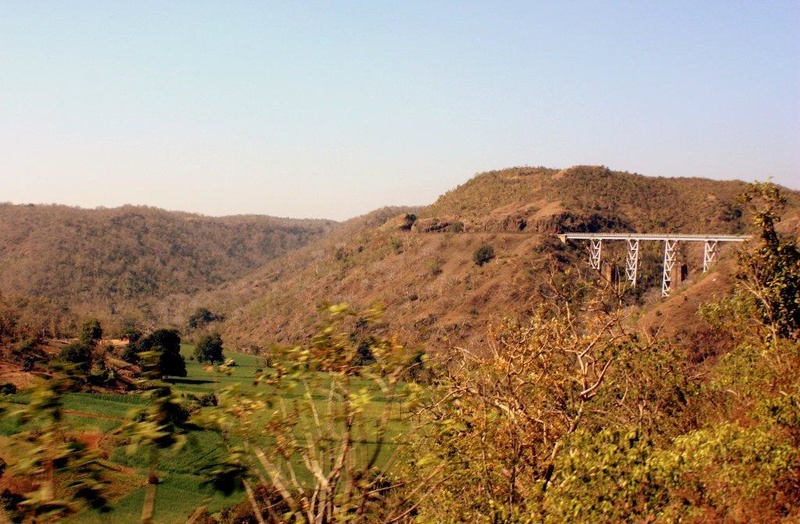 Soon we were at Kalakund. I had hoped for a waiting train to climb up, or see some bankers idling, but at that time, there was a somnolent haze enveloping man and equipment alike. Meanwhile another story was unfurling inside the cabin. An old lady in her 70s had climbed in the reserved coach, and despite the TTE asking her, had made herself and her burqa-clad daughter-in-law comfortable in our compartment. No one wanted her to move on, so she started chatting with other passengers. She noticed a 40-ish year old fellow traveler, who was a railway employee, and to everyone's amazement, called him out saying 'Tum so-and-so ke ladkey ho na..?' (Are you the son of Mr. XYZ..?)
The guy was surprised. For sure he had been a 2nd gen railway employee, but apparently his father had deceased many years back, and he was surprised to have someone just reach out and identify him. The lady further told him that they had lived in another railway colony together, and he resembled a 6-8 year old kid she knew… Clearly, this blast from the past was evolving into an interesting conversation.
They began exchanging stories … One thing that I always find profoundly interesting is the dialects and inflections of speech. Upon inquiry of her husband, she replied 'woh shaant ho gaye' (meaning 'he turned silent'), which was a very elegant way to describe someone's passing away. I had never heard of a usage like this, and here was a Muslim lady, using a very traditional Hindu word to describe the passage of her husband, in a very apt description… the compartment turned silent for a while.
We soon paused at Omkareshwar Ghat, (OM) which has religious significance as a holy place on the banks of a serene Narmada River. The Narmada looked side and silent, murmuring over the river rocks and headed west towards the Arabian Sea. Coins were flung over in a gesture of reverence, and I dearly wished I had the time to spend an afternoon there, as it was pretty deserted and not overcome by any religious fair or gathering.
This also meant that we had entered the plains, and we had a 2 hour window before we reached Khandwa, the next major station. I spread out, and took a quick nap.
Khandwa (KNW) is, like Ratlam, a dual gauge station, but the BG line here covers the old Great Indian Peninsular Railway (GIPR), now called Central Railways, which is one of the largest zones of Indian Railways, with the traffic for New Delhi-Chennai/Bangalore and Nagpur stretch passing through here. I replenished on water bottles etc and soon we were off. After taking a longish curve out of Khandwa, we turned left (East) and soon crossed the double, electrified BG line. Khandwa was the sole CR station here, and we soon left the Western Railways, into CR territory, and then into South Central Railways, all within 25 km or so.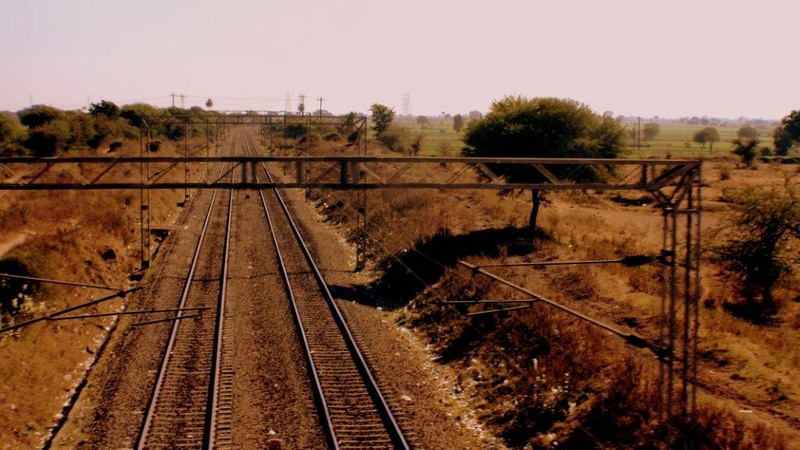 Soon after Khandwa, the track quality seemed to be lower, and the oscillations increased. The TTE told me that the section from Khandwa to Akola is lower priority, compared to the ones from Ratlam and through Indore, and that was apparent in the infrequently ballasted rail bed, and the jerky ride we were on. This obviously, impacted our running time, and the train ambled on around 40 km/hr. The TTE was a friendly chap and eased up as we entered the rural areas with less workload and we bought some tea.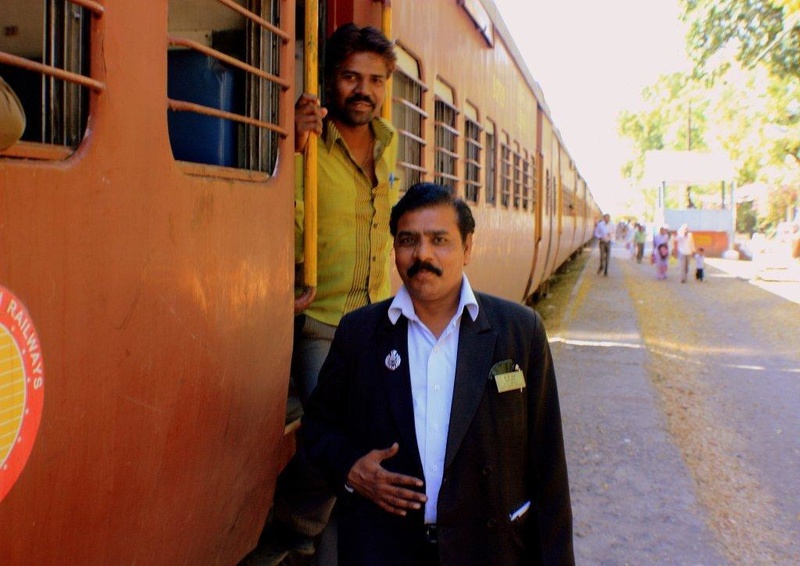 The train would soon enter a forested, buffer area, and actually pass through the edge of the Melghat Tiger reserve. In the dust enveloped stillness, the tall teak trees were silent and I could see how a tiger could simply blend in among the shade and shadows of the vegetation and simply disappear.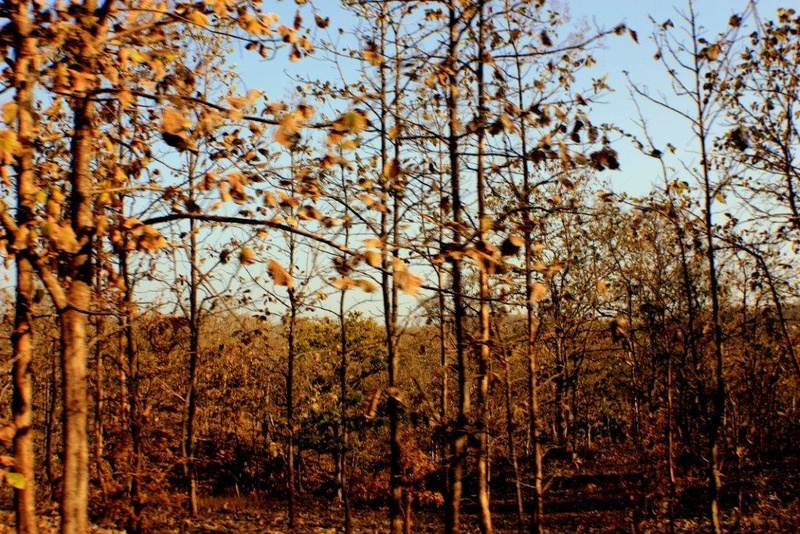 There were dense cuttings and rocky outcrops, and the forest seemed to be of a much denser quality than other closer-to-cities forests where you can see impact of human activity. Here, it seemed as if the time had fallen still.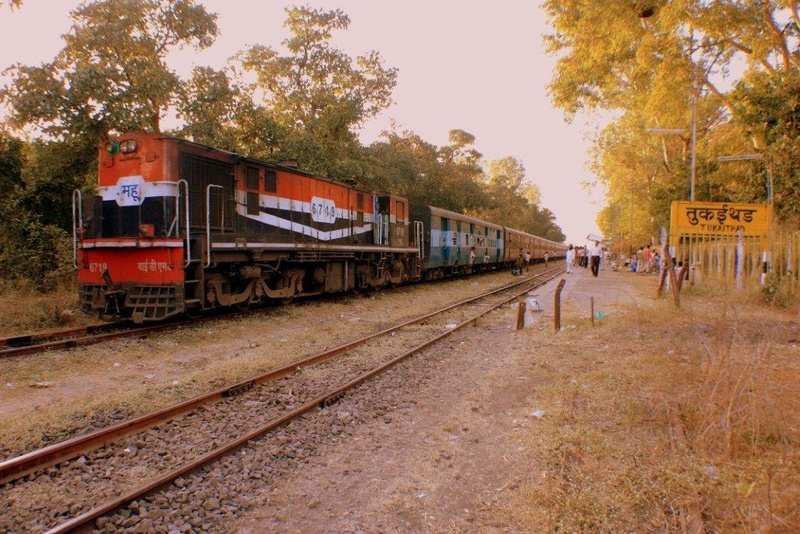 In reality, the time was unrelenting, and we were the ones who seemed to be still. By dusk, we got to Tukaithad, a quaint hamlet, where we awaited another crossing. I walked up to the driver to ask if we would make it to Dhulghat spiral in daylight, and he replied in the negative. Even though Dhulghat was a couple of stations away, the light was quickly fading, as we waited for our crossing.
Soon, in came YDM4 # 6736 with a Ratlam bound overseas service, and that was our last daylight crossing. Soon after, we headed out, catching a gorgeous sunset, capping a couple of perfect days of travel across India.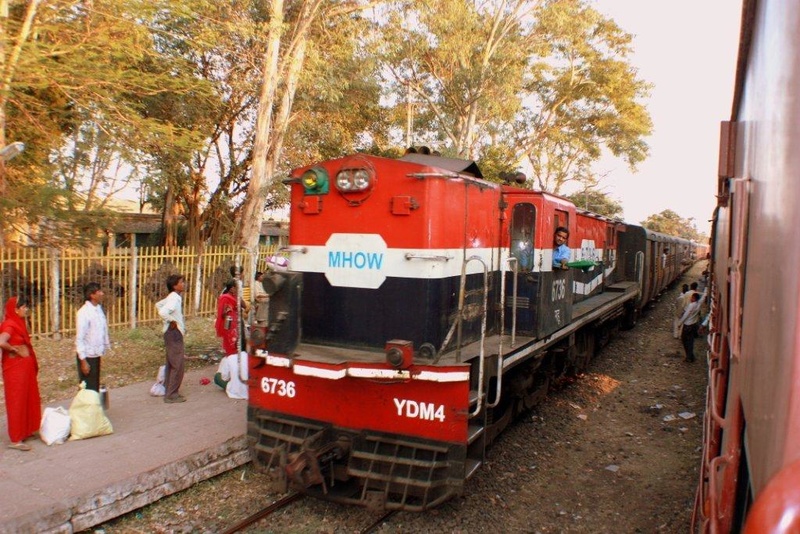 We crossed Dhulghat in darkness, a power outage providing a completely dark backdrop. Somewhere close to that, the screeching and groaning indicated we were on a curve, meaning we were on the spiral, which I missed out, but it had been a productive day.
As we got to Akola, close to 10 PM, the Howrah-Mumbai mainline joined us, and the roar of mighty electric locomotives on the busy section brought us to the end of journey at Akola. It was good that we came at night, as Akola, has a lot of trains headed for a morning arrival into Mumbai. I let a couple of packed expresses leave, and then got into a late running Howrah-Mumbai Shalimar Express. A couple of hours later, we arrived at Bhusawal, where a quick Auto rickshaw took me to the hotel. I was one of the first delegates to arrive, and was soon joined by Dr Dheeraj Sanghi, one of the founders of IRFCA. A couple of memorable days in the company of like-minded rail fans - with activities including a trip to the famed 'Diamond crossing' at Bhusawal, and a series of informative talks by the faculty of the Zonal Railways Training Institute and a trip to the Electric Loco shed in Bhusawal, where all triple-phase electric locos are maintained, and capped by a tea at the residence of the Divisional Railway Manager, the person at the head of a vast railway division, concluded a fine trip.
At the conclusion of the journey, I took the Bangalore-New Delhi Karnataka Express, hauled by its twin blue and white Itarsi-based Diesels (arrival link video below) took us back to Itarsi, and then on to New Faridabad, marking an end to a long journey.
---