From India's seas to her Capital
by Shikhar Parjan
2009-07-25
---
Trip on the Kerala Sampark Kranti from
ERS

-

NDLS

'Oh boy! I have really done it this time..!' was my thought, as sweat creased my brow, and the reason wasn't just the humidity… I was at sea, on Jul 25th, figuring out my chances of making it to the train station…. Quite literally, I was 'at sea'.. about a km off the coast, on a ferry plying between the peninsular tip of Fort Kochi, Cochin's Old town, and the boat jetty on the mainland, where Ernakulam station was. I was staring at a 'barge' traffic jam smack in the middle of the vast lagoon separating Kochi (Old Town) from Ernakulam, as there were a couple of slow moving, ore/coal transporting barges which were chugging at their own pace, as the ferry gave them a wide, respectful berth…

Earlier that morning (25 Jul 08), I and my family had come over from Trivandrum(TVC) to Ernakulum South (ERS) by taking the 2076 Jan Shatabdi, after a vacation at Kovalam and a side trip to Kanya Kumari, which I consider the starting point of the journey, though technically there was an overnight stay before the main journey. (The trip report for the CAPE trip was posted earlier on the list as Email: 'Where 3 seas meet - a trip to Kanya Kumari (CAPE)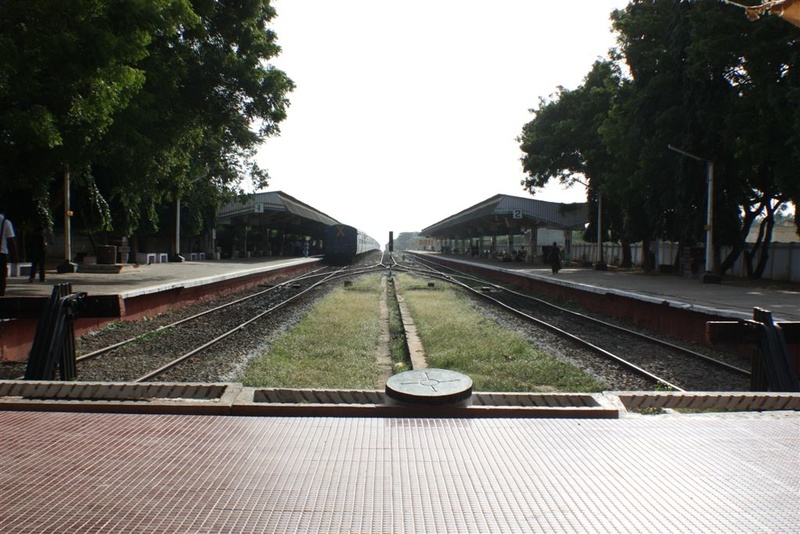 .The Jan Shatabdi had left on time, and covered the 206 km run between TVC and ERS without much delay. As soon as the JS left TVC, I saw the boards of Kochuvel station flash by, which was to be the origin of the next train I would take for the most part of my journey - the 2653 Kochuvel-Chandigarh Kerala Sampark Kranti. The plan was for the family to travel together from TVC to ERS, and then they would head off to Cochin Airport and fly to Delhi, while I will take my own trip by the KSK. To add a twist, I had kept an rosewood handicraft for safekeeping at a merchant in the old part of the town (Fort Kochi) which needed a boat trip to retrieve it, as going by roads to Fort Kochi is a long trip, and the boat is the quickest, straight line way across a channel navigated in 30 minutes or so by ferry.
So here I was, on the now stationary boat, looking at the prospect of either missing this train, or try to look for another train, or gasp.. fly back!. Through May, I had kept two bookings, one for 2625 Kerala Express, for an all under-wire trip via Nagpur to Faridabad (FDB - a distance of 2788 km), versus the Coast hugging-KR-spanning-run the KSK allowed, for a distance of 2950 km to New Delhi. Clearly KSK had a slightly longer run, even when accounting for the 30 odd km between FDB and NDLS. Even though I had booked back in May, the Kerala Express had me waitlisted 87 with the list not clearing at all - here was a train that was highly in demand, and probably booked solid the very first day of its reservation opening, hence a low chance of the WL clearing. I cancelled the Kerala Exp booking and committed to KSK. In addition, what made me not miss the Kerala Exp was the fact that it had 42 stops in its run to NDLS, whereas the KSK had only 19 stops in the entire journey. The fare for the Kerala Express (Sleeper) was 575 Rs versus 587 Rs for the KSK for Sleeper class - I have been partial to non-AC, Sleeper travel as the opportunities to take pics, hang at the door and enjoy the ride is more, if one is willing to travel in a non AC, often warm/humid environment. I had done the Konkan railway route to Delhi, back in 2006, on the 2617 Mangala Express but the KSK had a different routing - it followed the fabulous Konkan route to Panvel, just like Mangala, and then cut across Mumbai suburbs and followed the Western Railway route via Vadodara (BRC) - SMR-MTJ route, instead of the Central Railway's Bhopal-Jhansi route of 2617 Mangala.
By the time I got back to ERS after a quick auto ride from the finally docked ferry, I had about 20 minutes to get to the platform where my KSK would arrive. Unlike Mangala, which departs from PF1 at ERS, (being the starting point), the KSK's arrival was listed at PF5. I got my folks into a taxi and send them off to the airport, and turned around with my packaged handicraft and jumped into the crowd heading for the foot over bridge. Barely had I got down at the platform and caught my breath, that I saw, around 1215 PM, a WAM4 in AJJ livery, hauling the 2653, pull in. There was hardly any time for me to witness the loco changeover from electric to diesel as searched for my S2/31 Side lower seat. The train was, not surprisingly, only five minutes late from its scheduled arrival time of 12:10 PM into ERS, and even with the loco changeover, pulled out of ERS sharp at 1230 PM - with only a 10 minute delay. My side-lower seat was facing away from the locomotive and I could not get a clear view of which loco was in charge. On my previous trip on Mangala, an ERS orange and cream WDM2A had done the honors. To my surprise, when I looked out on one of the curves, I saw a pista-green and light cream loco in charge. I immediately realized that we had a Golden Rock (GOC) beast in charge, which could well have been the loco which usually hauls the TVC Raj. Thrilled by this discovery, I settled down, making a note to check it out on a longer halt at either Thrissur or Shoranur. At Aluva (Alwaye), we crossed 14693 WDG3A from Erode Diesel shed leading a tanker rake towards ERS. Breath-taking Kerala scenery, with vast stretches of greenery, lagoons and bridges soon engulfed us, as the KSK took several sweeping curves and picked up speed through rural Kerala.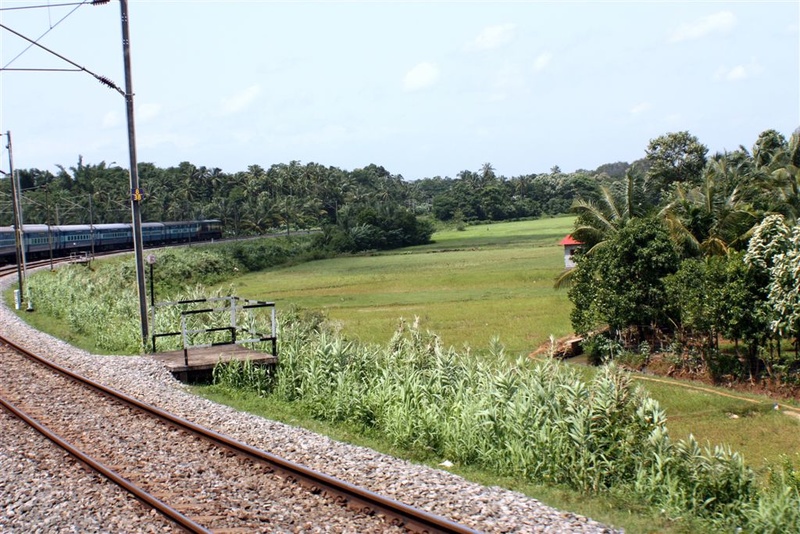 I started chatting with my fellow travelers - the guy across me was a young soldier from ITBP who was on his way, all the way to Chandigarh to catch a flight to his unit in Ladakh. Soon we were chatting, as I joked with him on his choice of choosing a Service that would, in all likelihood, keep him away from Kerala for good. He took it good-naturedly. Another guy was a young Delhi-based student from Vikram Sarabhai Space Center near Trivandrum, who was heading home after exams. Soon we were chatting, and they went curious about my camera and my note taking as well as the package I was lugging about under the seat. The ITBP guy, on hearing about my interest in railway photography, soon offered his side lower seat facing the direction of travel, which made my job a lot easier.
Around 2:30 PM, we crossed a ERS bound express at a high speed, probably the SRR-TVC Venad Express, led by 22358 WAP4 from Erode, in a clean WAP4 livery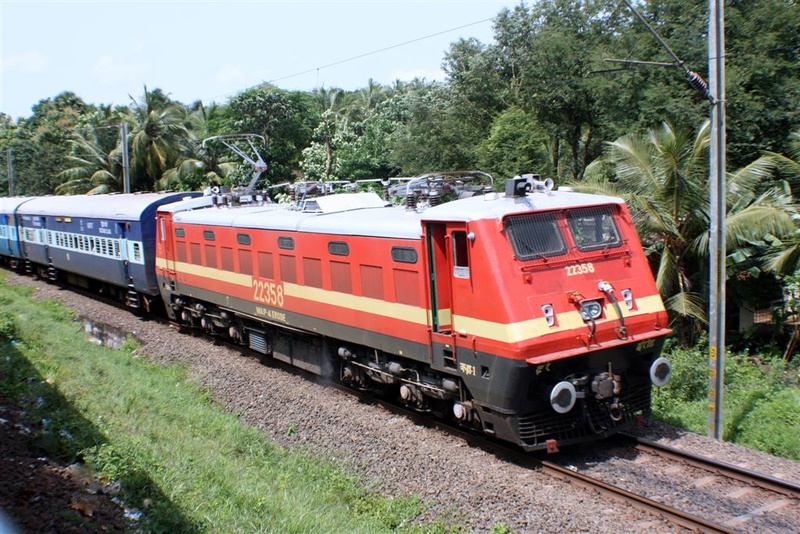 We crossed a vast broad river- the Bharatpuza - and a sign board announced our entry into the Palghat Division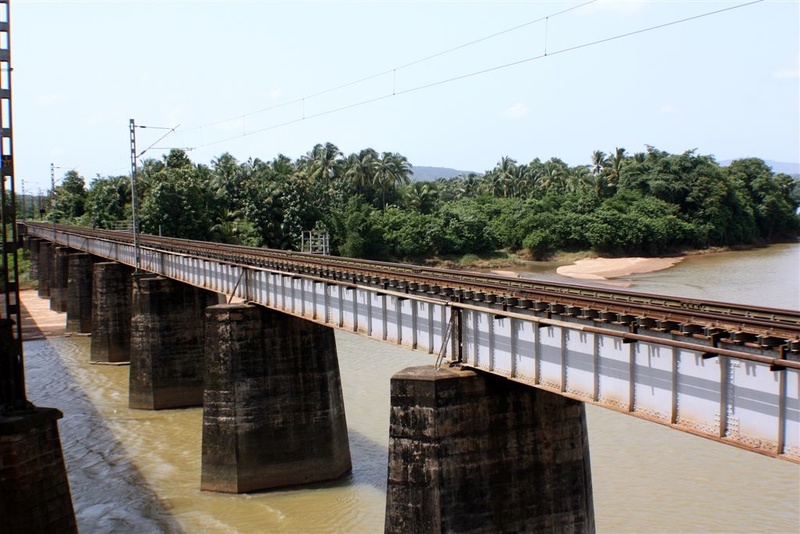 Immediately after crossing the bridge I saw the double line electrified tracks veer off to our right with a freshly painted speed restriction sign of 30 km/hr, which showed how the earlier 20 km/hr had been increased recently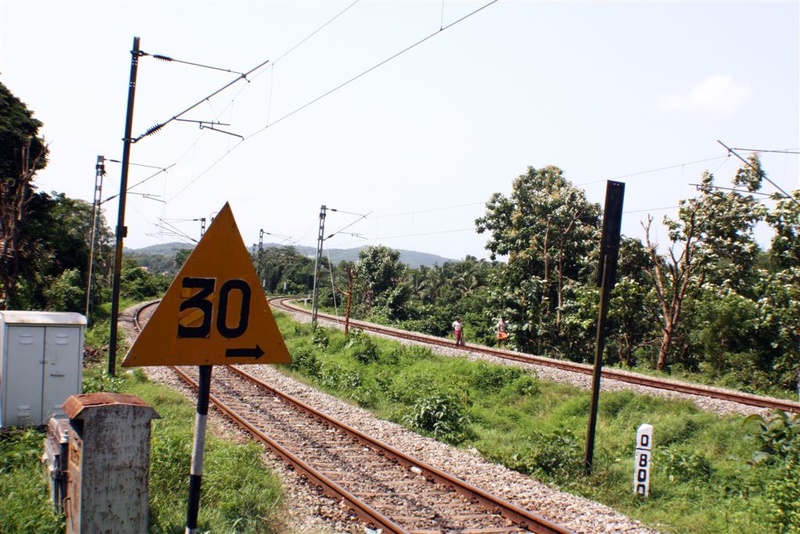 Basically, this forms a triangle between the tracks coming from ERS, on the south side, SRR on the west, and tracks towards Palakkad and Coimbatore on the East side. At SRR I could see 22549 ED WAP4 at the head of 7229/30HYB(Hyderabad)-TVC Sabari Express, which seemed delayed that it's late morning hours. Waiting in the SRR station lines was a solo orange-cream liveried 17108 WDM2A from ERS.
As we waited during our five minute halt at SRR, I saw a passenger rake without any destination signboards stir to motion, hauled by a blue and white liveried 17436 WDM2 from ED shed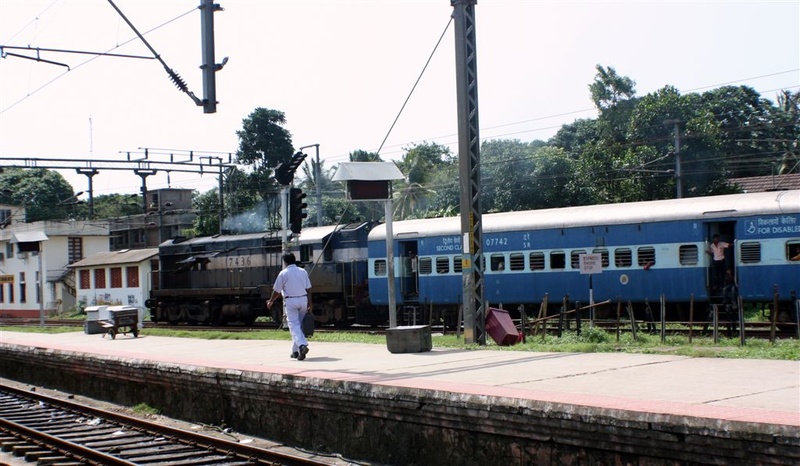 Within a minute, we too got the signal and our train was in motion. Both our tracks converged as we were both notching up and came side-by-side at 30+ kilometers per hour and accelerating
This was fabulous..! A ringside view, and throbbing sound of the WDM 2 notching up, throwing up copious amounts of black exhaust from its panting heart was mind boggling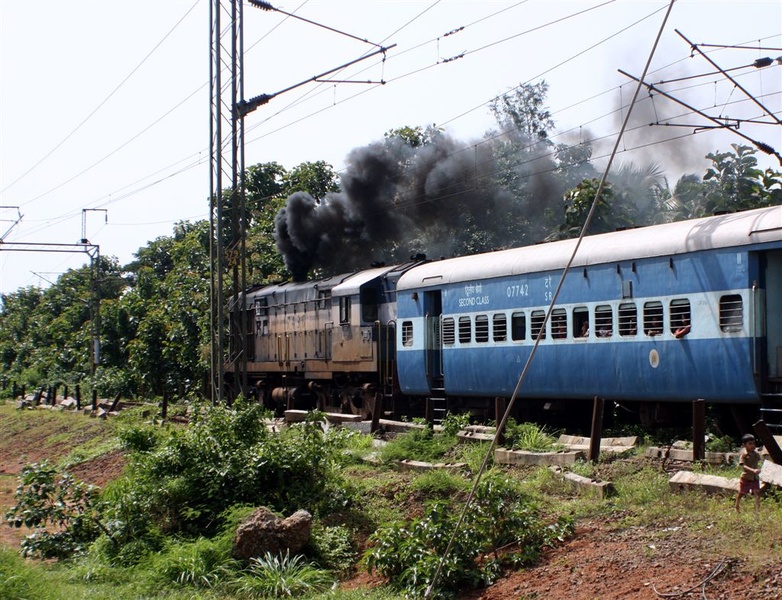 I was overjoyed at this unexpected spectacle and the WDM2 seemed determined, not to be overtaken, finally allowing up to come next to it as it roared away
Barely had we overtook the passenger, that it took a right hand turn and pulled away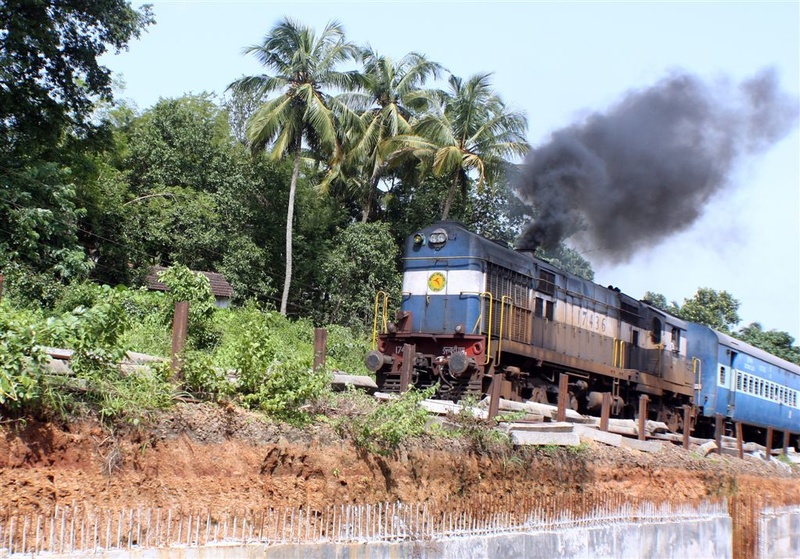 I was delighted at this unexpected neck-to-neck action and thankful for the ringside view. By now I realized there would be a couple of halts before the sun went down, so I decided to wait for Kozhikode/Calicut (CLT), to make the sprint to the head of the train. I requested my buddies to keep an eye out for my stuff as I sauntered across the vestibules and came to a stop three or four General coaches away from the locomotive.
Upon reaching CLT, I got off and moved to the head of the train and there he was… 15516 WDP 3A with the instantly recognizable Golden Rock (GOC) logo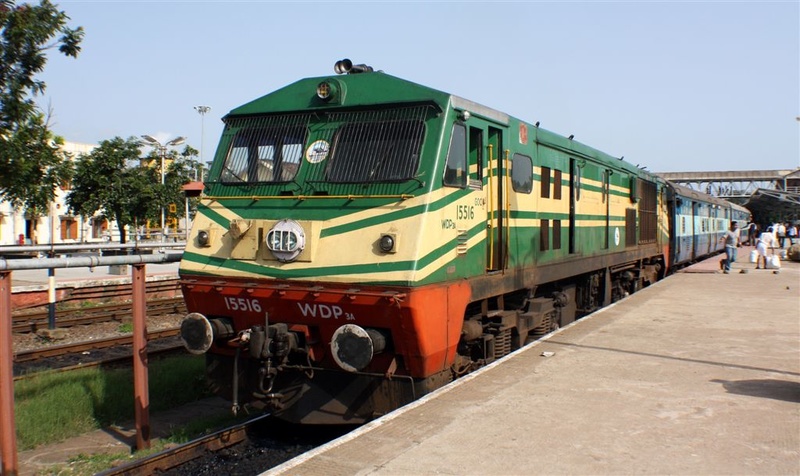 There seem to be a crew change here as the cab was totally unmanned for the moment, though the running room was only a few yards away on PF1. Even the idling notes of the 3A had a deeper growl about them. This was, a loco truly deserving to haul the Raj. We were back near the coast and the sea breeze was refreshing. We continued to run alongside NH17, crossing the Kuttiyadi River. The view now was classic Kerala with thick coconut groves and rolling hills flanking us. We were on a double track non-electrified section which would pretty much continue till Panvel for our next encounter with the electric beasts. We crossed 18537 ERS WDM2 hauling a JS blue and white colored rake with Coimbatore-Nagarcoil boards on it, which was a surprise as we were nowhere close to the routing between these two Tamil Nadu Stations.. probably a link coming from Mangalore. Also crossed 14076 WDMx led rake in surprising Garib Rath Gold and Green livery close to Edakkad station. Before Kannur we crossed the Mangalore-Kozhikode Passenger hauled by a ERS diesel. At Kannur (CAN), waiting for the passenger to clear the track ahead were dual WDG2 freighters hauling a BTPN rake which I could not click due to intervening obstacles. After Kannur, we crossed Kuppam and Perumba rivers, and were on a single Track section. At Charuvattur, we crossed a passenger hauled by 14124 Cream-Orange loco and at Nileshwar we crossed 18858 Green Yellow paired with 14025 Orange Cream Mangalore-TVC hauling the 6603 Maveli Express. It did not appear to be MU'd but I could not make out.
We pulled into Kasaragod (KGQ) station, around 20 minutes behind schedule but it seemed an easy task for the 3A to make up in the night in the long sections of KR that lay ahead. Evening was upon us and I put my camera away as darkness descended. Around 1825h we crossed Gandhidham-Nagarcoil Express hauled by a Orange-Cream 18532 diesel, probably from ERS. The track was dual again. Shortly before 9 PM, we crossed the massive bridge on the Netravathi river and entered Mangalore Jn (MAJN) - the last time I had visited this place in 2006, it was called Kankanadi (KNKD). The train had a 10 km minute halt, but it was another 20 minutes total before we left I(MAJN). At MAJN I could see14048 Cream Orange ERS loco with a puny three coach load idling by itself. By now, the food supplied by the pantry car had long been eaten and people were turning in for the night. It had been a hectic day for me since we left Kovalam that morning, so I too decided to stretch. Late at night, probably at Subrahmanya Road (SBHR), though not sure, I spotted a late running Maru-Sagar Express heading towards ERS.
Morning of 26/07 found me, at 0715 at Nivasar on the KR, as the 200023 WDP4 hauled CSTM-Madgaon Konkan Kanya Mandovi Express pulled in. The scenery, while still lush green, had changed from the evergreen color of Kerala Countryside. We crossed over gurgling streams, massive boulders and steep netting covered rock cuttings and tunnels that are the hallmark of KR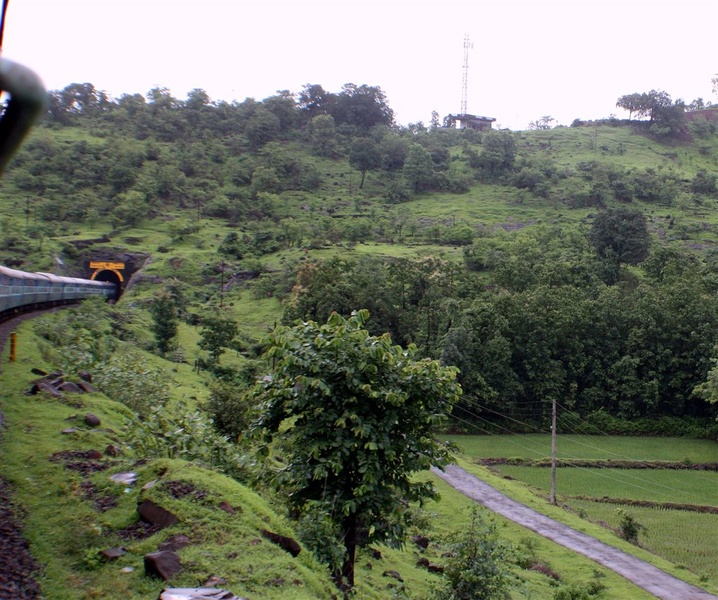 It was going to be another nice, busy day as we would traverse the busy soundings of Mumbai. The sky was overcast due to monsoon season with the rain never really came down and I was thankful for that.At 0945 h We found ourselves at Khed, where 11102 WDM 3D in ED blue and white livery brought in the Madgaon bound Jan Shatabdi with Sky blue coaches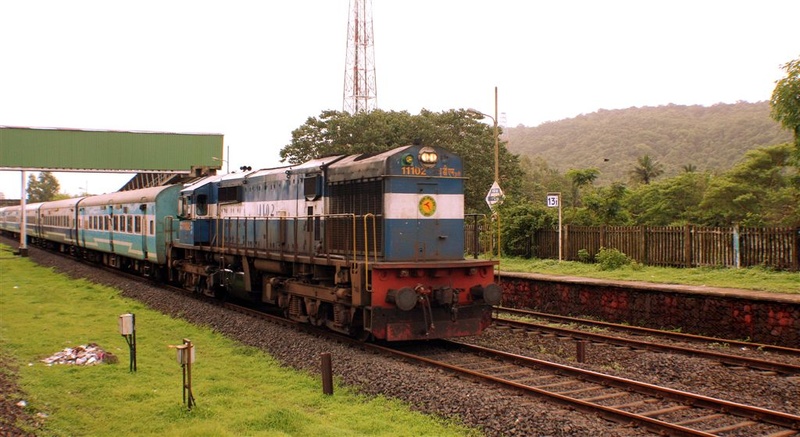 Also spotted at Khed was a Yellow Unimat-8271 maintenance rake/vehicle with KR logos on it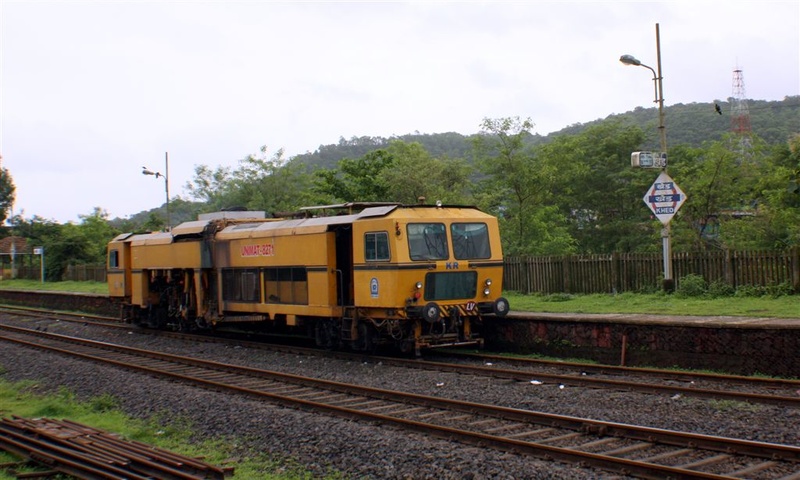 Around 1020 h at Karanjadi, a beautiful, rain washed Orange-Cream Raj liveried ERS 17968 WDM3A brought in the Diva-Madgaon Passenger
The stations between Madgaon (MAO) and Panvel (PNVL) were over 700 km apart (1049 km mark for Madgaon versus 1746 for PNVL), making it extremely difficult to guess whether we were on schedule or not. The Mumbai bound passengers were griping about any perceived delays but I was totally enjoying the fine weather, the bhel and sev snacks being served and the general atmosphere.
We finally got moving from Karanjadi and paused again at Mangaon. I again moved to the loco and found myself talking to a safari suit clad dapper LP, who was busy with his cell phone. I did not see anyone else in the driving cab at that time. He seemed to be an amiable fellow who asked me where I was from, and on finding my Delhi origins told me that he had been based out of Delhi Sarai Rohilla (DSR) for a couple of years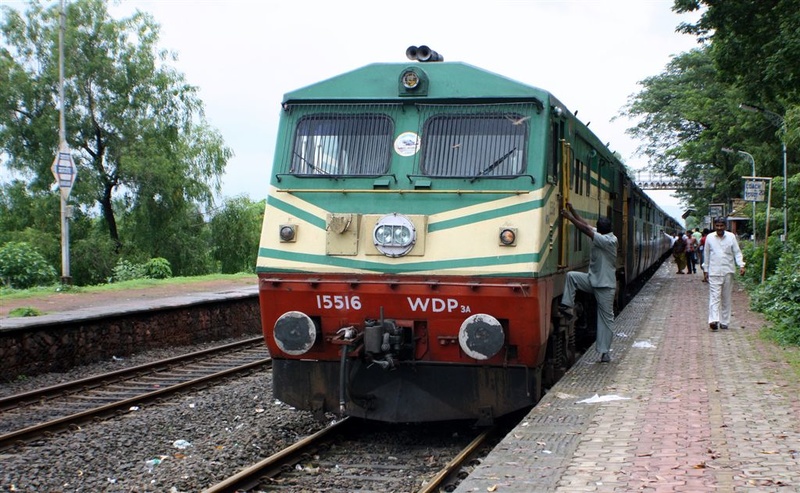 After that chat, I sensed traffic would pick up now and got back to my window seat. Soon enough, a rare site came up - in came 16367R WDM3A from Kalyan in a Red-white livery, unlike the Red Blue livery KYN locos are commonly noted for - pulling the only Ro-Ro rake, that I seem to know of in operation on the IR
The Ro-Ro had little time to waste and kept moving on unlike us who had been waiting for almost 45 minutes now.
We next pulled into Roha where a Diva-Roha-Diva Passenger rake was parked. It seemed to have a driving cab at one end.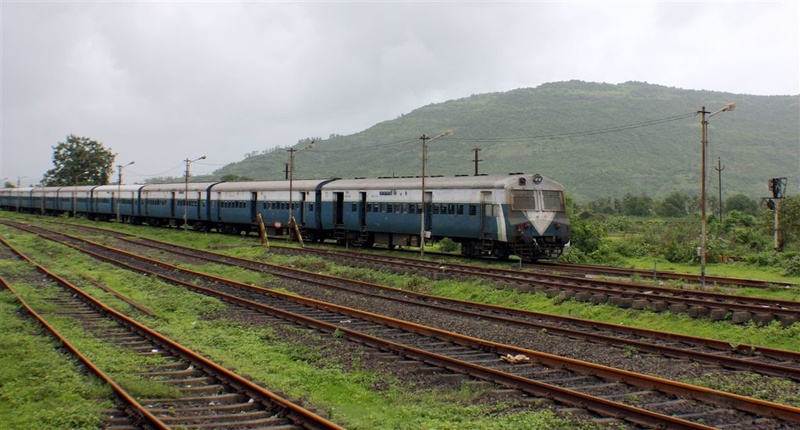 At the other end, a single Kalyan 16049 blue red WDM2 was idling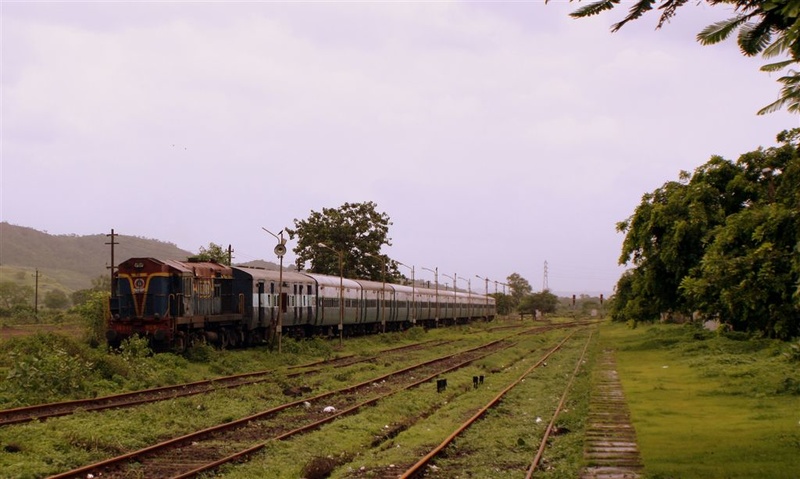 The passenger had pulled in apparently a short while back, as soon enough, the LP powered off the loco, and walked away towards the station. It had started to rain again, and in came ED 11294 WDM3D leading a day train.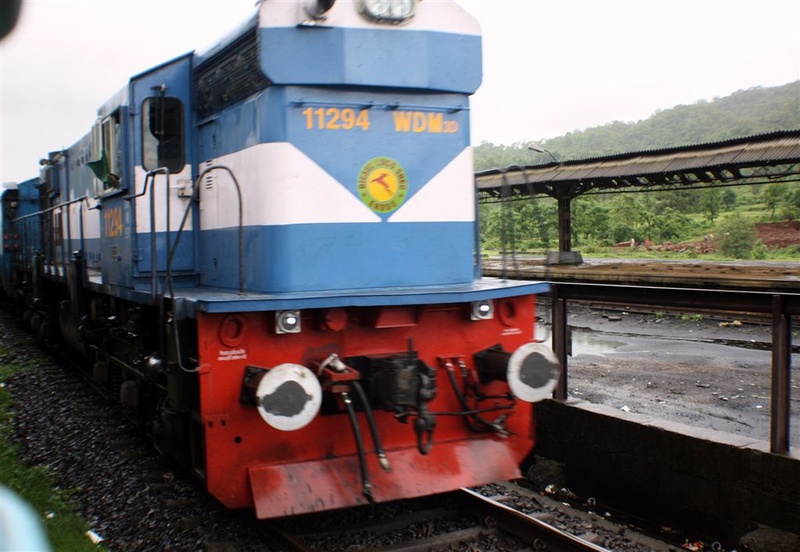 We left Roha around 2 PM; Panvel was not too far away, and we were about to come under wires, never to leave again. As we pulled into PNVL a short white after our designated arrival time around 3 PM, we were seemingly well on time, notwithstanding the delays we had encountered. The AC catenary reached over us and in the distance were some crowded lines holding freighters. Facing us, neck to neck were a sky-blue 28079 LDH WAG7 and a 14819 KYN WDG3A, along with two freighters facing north. The closest freighter whose LV was next to the locos was hauled by 17517 KYN WDM2
Panvel seemed busy with patrolling GRPs and I was in no mood to click the station anyway. As we pulled out, in came a perfectly number, palindrome 11111 WDM 3D with ED shed markings, hauling an Express towards South.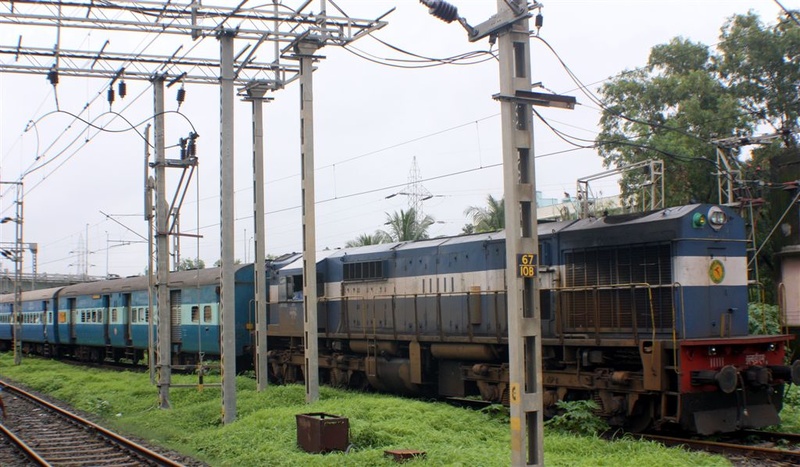 …as we got back under the wires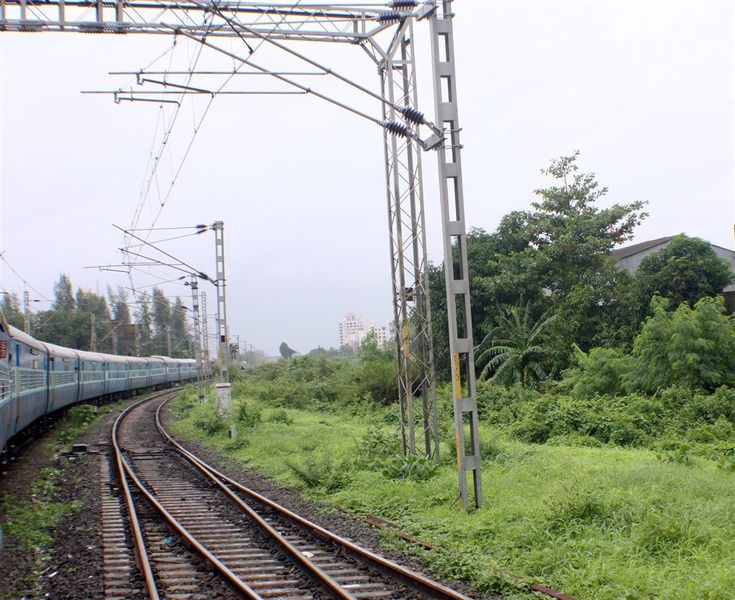 This was a great opportunity to see AC, diesel and WCAM/G locos in action, and as soon as we were out of PNVL and crossing a rain swollen creek, in came KYN WCAG1 21973 bringing in a long empty rake of container flat cars, probably heading towards JNPT with the assistant waving a green flag out of the cabin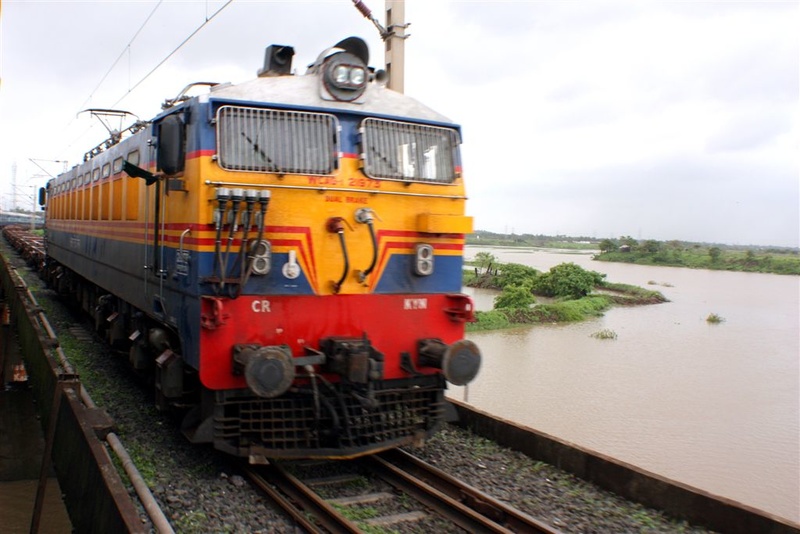 We were now on the sweeping 90-degree right hand curve towards KYN, where the DC lines from Mumbai meet the AC tracks from PNVL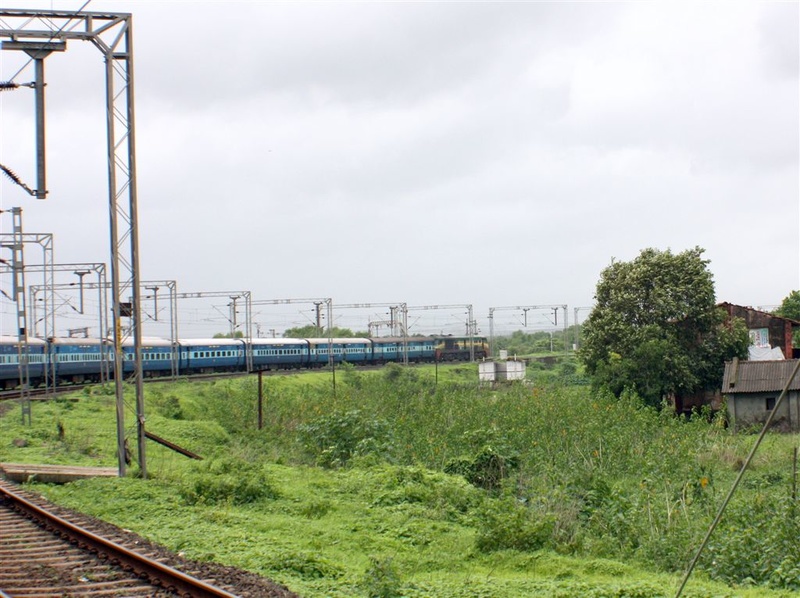 I had good memories of this spot as I had taken pictures of Bhubaneswar bound Konark Express and some additional fast-moving action on my previous Mangala trip. I took pictures from both inside and outside the curve to compare with my earlier trip. (contd.). On the inside track, on the AC line, I saw a 'panto sign' in the mid-distance â€"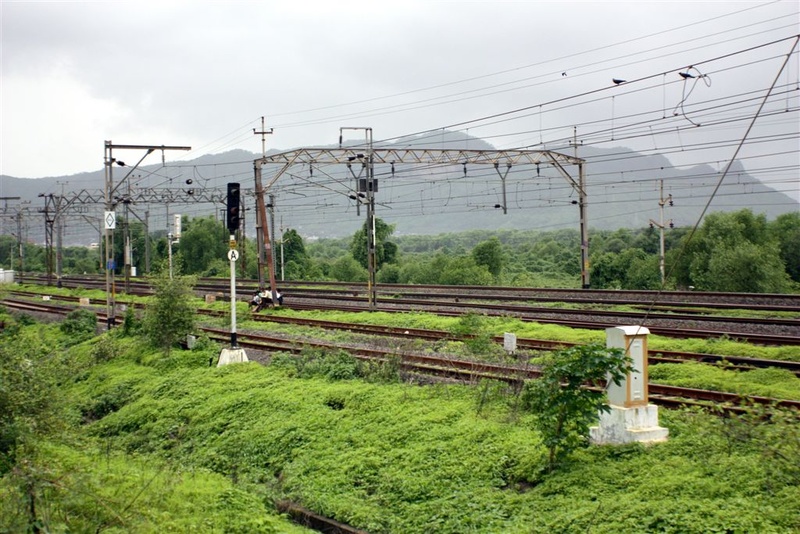 This was the track on which I had spotted a WCAM pulling a LDH WAG7 on my Mangala trip earlier.
KYN undoubtedly was the nerve center of the activity that had been going on that day. Just like PNVL, there were container rakes facing south, pulled up to their respective signals, but unlike PNVL, there are all electric hunks. These were sky blue and white WAG7 27245 (CNB), WAG7 27061 (MGS) and Blue and Gold KYN WCAG 21975 with peeling paint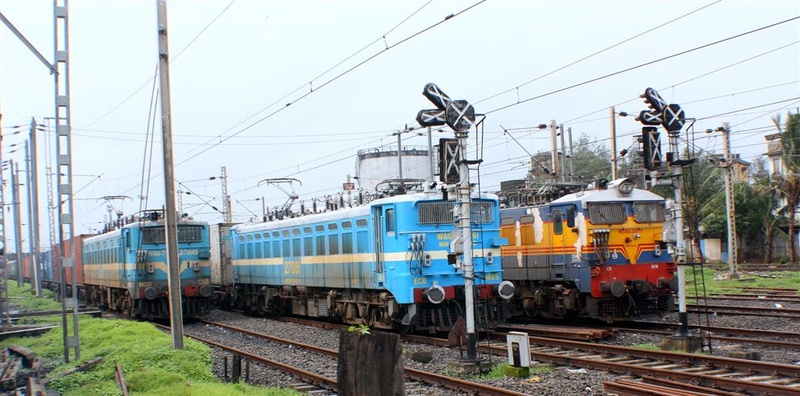 After KYN, the rain started as we crossed a BL WCAM1 21831 en route to BSR
I was not too sure about when our Diesel would be replaced by an Electric loco. My chat with our LP also did not reveal anything as he operated mainly on the KR section. Chatting with the pantry car attendant, I was told that Vasai Road could be a likely point of change. There was no way to verify if this was indeed true. To make matters more complicated, the next commercial stop after PNVL was BRC - so if BSR was a technical halt, then I better be sure and ready to capture the changeover and then rapidly head back the six odd General coaches before the vestibules started - all in a couple of minutes.
I decided to stick a while longer in the AC coaches closest to the engine. With my camera bag, I headed over to the point where the vestibules ended and stood waiting for 15-20 minutes as we hurtled towards BSR. This did mean I had to sacrifice a lot of ongoing action of Mumbai's suburbs, as I could hear a crossing every couple of minutes, even less. We crossed the previously described rail-on-rail bridge as we got into towards BSR. The pouring rain and the subdued AC environment meant that I could not see outside much. To my surprise, when we got to BSR, and a railway executive and his family got down from my AC coach- with a Pomeranian dog on a leash - from the AC coach. There was a small group of railway men waiting to receive them, along with GRP presence. As I got to the head of the train again, I saw a GRP man right next to the loco, waving his stick at the unreserved types for some reason. I wasn't sure if there was a loco change, or how much time the stopover was to be, and this was not the right moment to talk to the LP. Taking an honest approach, I asked the GRP guy if it was okay to click in case the changeover happened and he said 'No' but then immediately to walk away towards the other coaches. By now, the ALP was lounging by the door looking back in the Guard's direction, though the signal was still at Red. I asked him where the changeover was to happen and he replied 'Baroda' - which would not be till close to midnight and definitely not worth it.
Around 1755h we were at a halt at Boisar and were overtaken by the Delhi bound Rajdhani, which I could only make out as I was walking back through the coaches. We were also overtaken, at Bhilad around 1855h, by a BL WCAM1 21851 in WAM shell, in pouring rain, with its front panto up and typical BL livery.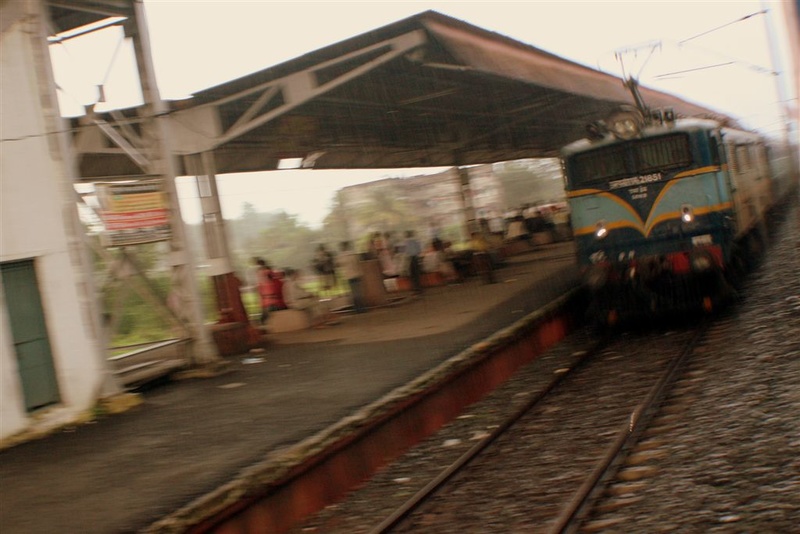 At another wayside station, where we slowed, probably Atul, there was a WR EMU (Electric Multiple Unit)ready to depart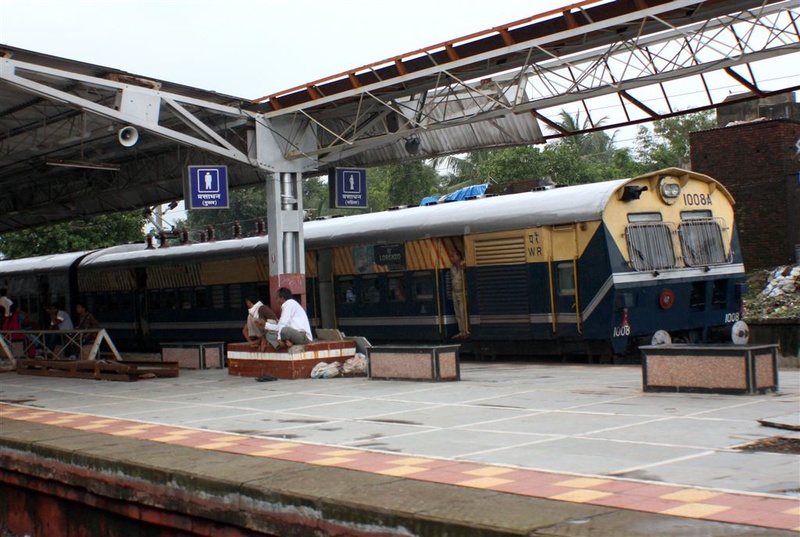 Unfortunately a lot of these stations were under some renovation or missing station name boards making identification of location difficult. Soon it was dark and time for us to settle down for our second night on the train. While stationary, we were also crossed by 20487 Orange cream WAM 4 with an Express.
Surat (ST) was reached around 2125h and we did not stop there. I could make out WAM4 21359, WAP 22799 and a pista green shunter at ST. We crossed the massive bridge at Bharuch on River Tapti and kept moving through Bharuch. I did wake up at BRC, but didn't get off the train. In the early morning, I noticed boards for Rajasthan state line appear around Km marker 834, though the state lines are pretty mixed up in this region. We crossed Jhalawar Road at 0650h and then at Ramganj Mandi, we crossed WAM4 21374 led rake going towards BRC at 0700h.
In my mind, for some reason, I thought Dara Pass to be somewhere in central India, possibly in the Vindhya/Satpura ranges. As the morning sun brought up low, rolling sand stone colored hills, I saw, a continuous hill feature run east to west and meet the tracks. Right at the point where a cutting had been blasted through the rock face, was an ancient 'chatri' (shrine).. instantly, I recognized this to be the same Dara (or Dhara) pass, from Frontier Mail pics of the Raj. At that very moment, came in a 20677 WAM4D from BRC shed with Raj livery, and I was able to get the loco and the pass in one frame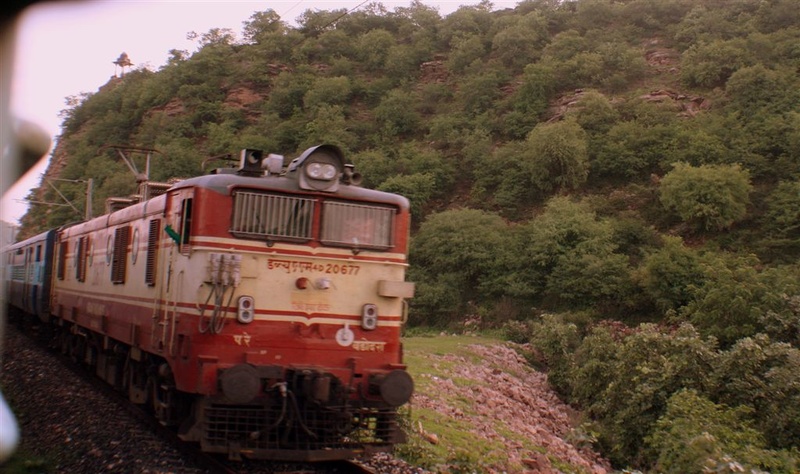 Looking ahead at our own rake, I saw a blood red WAP4 in charge, a typical BRC livery. I decided to look it up when we got to Kota. We took a series of curves and on one of them, came across a MU'd WAM4 TKD pair hauling up a container rake in classic maroon livery with lightning bolts with 21369 WAM4 in charge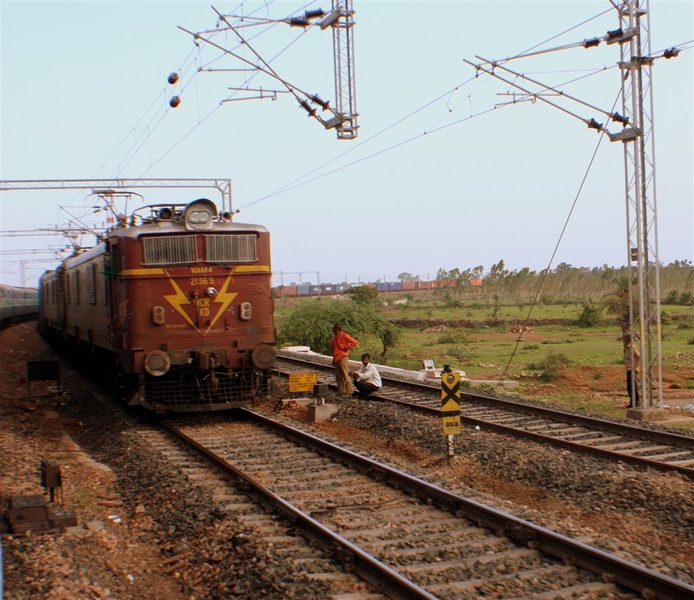 The landscape now was wide, open with good visibility and hardly any cloud cover. Also, the ballast had a nice, rain washed look to it. While passing through the massive Kota Yard, we overtook a stationary TKD-based 31210 WAG9 in beautiful Green and gold livery,with the LP beside it
Back in 2006, I had only spotted these beasts with with GMO and AJNI, so it was nice to see more of them with additional sheds. In the distance there was a 36198 Ratlam liveried (blue and white and red) and a sky-blue-white-red stripe liveried diesel attached to a freighter, whose shed I could not identify. Also, all by itself, was a orange cream 13259 WDG3A Shakti with 'NWR-ABR' stenciled on the crew cab, possibly indicating a recent transfer to ABR shed.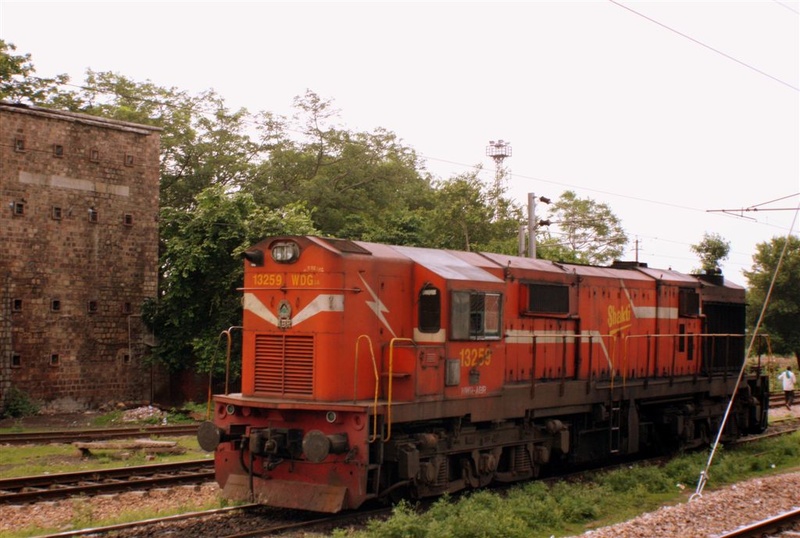 This was all really interesting and new stuff for me. My other earlier travels through this region had either been on the Raj, from NDLS and always at night hence this was a good chance to see southern Rajasthan in its raw element. We crossed WAP4E 22676 from BRC with a down train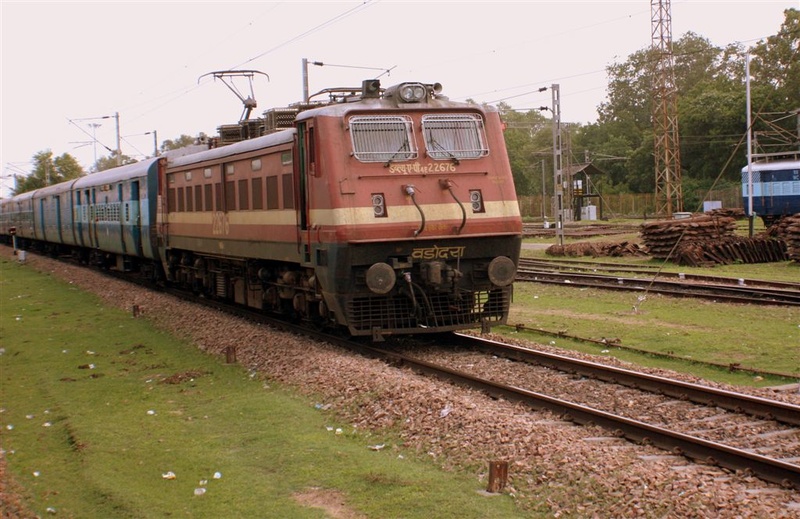 We reached Kota on time at 7:50 AM, and I gulped down a couple of flavored milk from Rajasthan dairies along with Shrikhand and also took some piping hot 'poori-sabzi'. Heading out to the loco I saw a new sheriff in charge of us - WAP4E 22345 from BRC with BP FP written in small stencils.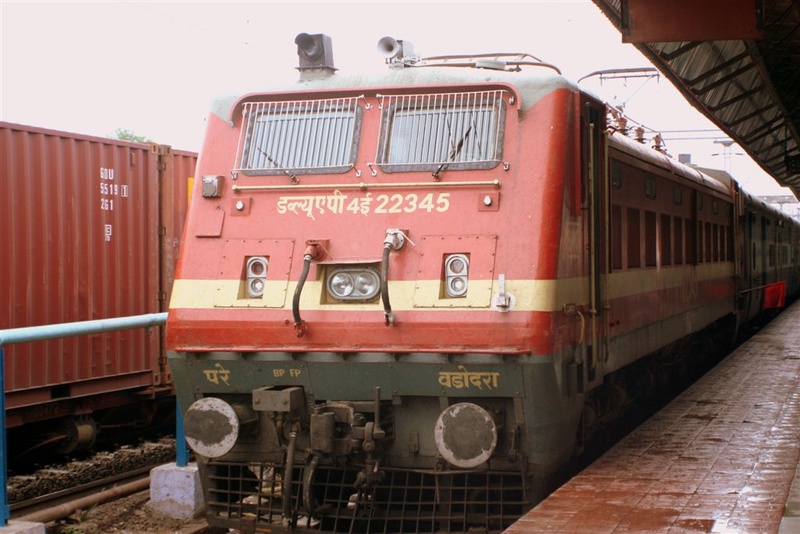 This would indeed be the beast that would take us to NDLS, possibly all the way to CDG. While pulling out of Kota, we overtook a stationary freighter headed by CNB WAG7 27248 with STC-fitted written by stencil, and in a Sky blue livery.
Soon we were approaching a wide girder less bridge on the river Chambal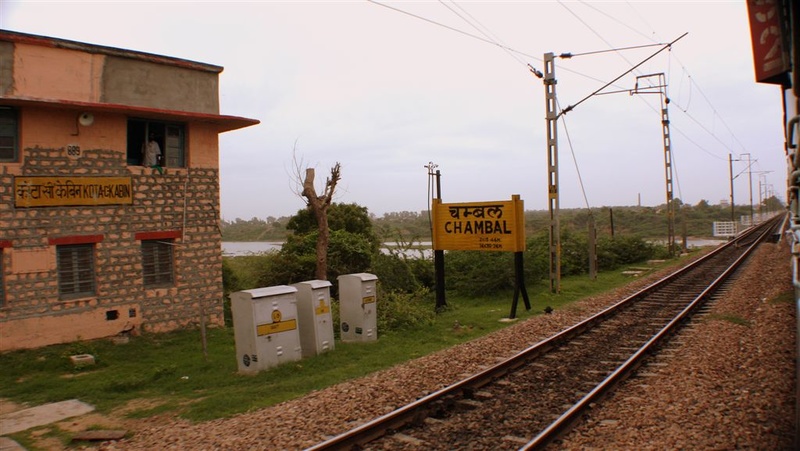 The same river is also spanned by a girdered bridge further to the north where the CR's Gwalior-Dholpur line goes over it. The CR's bridge leads through vast sections of Chambal badlands - eroded areas - where as this area is more open and habitable. Standing at the door, I could see at great distances, and read out the well labeled and painted bridges across various rivers and streams. Part of my interest on this journey was to also appreciate bridge construction and I saw good examples in all the states, from Kerala, through Netravati river, KR section, Tapti river and now. At Nimoda, we crossed a 20493 WAM4 led train around 10 to.AM.
I particularly liked those stretches where the up-and-down tracks would be separated and interesting features would show up, along with the chance to spot oncoming trains at a greater distance. The bridge on the Mez River, seemingly a small tributary of the Chambal, had 2 separate bridges, silver painted with prominent signboards facing both directions announcing their name and framed by rolling hills in the distance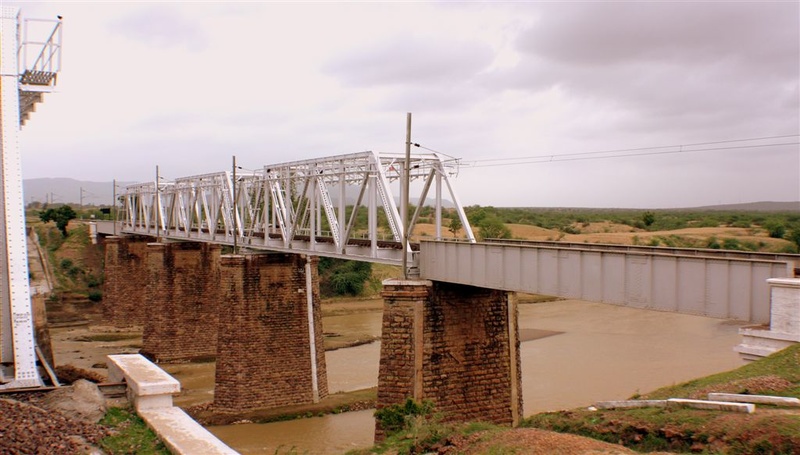 The high stone pillars tapered off, and had a dedicate feel about them. I wish recent bridge construction could keep the aesthetics in mind. Through the rolling countryside came JHS based WAG7 27521 hauling a container rake towards BRC.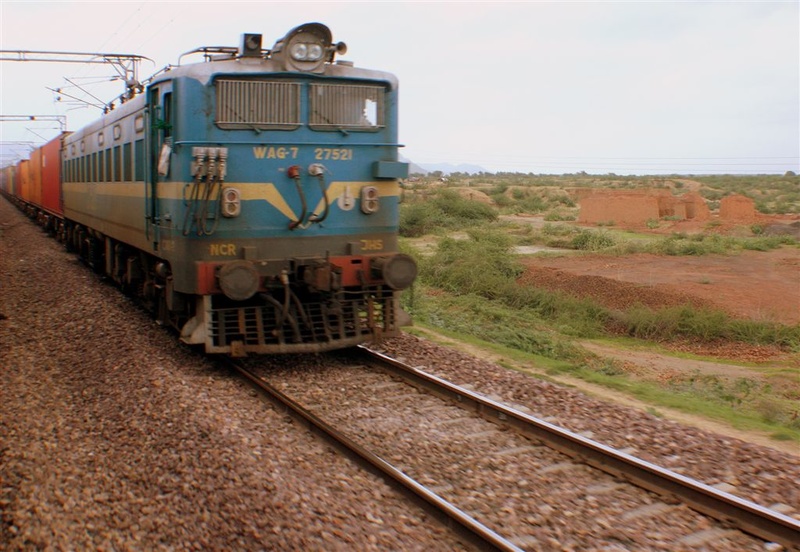 We did flank some of the famed badlands, but these were few when compared to the CR Route. Another pretty visitor encountered was a cream and brown23808 WAG5HR from GZB, hauling a consist of empty and loaded containers, giving an impression of open views through the rake.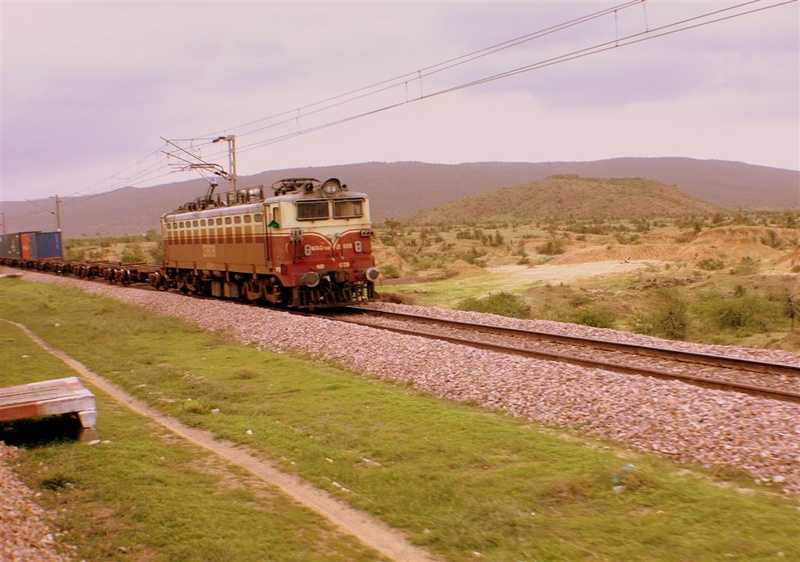 One of my favorite shots happened in a split second when I instinctively clicked an older sandstone chatri, with a new pedestal (chabutara), between the tracks which had a feel of old and new about it.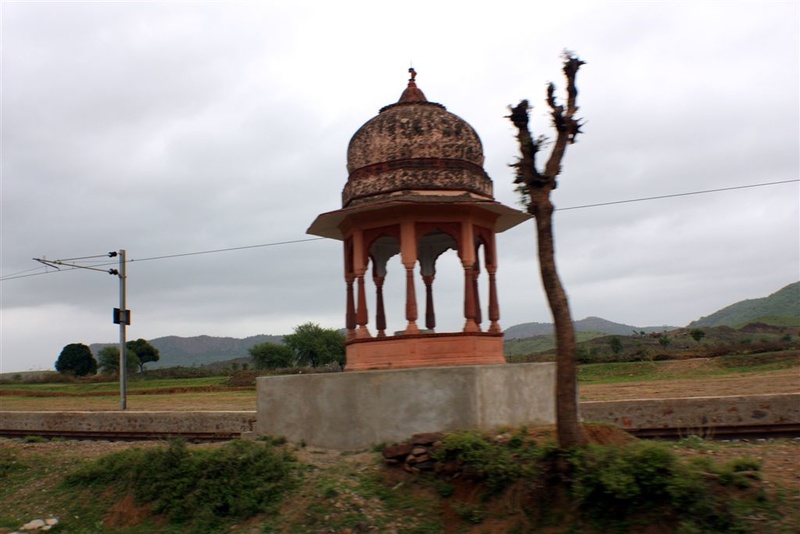 Diesel action also kept appearing, notably in the form of Shaktis such as Orange and cream 13434 WDG3A Shakti from JHS which was chugging with a BCNA rake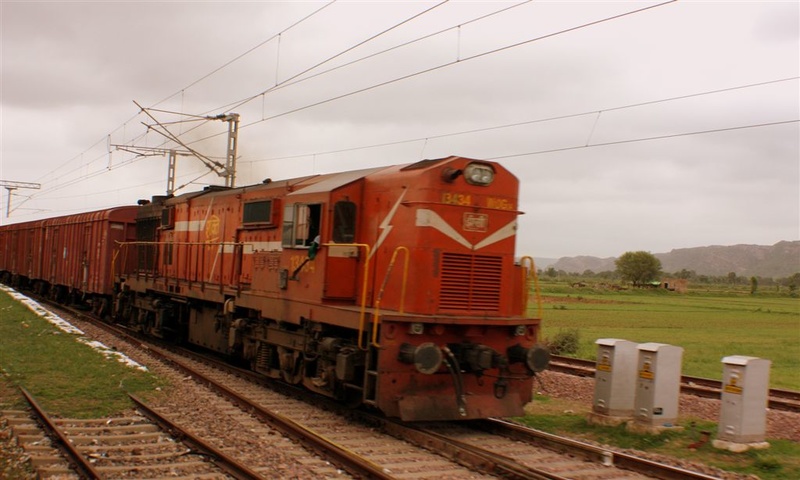 While passing through the tiny station of Ranthambore, known for its till recent Tiger population, I came across a bunch of village boys and a seemingly wizened dog peering out towards the down line â€" seemingly saying that while the Tigers may have been lost, they still saw plenty of Tigerfaces around there.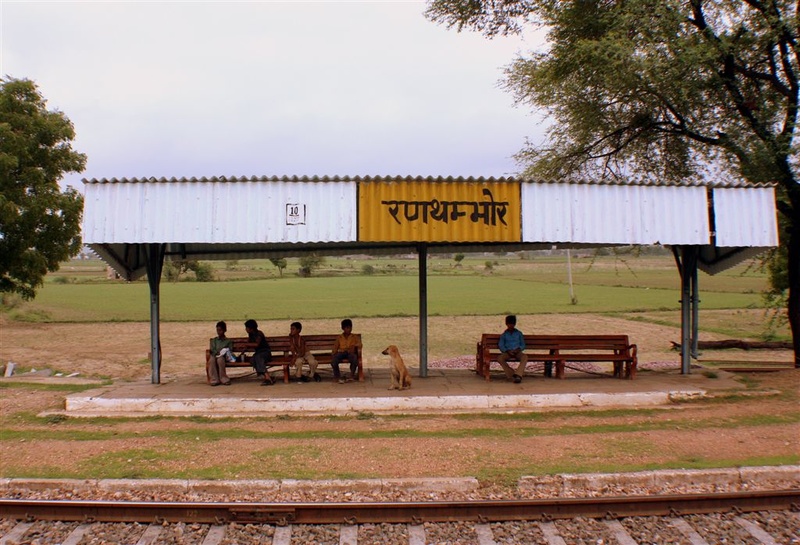 We also overtook a maroon and gold 23992 WAG freighter with a hanging LV board. Another set of twin Bridges appeared, across a sweeping curve over the Banas River which seemed to have a good amount of water flowing through.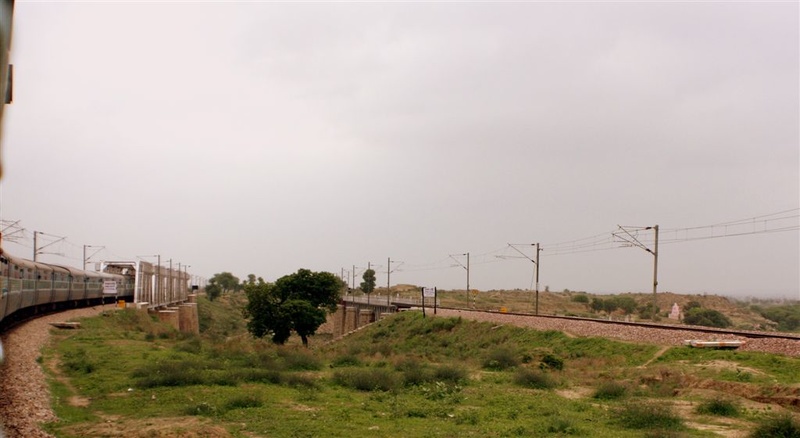 This bridge too had been thoughtfully constructed, to seemingly merge with the Rocky sandstone boulders on the riverbed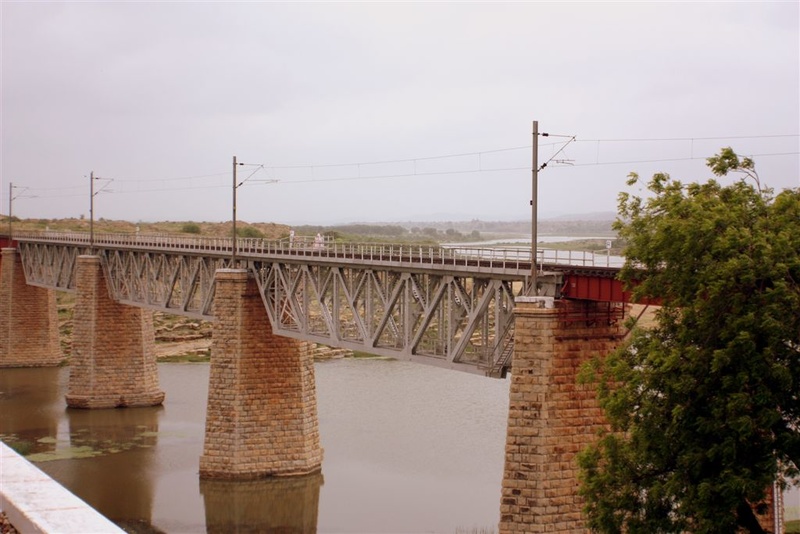 Regrettably, I could not capture any trains passing over the bridges at that time. Off in the distance, in the low ground were rock cuttings that seem to have medieval era chatris grouped with small temples, lending a historic feel through this area.
On one particular hillock was an ancient fort that offered a great vantage point for roaming invaders in earlier days and passing trains in the present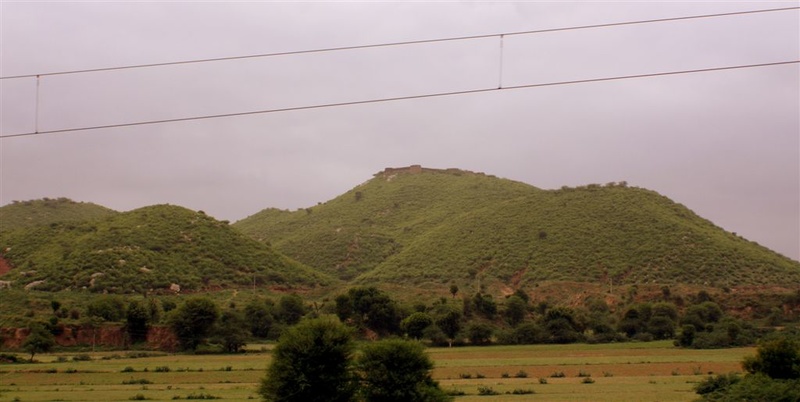 Regrettably the surrounding hills were being mined and stone crushers and grazing goats were stripping away the natural beauty. At one place I saw a stone marker with 'level' written on it but no distance and elevation.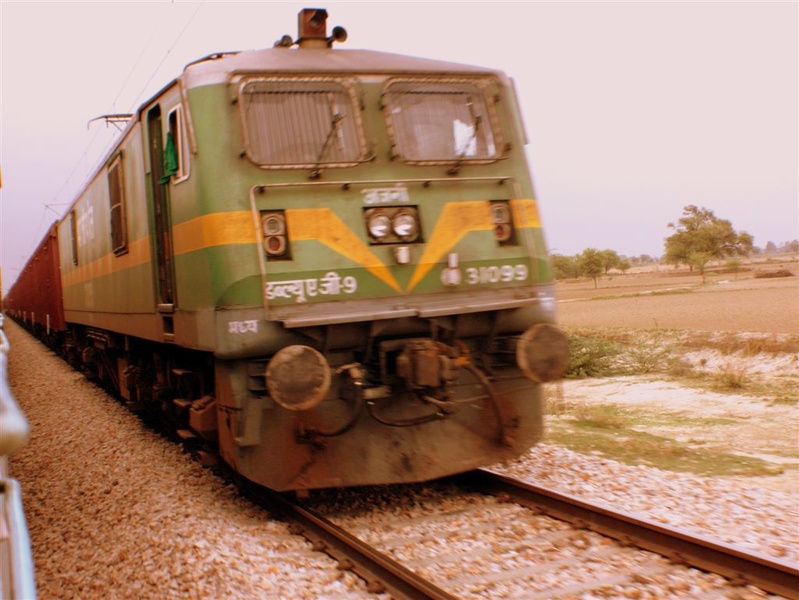 Also came across green and yellow WAG9 31099 from Ajni hauling a BCNA rake followed by a TKD orange and cream WAM4 21297 6PE MU'd with another WAM4 and adorned with lightning bolts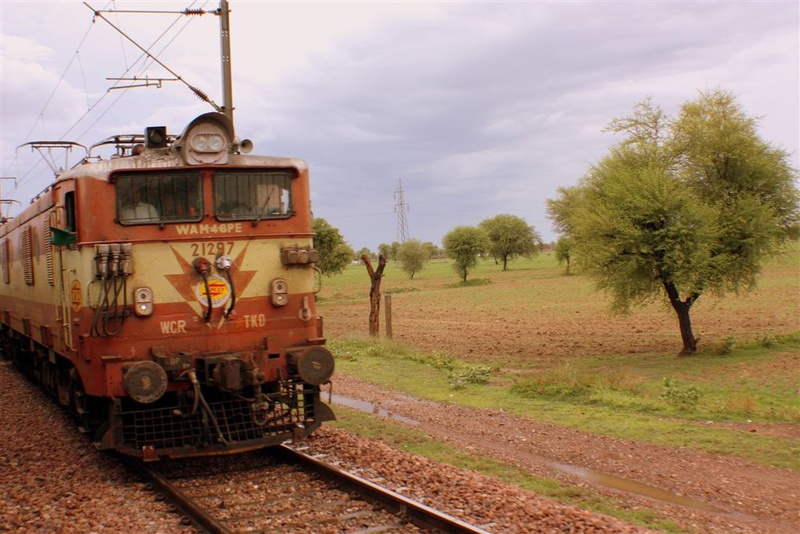 We got a chance to cross the 'Gambhir river' a couple of times with a multi-span low bridge carrying individual tracks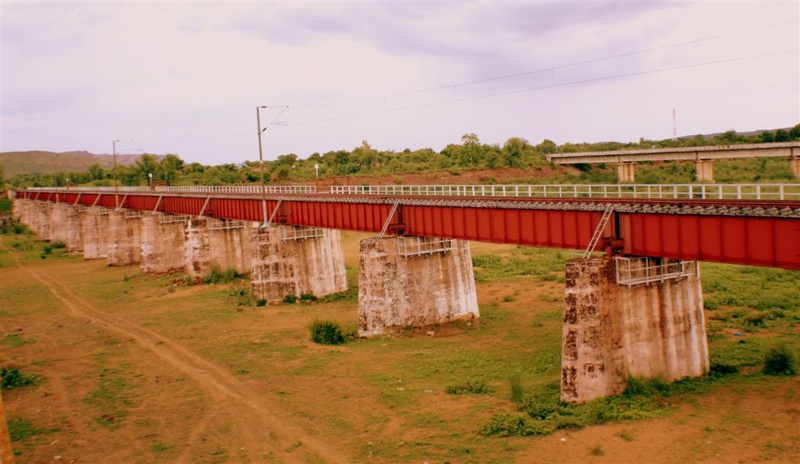 We sped through Bayana Junction at 1108 AM, as a small light green overhead inspection car appeared parked in the tracks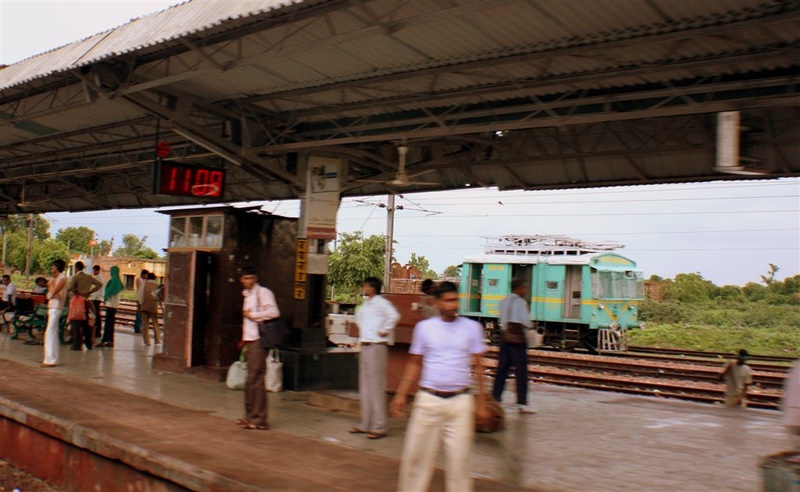 Most of the overnight trains for Mumbai had passed through in the night and the next day's departures had yet to leave NDLS. The vast, open yard of Bayana was totally empty offering a welcome contrast with its rain washed ballast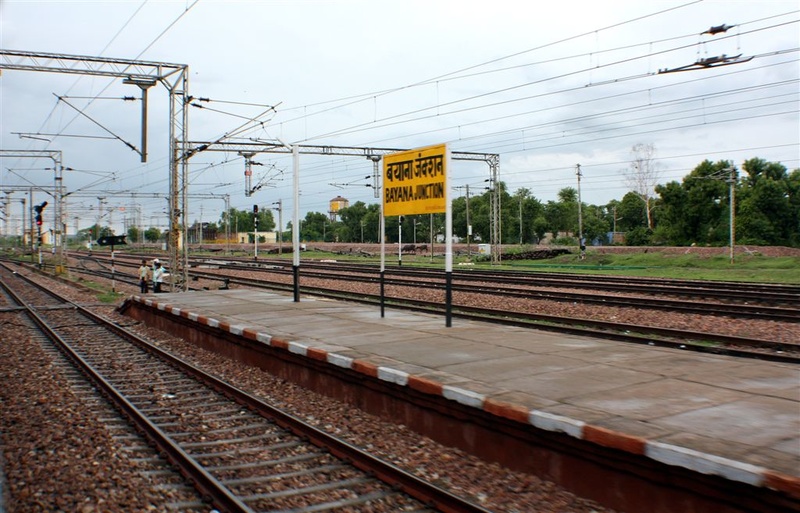 Shortly thereafter, I saw a single, electrified line take off to the right, was AGC/Tundla. We crossed WAP4E 22392 from BRC in Maroon yellow livery hauling an express towards BRC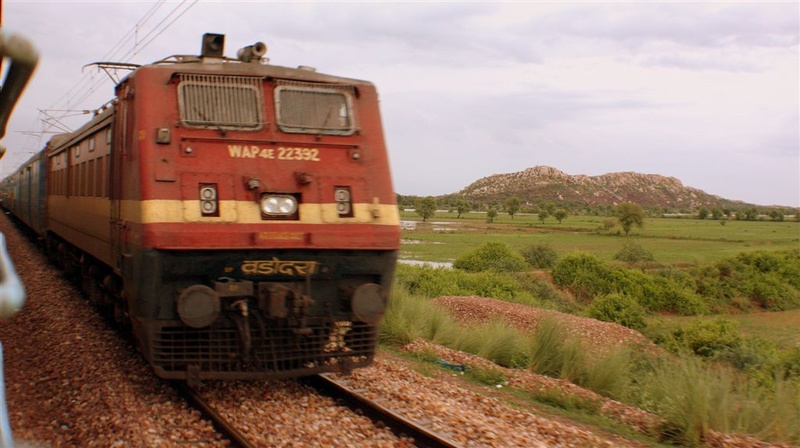 The surrounding rain fed fields were grouped around an interesting 'Sphinx-head' like rock formation, with a small temple in the foreground providing a classic village feel.
For a few minutes there were hardly any trains passing in the opposite direction and the reason became clear before Chata- an overhead inspection car was parked on the down with five men on top of it,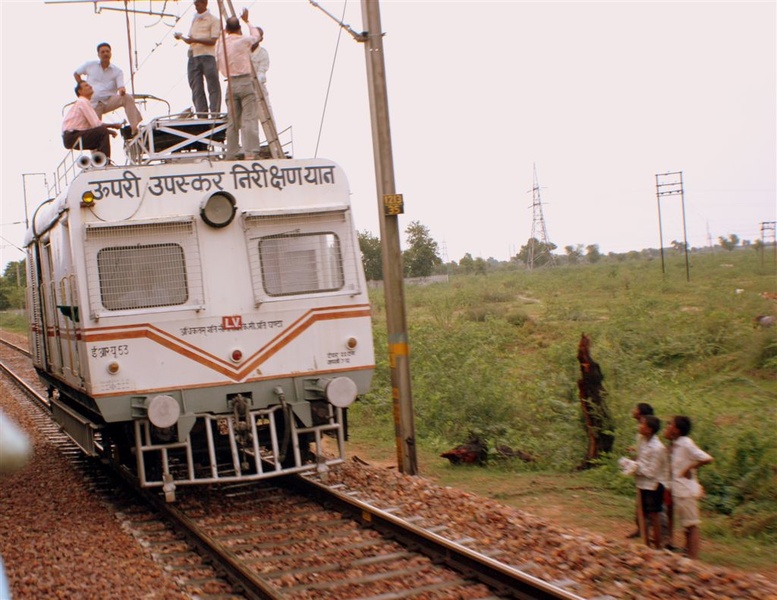 working or supervising the catenary as a crowd of 3 village kids watched with great interest. A few kilometers up was an MU'd WAG5A rake with 23528 BSL (rectangular portholes) and 23129 (also from BSL, with round portholes), seemingly awaiting clearance. More WAG MU'd action followed in the home of TKD twins 23820 and 23413 leading another freighter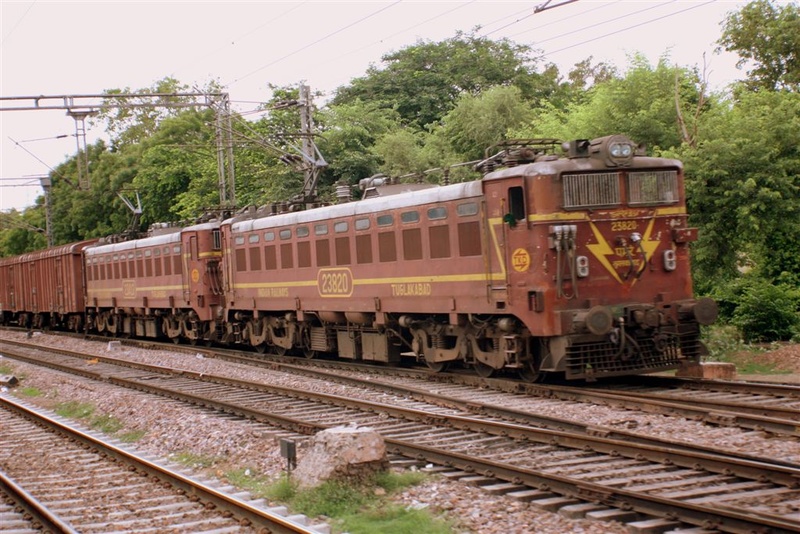 We were approaching MTJ and on its outskirts, saw a couple of Grey-Yellow strip-brown WDS 6 shunters with Agra stenciled on them. One of them had a literal translation of 'dual air brake' as 'dohri brake pranaali' which was literally a correct translation, as a couple of khalaasis ruminated about them.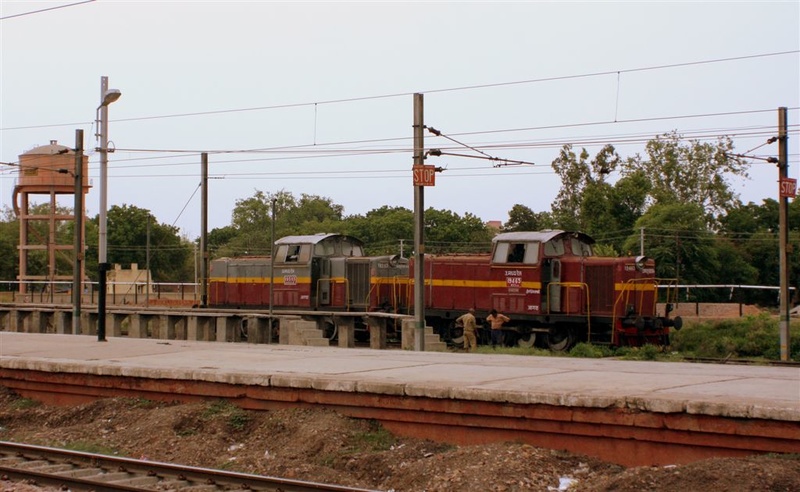 I got to see my second Unimat 3S machine on the trip (Plassers) with an attached crew coach in the adjoining lines.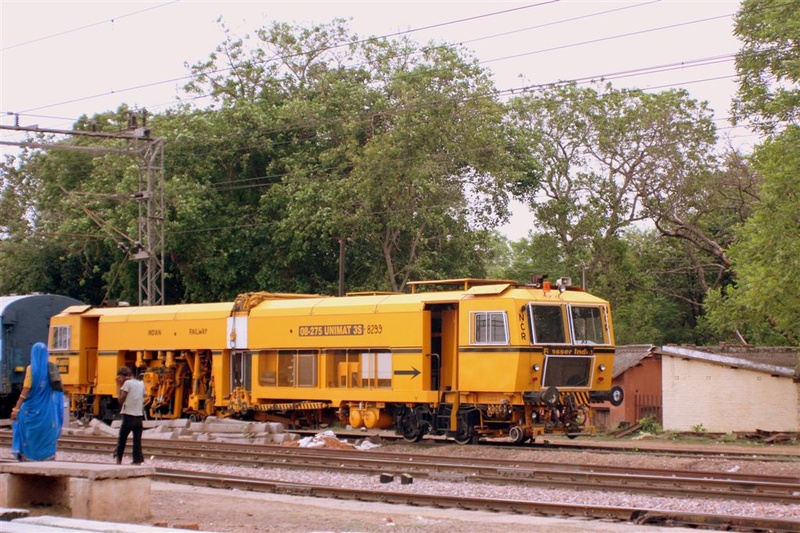 After a 1 minute halt, we moved out of MTJ, only to come face to face with WAP4 22061 from GZB with an express, in which seemed as if it had been driven in a sandstorm, the paint reduced to a caricature on a proud beast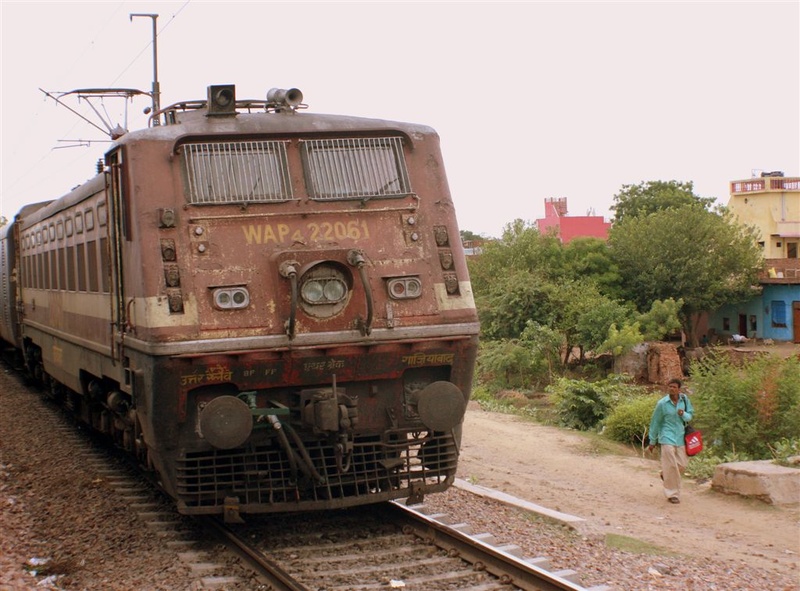 Hopefully it has had its turn in the paint shop. Also, in the middle of nowhere, as we approached a level crossing, I saw what appeared to be a 'lower panto' sign, followed by this ' raised panto?' sign which confirmed that the previous board was not an anomaly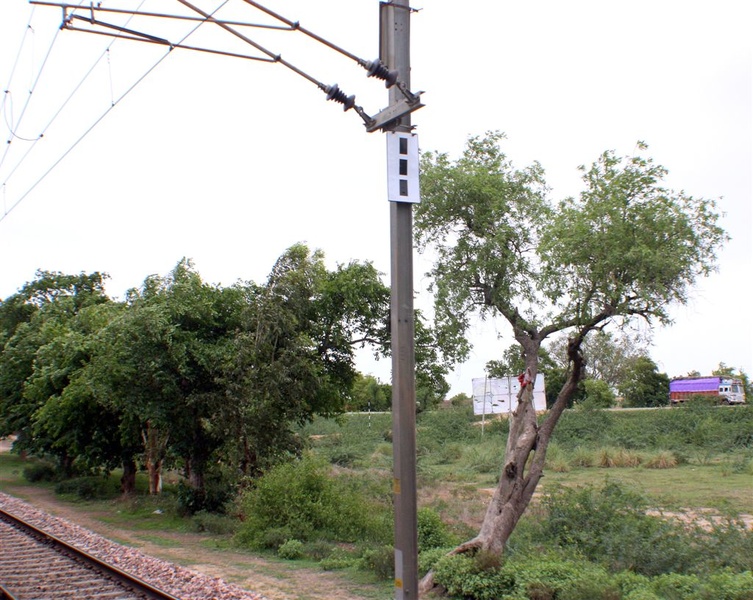 No idea why these appeared. Since we were in the AGC-MTJ belt, this area has a lot of Mughal influence - and one of them was before us - a Mughal era 'kos minaar' or a distance marker, which was a milestone from the Mughal era,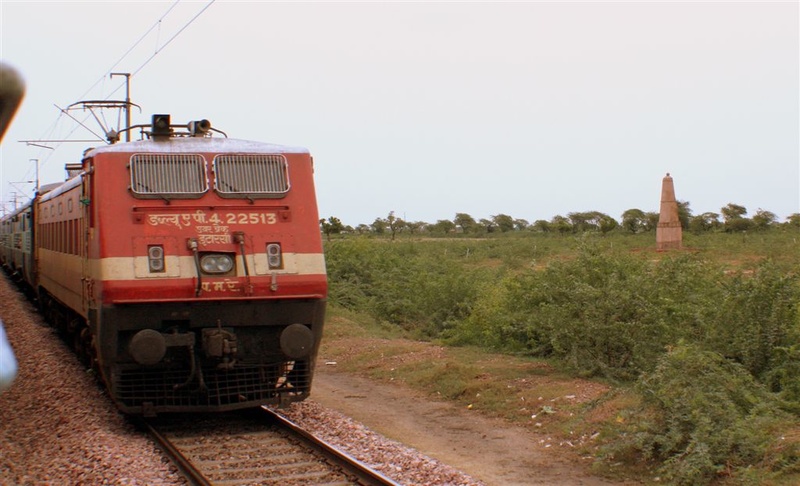 which appeared not too far from the tracks as ET WAP4 22513 came in - again offering an old-and-new co-existence between the two worlds.
So far there had been few Tigerfaces, and in came a faded Red-White-Blue NKJ WAG7 27267 with a container load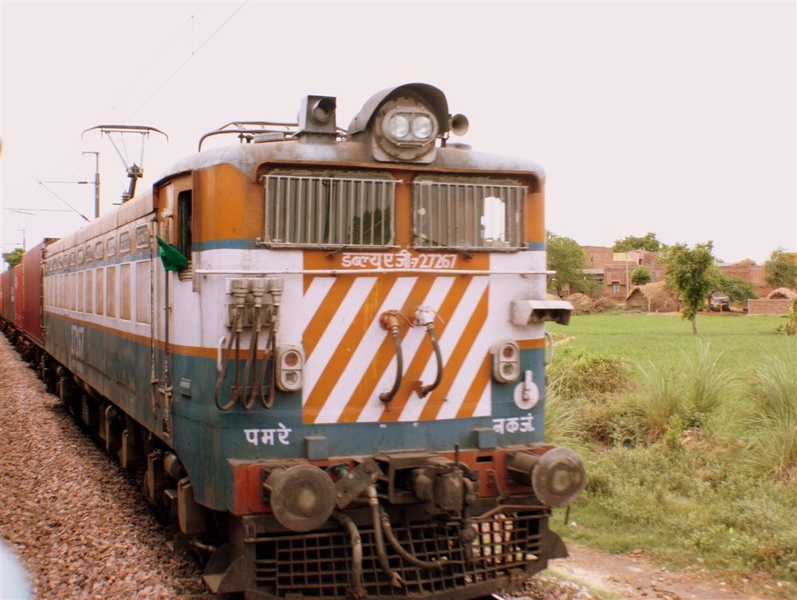 At Kosi Kalan, was a solitary Pushpak twin of our loco - deep in thought- it was 15529 WDP3A from TKD - God bless all loco sheds that write the shed names on the side, making identification easier for bleary eyes
We crossed, in a flash, ED 22218 with possibly the GT or TN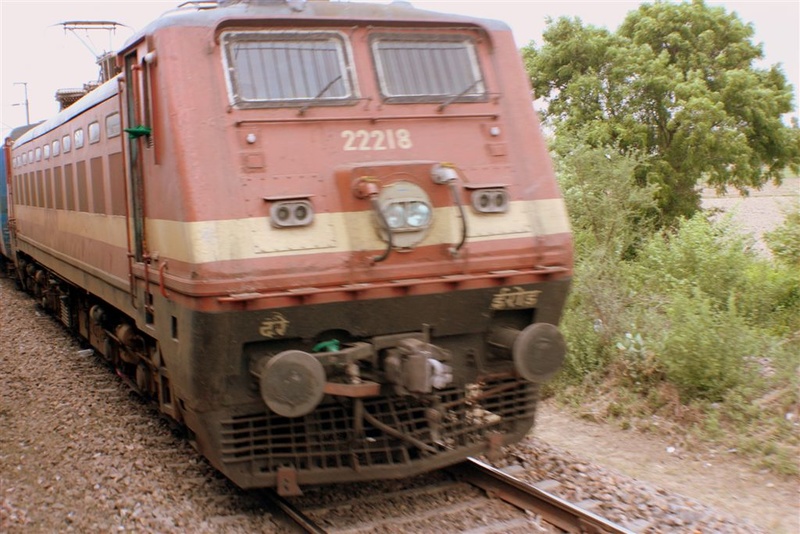 Also crossed was WAG9 31107 from AJNI with a Green gold livery hauling a freighter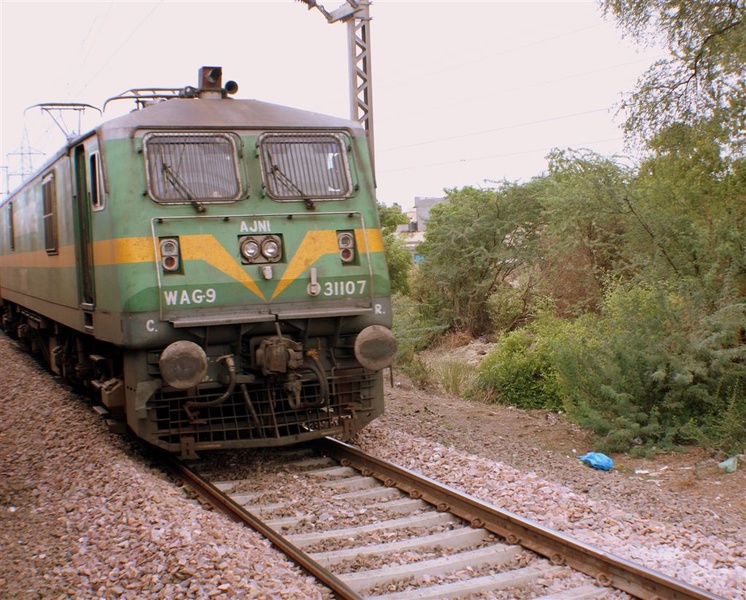 We also overtook, at Hodal perhaps, a stationary BRC 23623WAG5HA with a new paint job in classic maroon livery with a green flatcar separating a long white LNG rake towards NDLS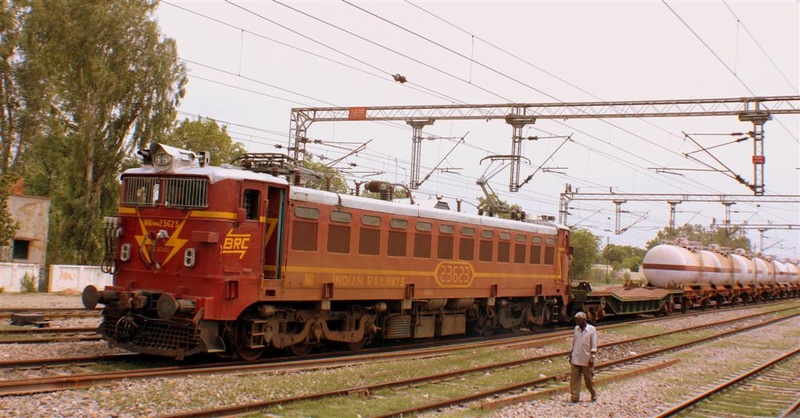 Soon after an unscheduled halt at Palwal, we had a 3rd track join us for company towards NDLS, and on the down line came Green and Gold TKD WAG9 31170 hauling back a load of empty container flatcars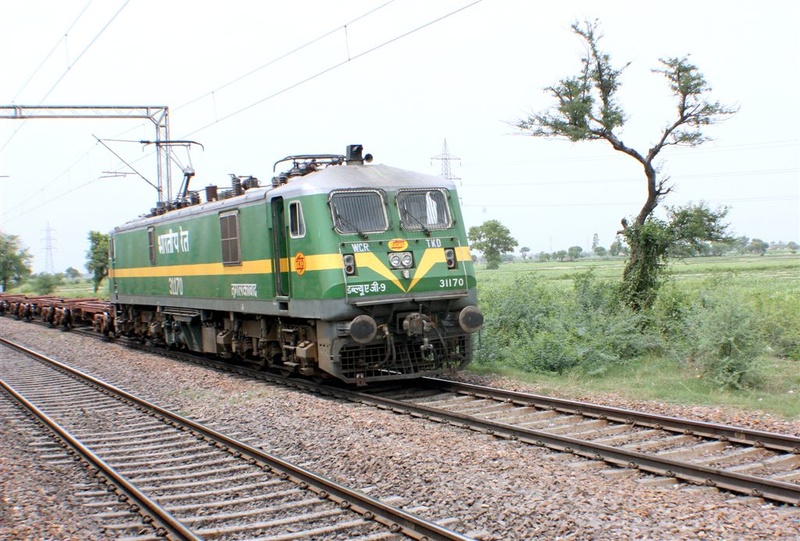 These shiny new beasts are proliferating at a good pace. We were now catching plenty of action escaping from Delhi towards CR/WR and ET 22778 WAP4 was among the haulers screaming out with prominently displayed DBR assembly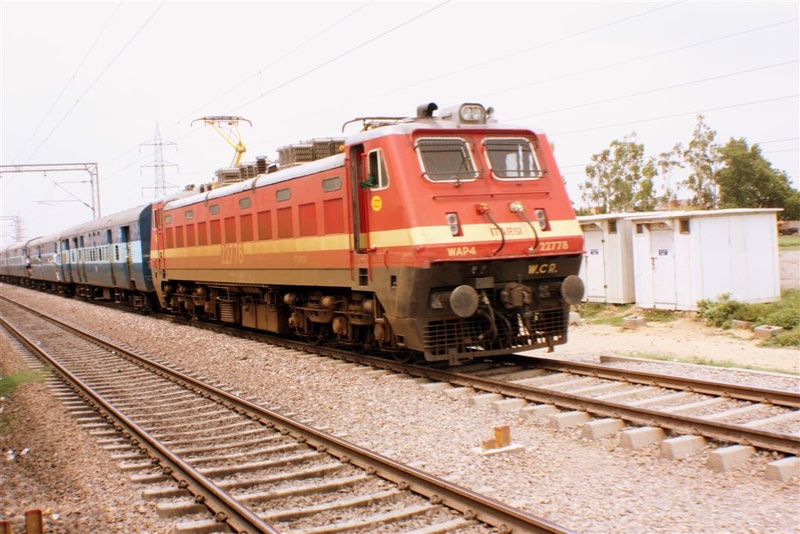 We also crossed Kota bound Jan Shatabdi from H Nizamuddin, hauled by BRC 22542 WAP4E before FDB.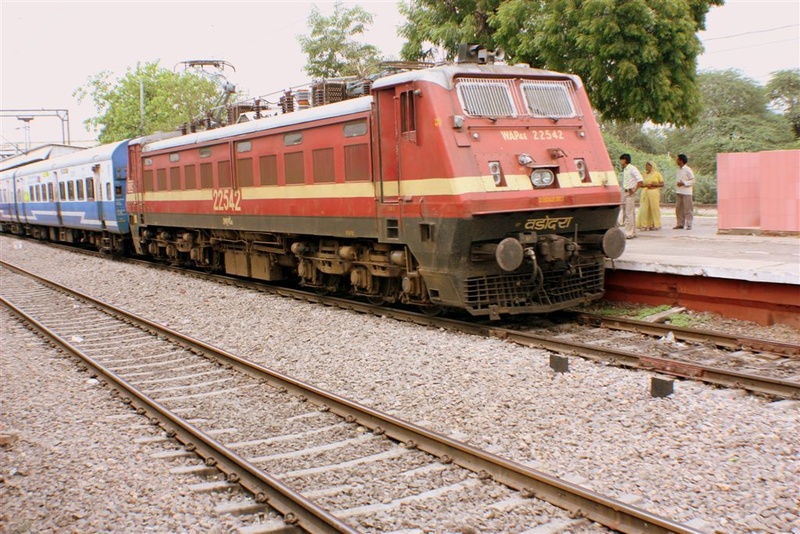 I soon crossed my usual rail fanning spot near Delhi-Haryana border and we soon entered Delhi, as the tracks expanded to 4 towards TKD, all the way to NDLS. Upon entering Delhi state we met GZB WAP4 22652 with an Express.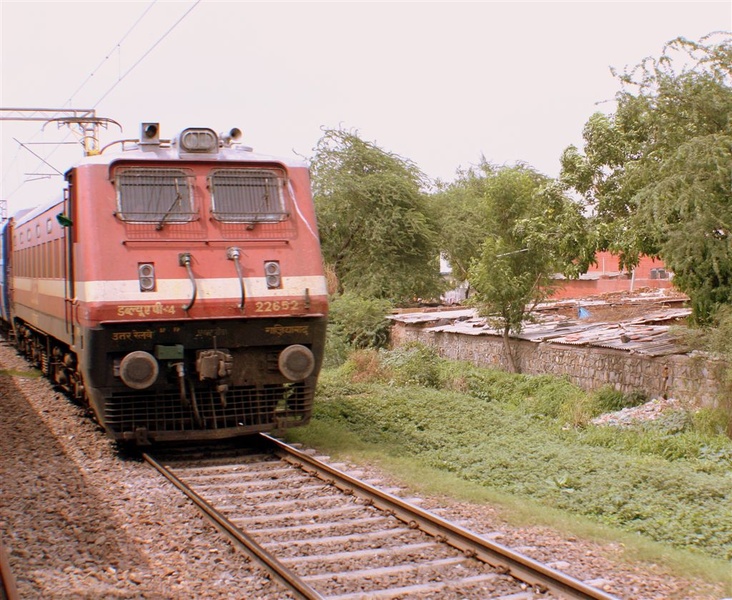 At Okhla station, to my surprise, was the parked rake of the TVC Raj in its Raj Livery, as WAP4E 22704 from BRC with 'Provided with SI Unit' came in with an express in tow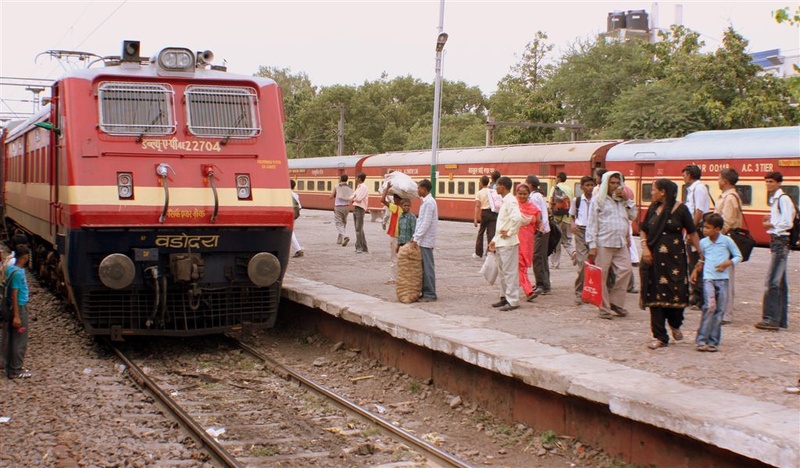 Before the Ashram bridge, in need of a paint job was WAM4 20624 with a faded Itarsi banner, hauling an Express.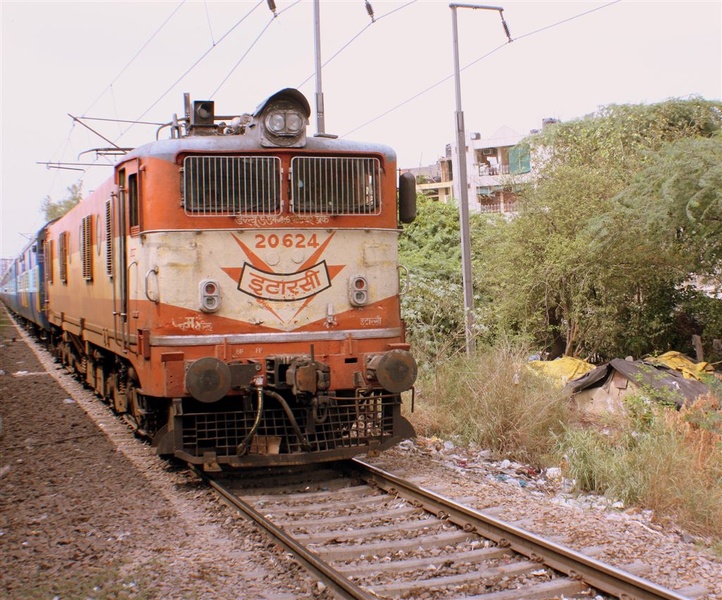 HNZM had locos spilling into the side streets with a WAP1, WAP5 or WAP4 tucked away towards the streets and 22569 GZB WAP4 ready to lead the HNZM-Vasco Goa Express out.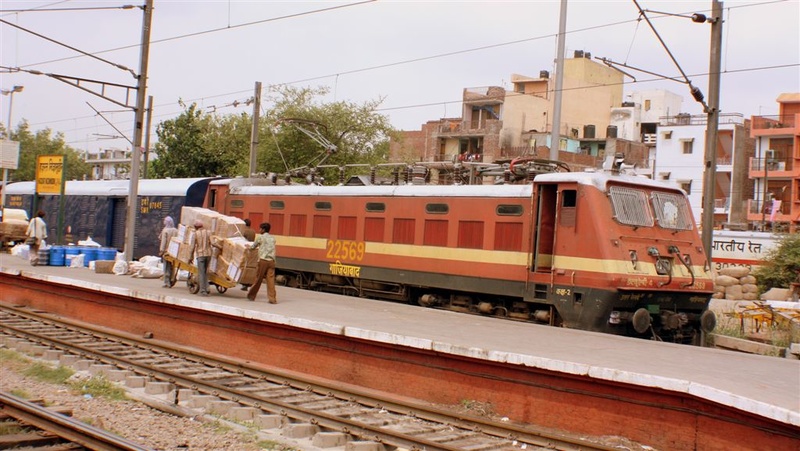 The KSK had not stopped anywhere beyond 2-5 minutes since its run from BRC. Also standing was 18851 WDM3 Orange Cream from the elusive BGKT shed
Also parked at the platform was the rake of that morning's Mahakoshal Express, which curiously had an AC 3T coach with BDTS-HNZM Maharashtra SK on it.. probably a rake sharing arrangement between the 2 trains. Crowded around the Coaching Care Complex was the Rajendra Nagar (Patna)- HNZM GR coaches in their Green and Gold livery, and the sister of our train, the rake of 2617/18 Mangala Express which left ERS earlier by a few hours from the KSK. Also parked were the rakes of the HNZM-Dehradun AC Special and finally a lone BSL based 22307 WAP4, all by itself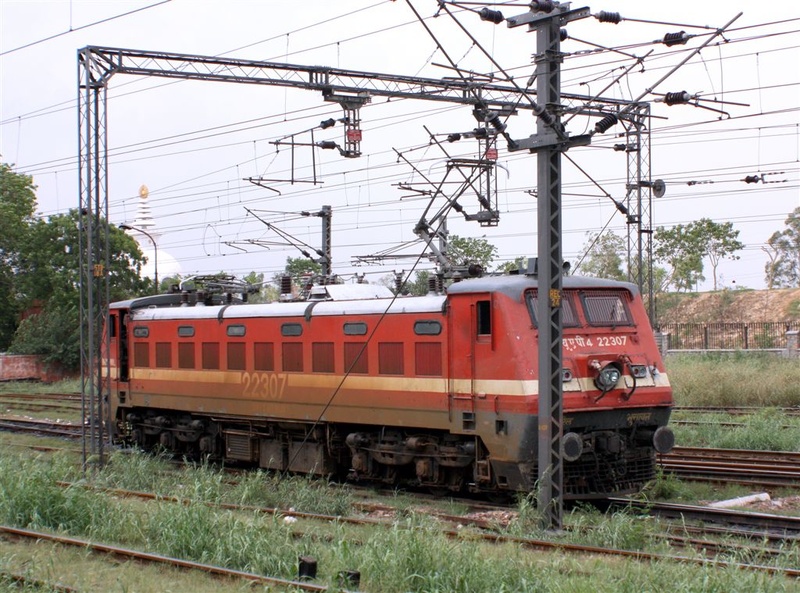 Also seen were the rakes of HNZM-INDB Intercity Express rake along with the LKO-NDLS 429 UP/430 Dn Superfast with EOG in Raj livery. Under the Pragati Maidan Metro bridge we crossed the Bihar Sampark Kranti bound for Darbhanga as it headed towards the Yamuna bridge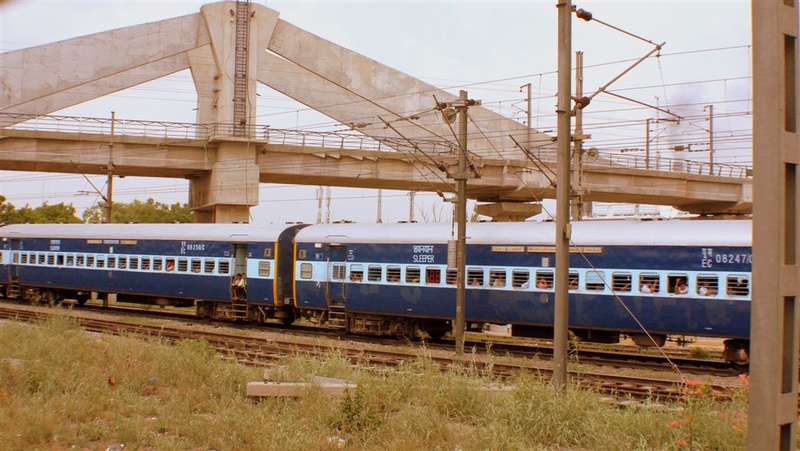 Soon we crawled into NDLS, with a couple of minor halts as the PFs were cleared. Like usual, it was a veritable nest of locos and trains ready to depart, with a WAP4 and a fluted shell WAP5 30005 from GZB shed ready to leave with Muzaffarpur-NDLS train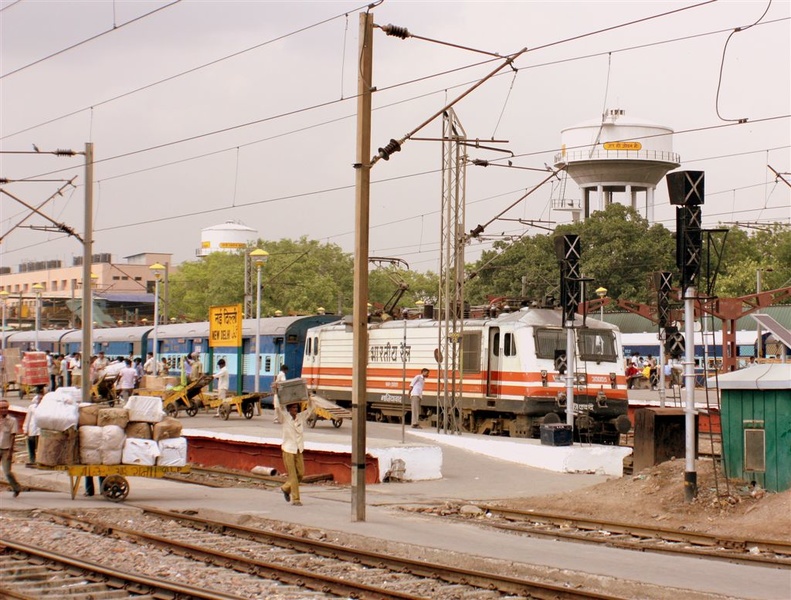 The final capture of the trip was TKD 15526 WDP3A Pushpak in a white and sky blue livery, watching us come to a complete halt.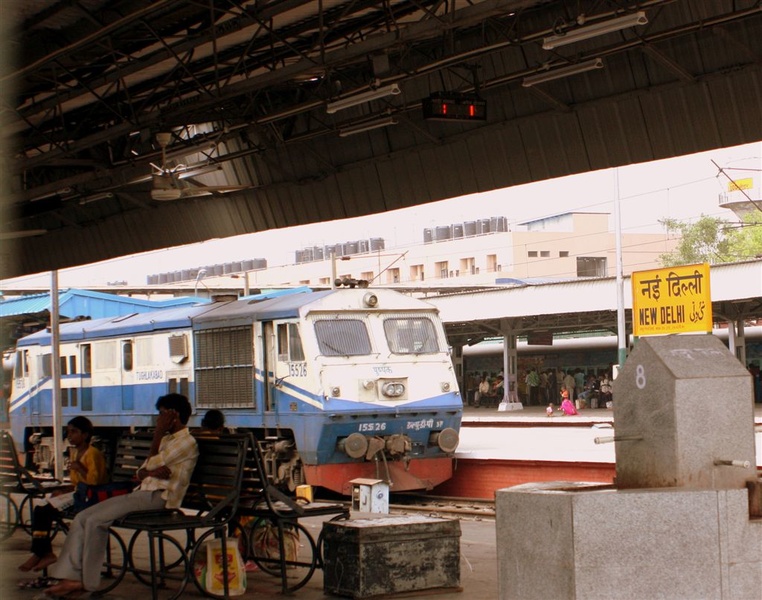 I got off, bid my farewells, and headed to the Metro Station, and got on the Metro to the University. As I emerged from the Metro ride, a rain storm hit, drenching me to the bone. Looking at the line of hapless rickshaw wallahs as everyone headed to the comfort of 3-wheeler autos, I waved one manual rickshaw, got a bowl of Jamuns from a vendor, and set out, getting soaked and refreshed on the near deserted roads of Delhi University… Thanks for reading
---