Trip report to Asaoti
by Shikhar Parjan
2006-09-19
---
Jetlag has a habit of throwing one's schedule out of order - here I was, fully awake when the whole house was asleep at 4 AM. The lights of Delhi Metro's Kohat Enclave station beckoned to me from my balcony. I tip-toed around the house, freshened up and packed a shoulder bag with the essentials - my camera, Duracell batteries, mini binoculars, notebook and a huge 'boondi' laddoo from a wedding initiation received the night before as dry food' along with an ice-filled water bottle. I was ready to head out..! I woke my parents up, mumbled something about returning in the evening and being out of cell phone coverage and trooped out. It was 5:30 AM. The Kohat Enclave Metro station turned out to be locked up like a bank vault, with no sight of anyone- save a couple of dozing guards and sleeping stray dogs. On inquiry I was told that it only opens at 6 AM or so, so I used the time to focus my binoculars on the nearby TV tower silhouette.. A couple of Staff/test run metros had crossed each other - presumably to verify nothing had gone wrong overnight and drop the staff at the respective stations. With 3-4 folks waiting, the ticket seller had put a long thin box on one of the gadgets and was calling tech support - repeatedly cleaning a sensor in a corner of the machine - when it seemed that this would go on & on, he promptly sat down and started issuing tokens. A 13 Rupee token and I was in business for the trip to NDLS. The platform was clean, spacious, and inviting. As I had seen a 'no photography' sign, I did not want to ruin the trip from the start by doing anything contrarian.
6:07 AM dawned and 0102 signed 4-rake Redline pulled up. With no vestibules, parallel seating on stainless steel benches, it looks like sitting in a long corridor. The trip to Kashmere gate, changeover station for the University-Central Secretariat line was smooth, and we were sailing at rooftop levels, past a sea of water tanks, satellite dishes and the factories around Pratap Bagh. Quick changeover to the subway (Redline is an elevated one) and now we were in the well air-conditioned section with more professional types boarding the train. NDLS arrived after 3 stops (Chandni Chowk, the changeover point for DLI station being one of them). Soon enough, I was blinking in the pale morning sunlight outside Ajmeri Gate entrance, surrounded by a couple of auto rickshaw wallahs and other sundry service providers aka touts, who were shaken off with a baleful look. I was returning to NDLS after about 10 years - though initially it all seemed the same - the perpetual on-going construction, people milling about, nonstop announcements - which had better sound quality compared to the endless drone of a few years back. To reacquaint myself, I decided to head over to the Paharganj side, over the foot bridge. I wanted to go someplace on the NDLS-MTJ section without the clutter of urban sprawl and within 50-75 km of NDLS. I thought of either Hodal or Asaoti or Kosi Kalan, which would have been too far. The railway inquiry man was spitting out answers but on my query for Asaoti, he paused, checked me out, spoke to a supervisor lady behind the desk, and said 'Take the DLI - AGC Pass. It is held up at DLI, but will be here around 8 AM'. Sweet. I took a tentative snap of the incoming CNB 22235 WAP1 hauled 4005 SPJ-NDLS Licchavi Exp, but decided to shoot more later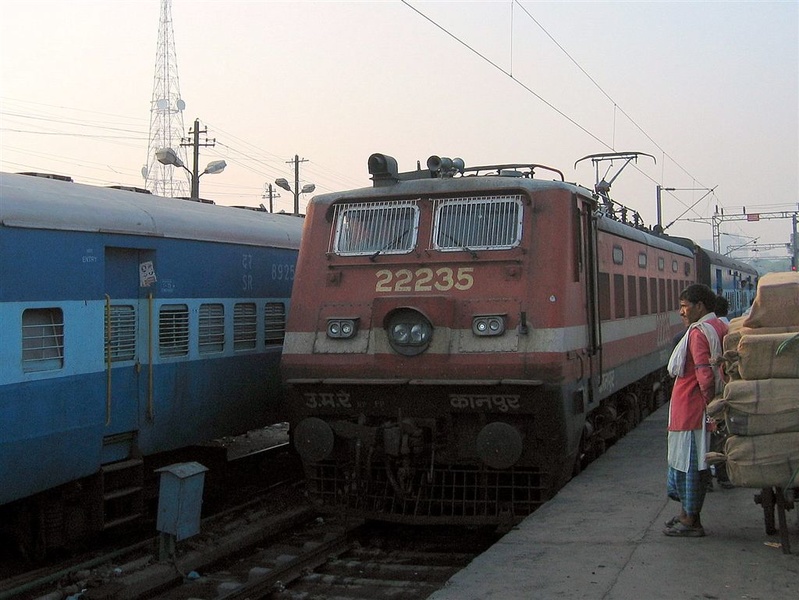 I went to get tickets from the unreserved area, and it seems some things never change - there was a guy moaning about how he was given the wrong (less) money for some tickets bought, and his colleagues were urging him to get back to the counter, where he was chewed out by the seller. Of course this was a failed mission, and he should have counted:-). But the most amusing sight was a argument - nay, a bitter fight -going on with 2-3 sellers behind the counter and one man, 3 deep in the line. Apparently one of the buyers' colleagues had abused the ticket selling fraternity and they were in no mood to let go. One of them turned purple with a mean looking throbbing vein in his temple and I feared he would have a stroke. I asked him to let it be and go to another window as it was clear the sellers in earshot would gladly have him wait around for hours, but this dude, it seems relished a good fight, never mind the train to catch. My line moved and I asked for a round trip to AST… 22 rupees and a printed ticket showing a distance of 50 km.
I was back on the foot over bridge, Saw the Shan-e-Punjab ready to leave from either 8/9 Platform. The 362 DLI - AGC Pass was showing up on the board at Platform 4, which was taken by the overnight Lucknow Mail, which showed no signs of moving. Platform 2 had the rake of the 3008 SGNA (SriGanga Nagar- HWH Udyan Abha Toofan Exp waiting for its power for the underwire haul to HWH. Soon enough, a GZB WAP1 6P coupled itself and waited for the signal. I decided to check out the Shan-e-Punjab, though I fully knew that it would have long departed. No sign of Lucknow Mail giving up its platform for a poor Passenger train. There was a 'man door' with a bunch of RSF guys which I had passed through a few minutes back. On the way back to Ajmeri Gate side, I did not even have to go through that door….'Yeh kya hai' (What is this) came a voice from the man on duty on the other side, as he reached for my waist belt. I was wearing a longish Olive Green T-shirt with dockers and the belt was not visible - but there was a bulge of my camera. I innocently said 'camera' and that was that.. he thought I had a sidearm or something. I had to give it to him, he spotted the bulge in a stream of passengers in the opposite lane. Of course, potential troublemakers don't move about with their guns to their waists, but still, the guy was doing what he was supposed to….
Shan-e-Punjab had long moved on, probably taking deep lungfuls of the Sonepat area countryside by then. Announcements were made of the incoming 4257 Kashi Vishwanath Exp which was running a bit late from its 0640 AM arrival time. A distant WAP5 was seen peeping from the Connaught Place side, and I surmised it was the overnight 2417 Prayagraj between ALD and NDLS…and it was the one. I was getting worried about the humble DLI-AGC Pass and so did not go down to unlock the mystery of whether this was the fluted shell one or not.Soon the PA system boomed to announce a change in Platform for the DLI-AGC Pass - my train - to come on PF4. The LKO Mail had still not budged to the pit lines yet. I saw a Raj liveried WAP1 (GZB) pull in an eclectic mix of maroon vacuum-braked coaches and some AB-painted coaches (which were probably vacuum braked too). By now I was munching down some
less than desired watery Idli Sambar and cutlets at PF1, as I had failed to locate the famed Comesum outlet (I was informed it is on PF12), so never got a chance to see the road number, as the sides of the loco were grimy anyways, in true GZB fashion.
Anyways, I boarded in the middle, with open seating- without any compartments. The coach was old, filled with the regular DLI - AGC day passengers. I was next to a young UP couple who wanted to buy electronics and I told them to go and see Palika Bazar. He informed me that they would be getting down at NZM and I was overjoyed at getting their window seats. Soon we were off, with a 2-tone horn.Our rough and tumble mix of coaches masquerading under 362 DLI-AGC Pass soon took to a 70 km+ speed right after Tilak Bridge. The Metro line extension from Barakhamba Rd-Pragati Maidan-IP Extension was on in full swing, with the catenary masts up and construction on at the Nissin-hut style Metro station structures. The wiring was also up, though the masts were lined parallel, indicating non-operation. I believe the expected completion is by end of year, with a winter inauguration like other Metro phases since 2004. Took a routine pic of Humayun Tomb-through-the-wires.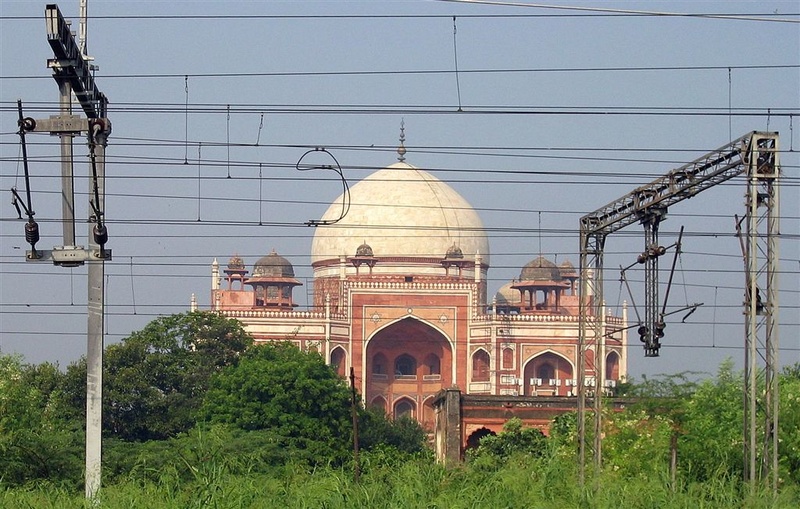 I was getting curious glances from the few seated around me with my discretely-placed notebook and camera at close reach, but I preferred to focus outside. Saw the rake of 2964 Udaipur City- Nizamuddin Mewar Exp on one of the sidings. While we were stopped, we were overtaken by a TKD 27636 WAG7-hauled BCNA rake that was doing around 40 km/h. the 362 Pass was'nt going to take that lying down, and soon after leaving NZM, made short shrift of the BCNA rake before Okhla station. (~9AM). We crossed the triangle between the GAL line to Sewa Nagar-Delhi Safdarjang and the spur from NZM to GAL, with us being on the MTJ main line. We crossed a 30015 WAP5-hauled LHB train (probably one of the Mumbai Rajs). Okhla had a DQ style white and Blue CC rake no boards parked on a platform. Daily passengers were getting off in droves. We crossed a WAP1 22046 hauled unknown express. After Okhla, the 362 Pass flexed its muscles and showed it was no sissy. On the main line on the way to TKD, Industrial area, 100s of workers were sashaying across the tracks to the Okhla Indl Areas Ph I & II oblivious of the solo shunters, EMUs and BCNA rakes moving about. Even cows display better traffic sense!!. TKD Yard had multiple freights parked. So far, most traffic seen was South bound, towards MTJ - just a coincidence given the time of the day - for the main line to clear after the stampede of early morning expresses fanning out of NDLS. Reminded me of truck drivers as they snooze off in the daytime at a 'dhaba' (food court) for the passenger cars to scream through, before ruling the night. TKD station/yard complex had a long foot over bridge, clearly spanning 15-20 loop lines on the other side of the station. I saw a couple of distinctive saw-toothed asbestos-colored shed, with no markings - the DLS and ELS I guess - the doubt was soon removed with a thick plume of black smoke shooting skywards from that vicinity - the DLS had introduced itself! Probably MGS has a wider array of yard lines
I saw a stationary AJJ 23245 WAG5 HA and unknown WAG7 Tigerface with their respective rakes (AJJ had a buffer less, CBC-coupler BCNA rake) near TKD 'B' cabin waiting for their northbound proceed signals. The heat and humidity levels had been rising making it feel like July rather than mid-Sep with no breeze. Also giving company within the huge TKD yard were assorted LDH grey and orange diesels; a 27125 Ajni WAG7 Tigerface; also of interest were a pair of visitors - MU'd BIA 23043 + 23171 WAG5A pair in their brooding Red-Green-Black liveries - I would be meeting them again ; and a solo TKD 23133 Tigerface heading North.
Sitting bang at Delhi-Haryana Stateline- seemingly trying to decide to cross over was a ED 27559 ED WAG7 with a BCNA rake. We were still coasting on the left most of 4-lines, giving me ample opportunity to eyeball anything on other tracks. We overtook a stationary LGD 27381 WAG7 Tigerface-hauled container rake and crossed an elegant JHS 27072 WAG7 with sky-blue and yellow stripe livery headed North towards Delhi. The mail/Express crossings had expectedly dropped down with most already at their destination or behind us. Saw a BRNA (with an R) flat bed rake with blue tarped steel coils and rods awaiting a loco near FBD. FBD had a MGS 27053 WAG7 rake and another maroon loco powered container rake next to each other. By now I was thinking about getting ready to jump off at AST, as I had no idea how near or how far it was. The factory landscape began to turn to open grounds, but no farmlands after FBD New Town. We crossed an Express with Vizag boards hauled by a 20582 WAM 4 in Orange and Cream livery. An interesting sight, near FBD New Town station, was a cabin marked ABOUNDED:-). As we pulled out of FBD, in came a Raj-liveried (cream and red) 22357 WAP-hauled 2621 TN Express, reaching the final stages of its long haul. Platform clutter and our acceleration in the opposite direction prevented me from making out the shed, though TN was coasting at a leisurely pace; as if making up it's mind to stop. Under the Neelam flyover was a North-bound BCNA rake, hauled by a cream-brown GZB-based 23460 WAGx loco. Just under the overpass where the NH2 crossed over the mainline at a 120-degree angle, we crossed the LGD 22607 WAP in a Raj livery hauling the 2723 AP Express. Another hard-working Ajni 27129 WAG7 Tigerface hauling a container rake was seen paused before Ballabhgarh (BVH). We crossed BVH, the crowd had thinned out by now, and crossed the BDTS-ASR 2925 Paschim Exp hauled by a Raj-liveried BRC 22383 WAP4. Soon the next cabin read Asaoti (North).
Asaoti seemed perfect for my purpose - it is located between 2 moderate-sized stations, BVH (NDLS end) and Palwal (PWL) (Mathura-end), the destination for EMUs. The tracks are bunched in a 3-2-2 layout; 3 being the NDLS-MTJ main line, and 2 lines each on 2 island platforms on either side of the main line. The station sits across the western most (mainly freight use) 2 lines.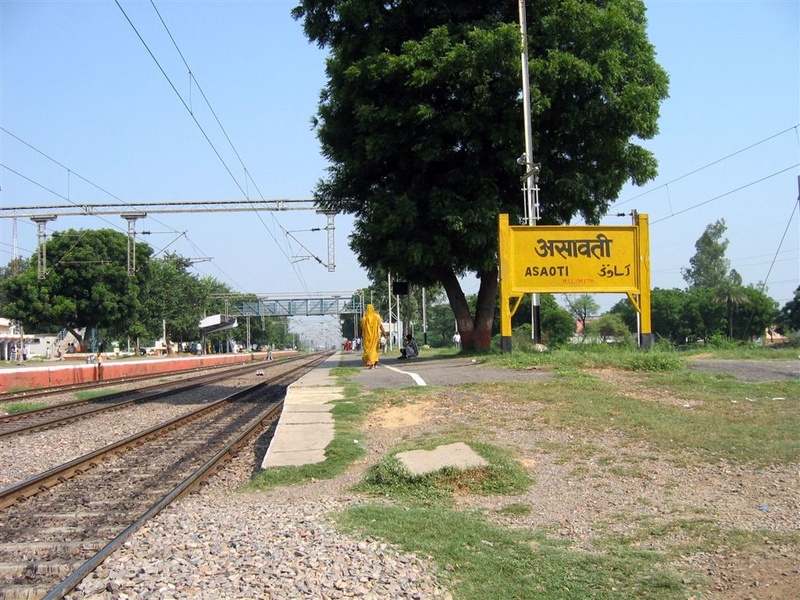 Most high speed action passes through the mainlines and the dual 2-line sets are mainly used to let the freight and overtakes go through. The 2 lines are an expansion of the 3rd NDLS-PWL line and the 3 main lines merge back to 2 and pair with the 3rd line. Not much passenger traffic, straight end-to-end runs and good visibility to indicate incoming traffic at least 5 km away - in each direction. I hopped off the 362 Pass and took a look around. It's ideal for someone to make a small hop (50 km) from NDLS in an hour or so, and be away from industrial areas and lower speed action of Delhi surroundings as most trains are howling past at or near MPS.
In the distance I could see a level crossing. I did not want to hang around a rural, unfamiliar station too much or start clicking right away, so I strolled off.. I had barely stepped a 100 yards from the platform that I heard a throaty rumble of a LGD 27381 WAG7 Tigerface hauling a multi colored container rake.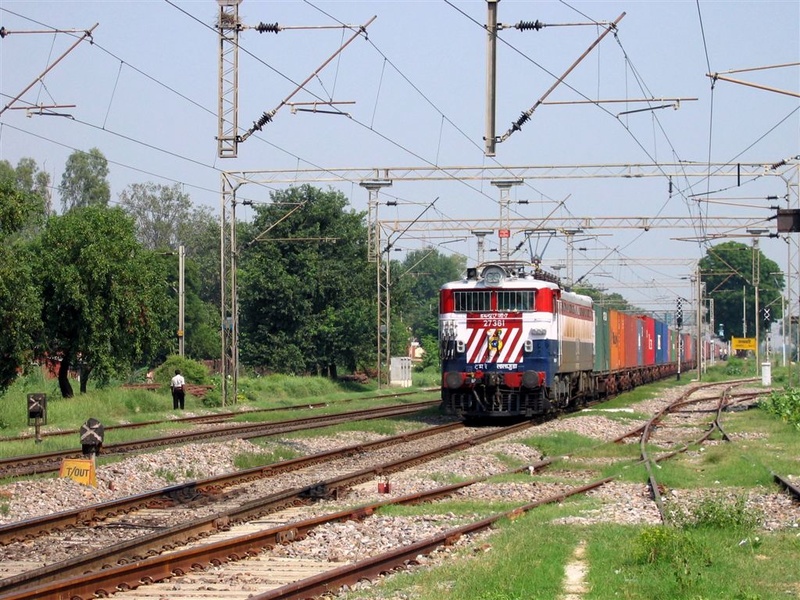 As I was reaching the crossing, this was shortly followed by a GZB-PWL yellow and Green EMU (Electric Multiple Unit)which was pretty lightly filled given that it was 1 station away from its destination and headed in the opposite direction to morning commuter rush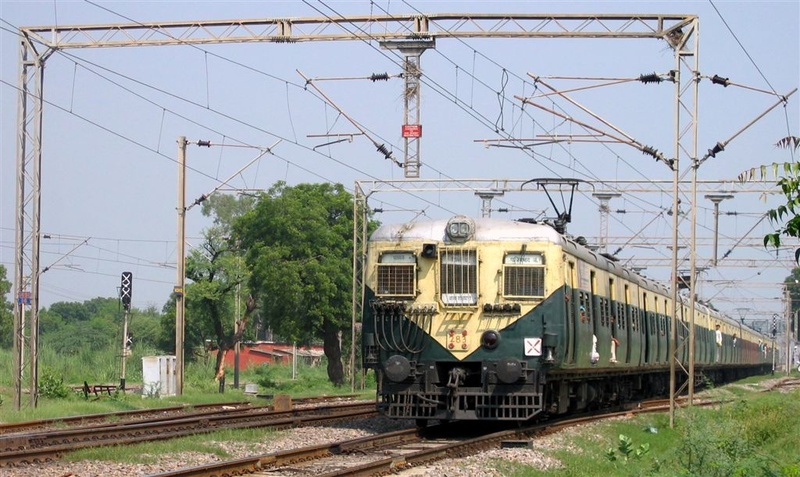 By now I had reached the level crossing - the points are split (or converged- depending on your viewpoint) at this location. The crossing itself was a village track (no road, with only the actual crossing being metalled). A hand pump at one side took care of water supply…. Nirvana.., no doubt. This was the domain of Sh. Devratan, a langly, soft-spoken Jat who would be my impromptu host for the day…..
Devratan had been based at this level crossing for the past 2 years â€" I told him that I am a photographer for a freelance internet writers group and my 'writer' had gone ahead and I am taking vantage shots. That seemed to please him, and I had a plausible story without trying to explain what IRFCA is. My past dealing with Jat troops helped break the ice and soon we were chatting in my rusty, near forgotten Haryanvi dialect. He told me the crossing sees around 220-plus trains in a 24-hour period, with peak action expectedly around the AM and PM 2001/2 Bhopal Shatabdi timings. There was a poster in his sparse-yet immaculate hut with a Shat picture and a text of '… the speed of the Shatabdi has been increased to 150 km/h, pls keep yourself safe etc.' Also, faded and illegible was a gap in the text which read along the lines of '…this Shatabdi covers 42m in a sec', but the '42m' part could only be read real close.
I heard a rumble in the distance from the South-end Abandoned cabin (the controls had passed to the station itself, along with the operation of the crossing gates - leaving poor Devratan with a point to operate the lock to prevent the gates from being lifted).- the rumble turned out to be a cream and brown LDH 23198 WAM 4 with blowers on and headed North-bound - on the lesser used goods lines - making me break into a sprint to capture her, still about a second late. In came another South bound BCNA rake hauled by a AJNI 27125 WAG7 Tigerface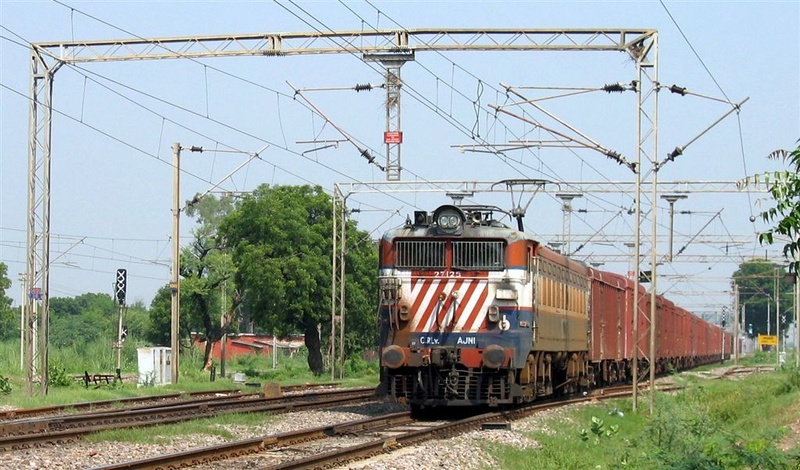 Around 1050h came a late-running 2919 INDB-JAT Malwa Superfast Exp, hauled by a Raj-liveried GZB 22028 WAP1 in Raj livery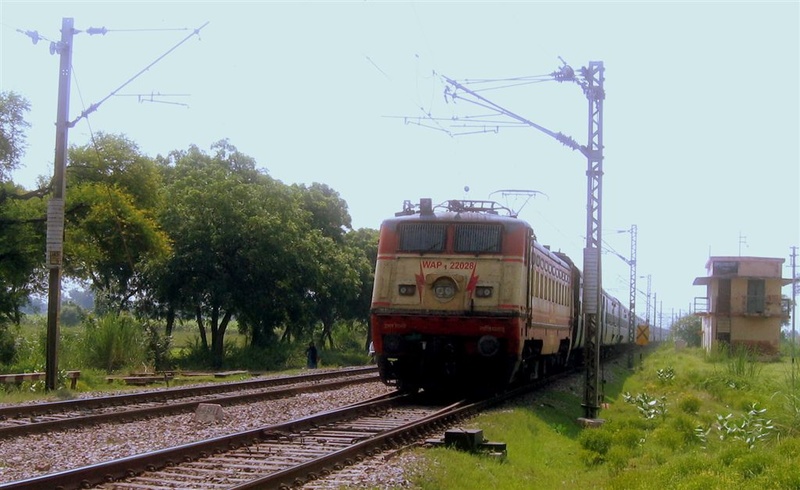 I tried a (less than perfect) shot through the catenary mast of the ERS-bound NZM-ERS Mangala Exp hauled by a shrill-sounding BSL 20698 WAM 4P in a what seemed to be a poor attempt at creating a Raj livery for a WAM4.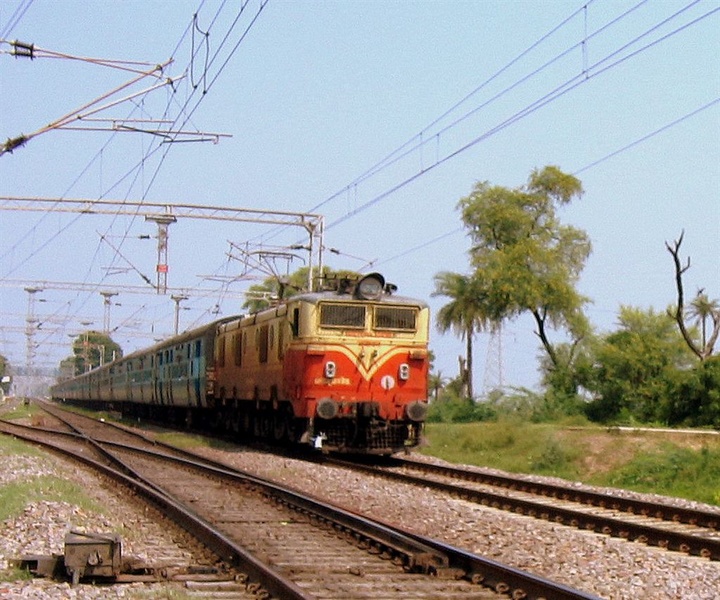 This was followed by the return trip of the GZB-bound EMU (Electric Multiple Unit)which has just started off from PWL, and I had met around an hour ago, shortly after disembarking at AST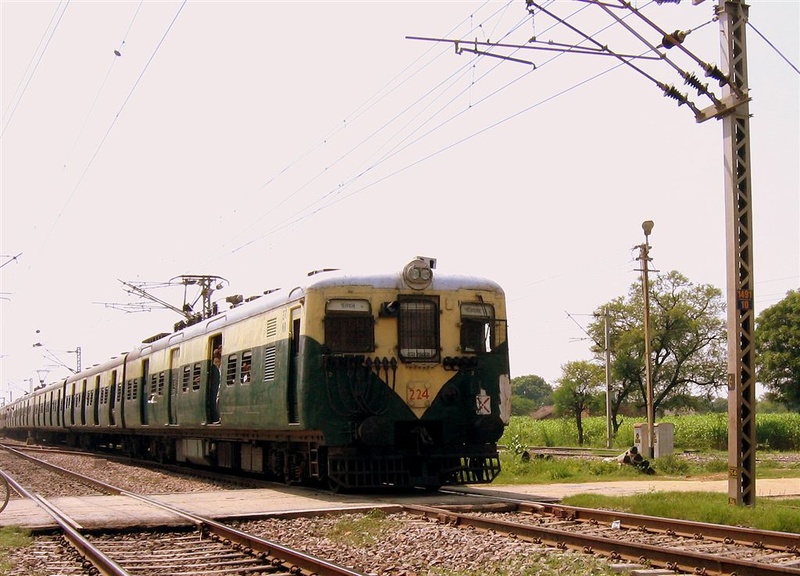 The goods line had a slight hump in the mid-section just past the abandoned cabin, and that gave an interesting vista with a freight train snaking along on the upslope and down slope - as seen in a Northbound AJNI 27275 WAG7 Tigerface hauling a loaded coal rake, which paused soon after it hit AST station
!(faqthumb)http://www.irfca.org/gallery/main.php?g2_view=core.DownloadItem&g2_itemId=353608&g2_serialNumber=2 !:http://www.irfca.org/gallery/openline/AsaotiShikhar/Picture+017.jpg.html
The reason was already seen through my binos… ET 21342 WAM 4 in a Raj livery with the distinctive banner logo bearing 'ITARSI'-hauling in the NZM bound Mahakoshal Exp from JBP. Now the NDLS bound action was picking up with several long distance trains reaching the home stretch.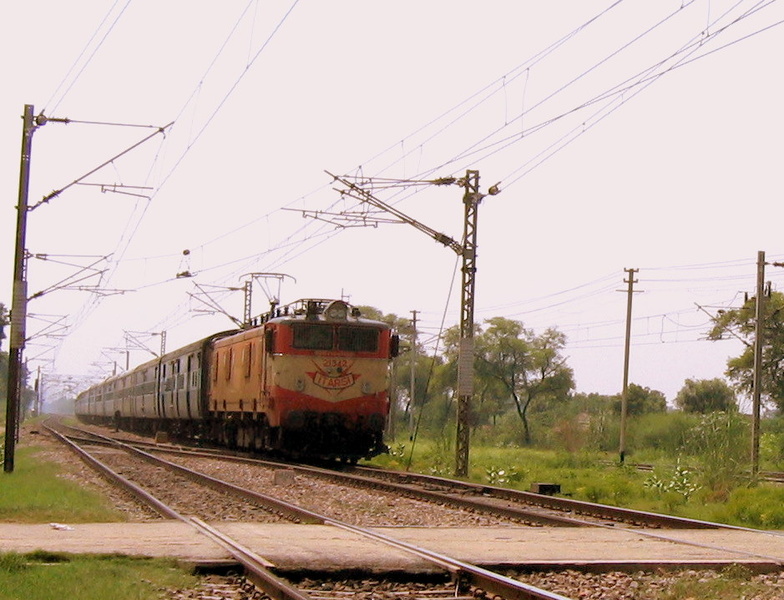 In came the CNB 22296 WAP4 in a Raj livery, hauling the 2627 SBC-NDLS KK (Karnataka Exp for the purists).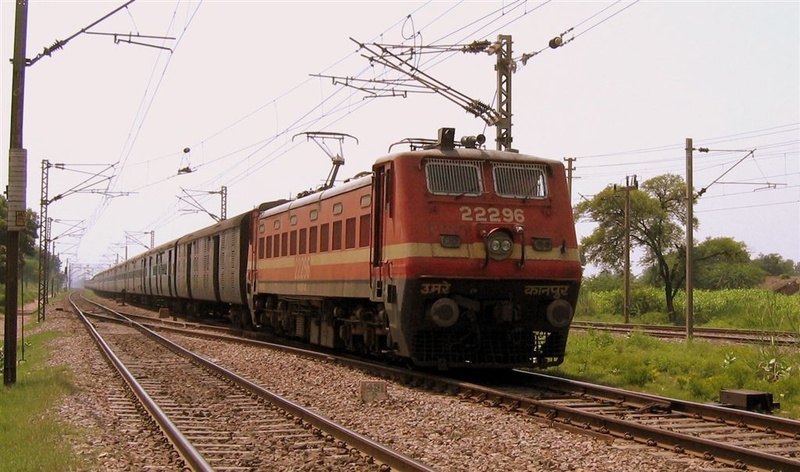 This used to be my secret 'flame' while based around PA/ANG, as I would never be able to use my Military warrant on it as the practicality to leave by the earlier departing Jhelum for NDLS would always trump over the wait demanded by the KK..
In another 10 minutes (1145h) came a shiny BRC 22057 WAP4 from PWL-end hauling the BCT-FZP 9023 Ferozpur Janata Exp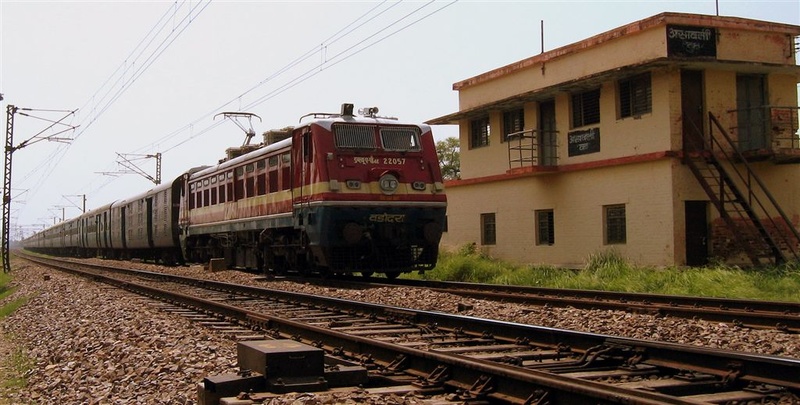 I could see the door-anchored passengers faces turn into a scowl as the 9023 slowed and then came to a dead halt on the platform at humble AST. From the NDLS side came a galloping, blower-friendly AJJ23245 WAG5 HA with the classic Maroon livery and twin lightning bolts - hauling a BCNA rake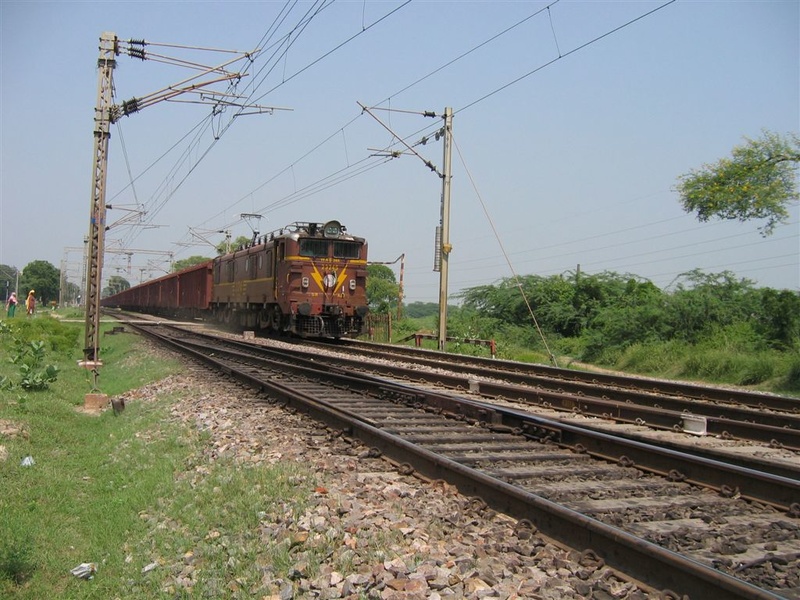 The 9023 was still undergoing a slow roast on the rotisserie of the sun in the past 15 minutes….. On the N-bound goods line came separated-at-birth sky-blue and gold striped WAG7 couple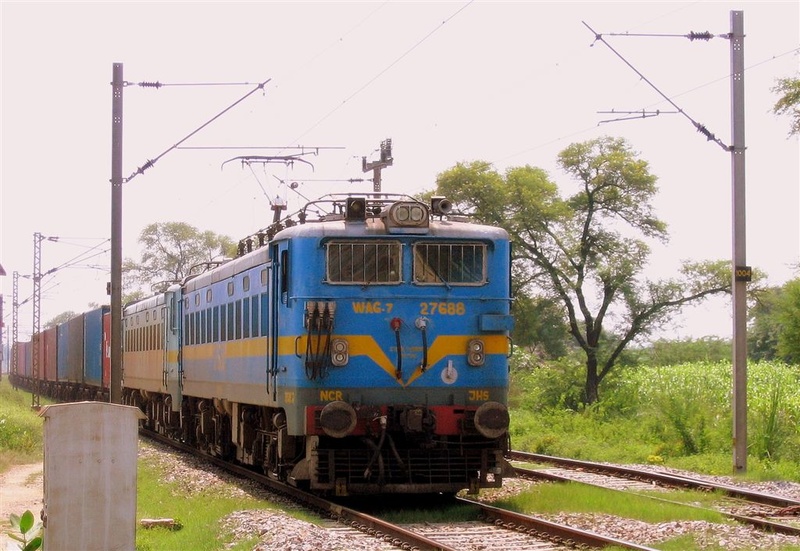 JHS 27688 WAG7 and dead TKD 27456 hauling a container rake over the freight line hump. I can only imagine the pain of the 9023 as the freight train overtook them on the loop line, quite clearly showing who the bosses are -! I had often heard that trains going North beyond NDLS get a raw deal - the DDN-JAT-FZR family, - at the hand of the controllers, so maybe there was truth in that.
As I was admiring the freighter, I heard a 2-tone horn from NDLS side - I scampered towards the LC and saw a hard charging Cream and Red BRC 22314 WAP4 hauling the NZM-TVC 2432 Raj.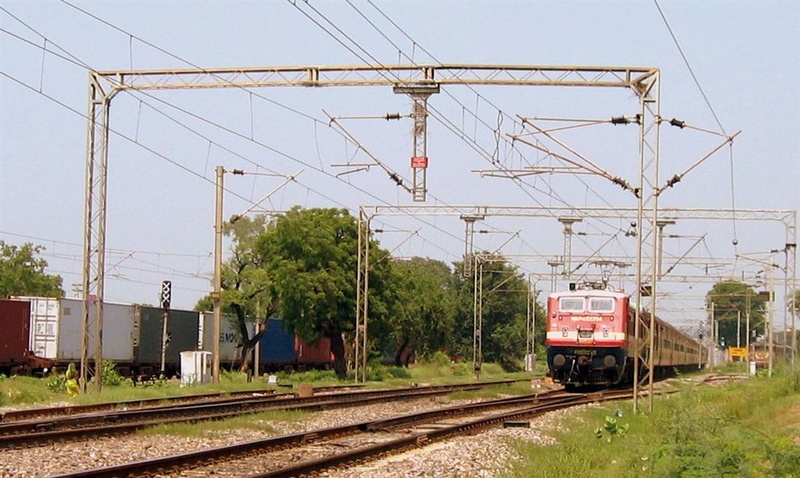 My first shot was a bit further out, and by the time I took the next the loco had half-crossed me, with a red-cream-blue mismatched EOG car.I had chosen the Mangala over the TVC Raj for my forthcoming trip from ERS to Delhi,, so maybe the Raj was making a point by messing up my shot, for my choosing the lesser Mangala..! The late-running 9023 had been mercifully let go after 30 minutes or so, but on the other platform side was another old friend, who seemed to be made to suffer just as ever in the 10 years since I travelled by her â€" the 1078 JAT - PA Jhelum Exp - hauled by a middle-aged LDH 20655 WAM 4P with a crappy Raj livery and 'DBC' and FP written upfront - a Footplaters loco? I thought:-)
The 1078 had stopped to let the TVC Raj overtake her and I felt reassured that in this WAP-dominated session, it was still nice to see port-holed WAM4 do their jobs in the autumn of their lives and that Jhelum was still the same under-appreciated self… the Jhelum did a leisurely S as it negotiated the points, with the loco reaching me as the trailing end was still at the platform.. in the distance from the NDLS end was another PWL-bound EMU, and I was grateful the 1078 wasn't made to suffer an overtake by an EMU (Electric Multiple Unit)…!!
As Jhelum slid past, in came a breezy looking rake with white-sky blue livery - BRC 22211 WAP4 hauled Kota Jan Shatabdi with snappy-looking white and sky-blue Chair Cars and a white banner bottom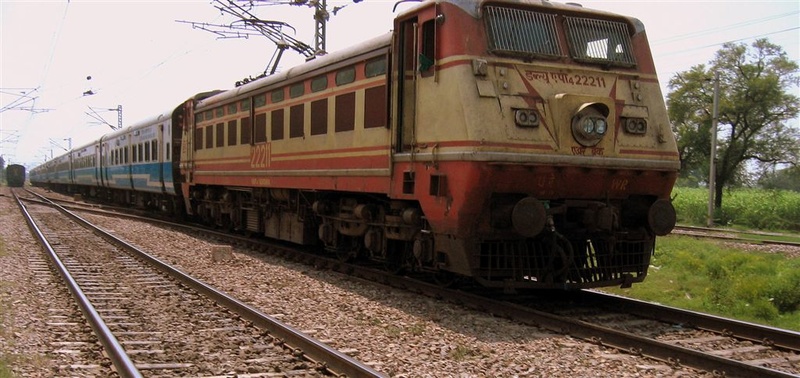 As the Jhelum receded in the distance, this new look cheered me up no end. Around 1230h came a raj-liveried GZB22036 WAP1 hauling the 2715 NED-ASR 2715 Sachkhand Exp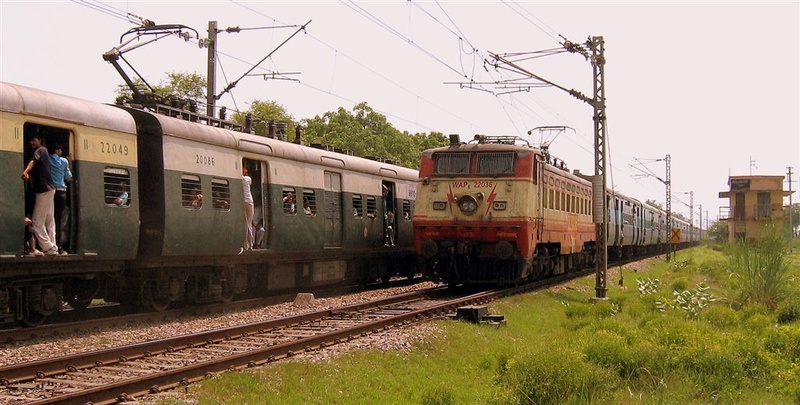 spot on time for a non Raj, non-Shat train… I was impressed… In the melee, yet another PWL EMU (Electric Multiple Unit)had crept up. At Asaoti, one has to take a constant look BEHIND, before looking in the viewfinder, and always keep safety first, esp if you are alone. The excitement is there, but the action can distract you in a snap if you are not paying attention to traffic on other tracks.
By now the heat was sapping my energy - LHB-raked BRC 22356 WAP4 2953 BCT-NZM August Kranti came in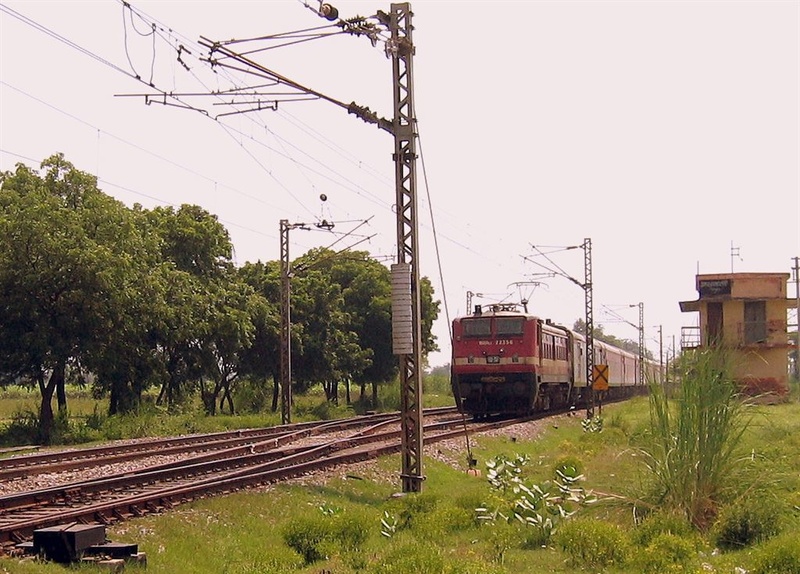 and I barely got a shot in. 1250h brought in the YPR-NZM 2649 KSK Exp hauled by a LGD 22594 WAP4.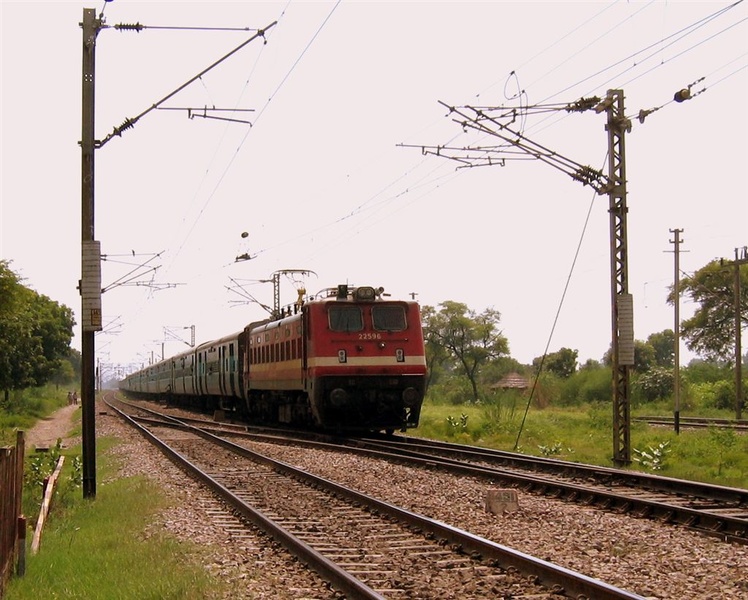 The MU-ed twin BIA Maroon-Green-Blue-Black WAG 5As (23043 & 23171) with their BCNA rake had crept up from TKD and parked on the loop line where Jhelum was an hour ago, and making quite a noise with their blowers.
!(faqthumb)http://www.irfca.org/gallery/openline/AsaotiShikhar/Picture+034.jpg.html !:http://www.irfca.org/gallery/openline/AsaotiShikhar/Picture+034.jpg.html
Sensing they would be around for a while, I headed for the hand pump and was soaking my hand towel and upper body when with a blur the 2626 NDLS-TVC Kerala Exp flew by hauled by a (ED?) WAP4. 9 out of 10 chances, I would have rushed for the camera, but right now the humid haze was like a blanket on me..It seemed other Kerala-bound trains were miffed over my choosing the Mangala (I dropped Kerala Exp as it would'nt have gone via KR) â€" as seen by the elusive shots of the earlier TVC Raj. Anyways, the twin-BIAs were panting hard as they pulled their load from a dead stop and in the process gave me 3 nice clicks as they ambled by. 1259h brought in the 2917 ADI-NZM Gujarat Sampark Kranti, hauled by (BRC?) 22561 WAP4P, running late by over 2 hours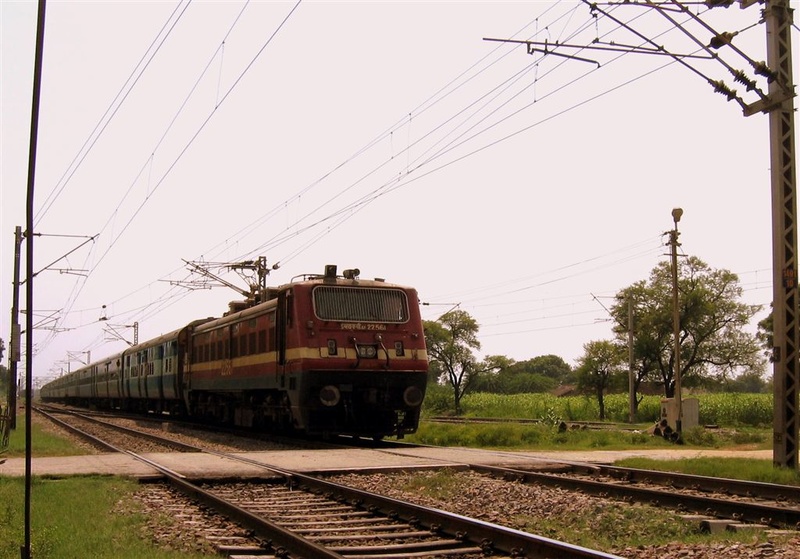 This was followed by a AJJ 20616 WAM4 6PE (21:58 ratio?) hauled Exp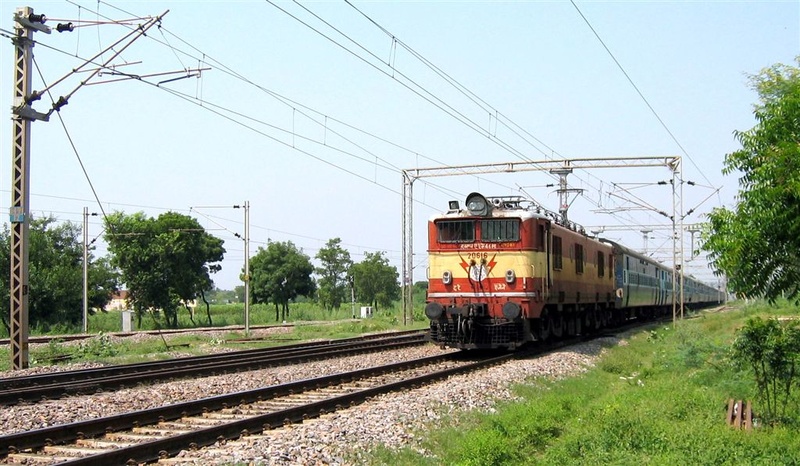 It was time to say goodbye to Devratan, as the sun had now come to rage on the spot where I had the bench.
I headed to the platform for a few of atmospheric shots and was soon surrounded by a couple of inquisitive urchins, who were giving their free advice on who or what to shoot. I was soon rewarded by a unique site of a electric-diesel combo - with a sky-blue-cream-striped TKD 27708 paired with a dead Shakti hauling a long BCNA rake.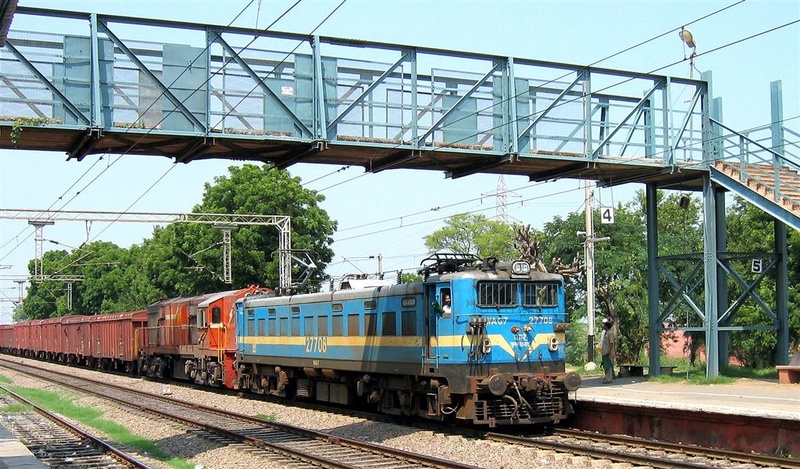 I saw a ET 20595 WAP4 hauling in the 2823 Durg-NZM Chattisgarh Sampark Kranti (my notes are'nt clear by then)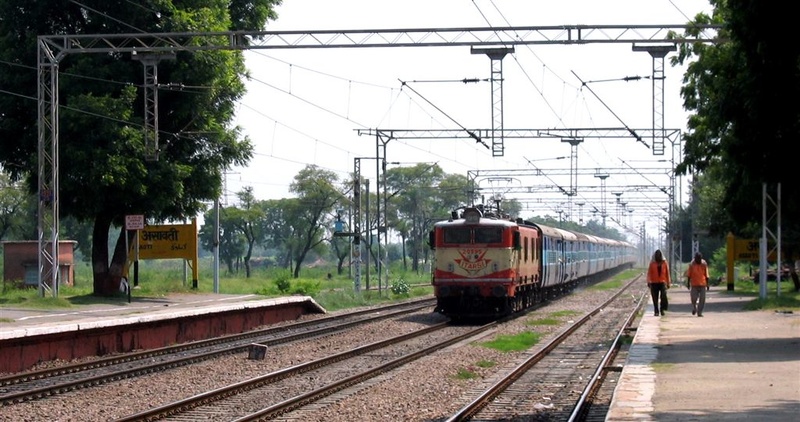 Took an snap of a station employee flagging the trains off close to a dead neem tree, under the foot over bridge.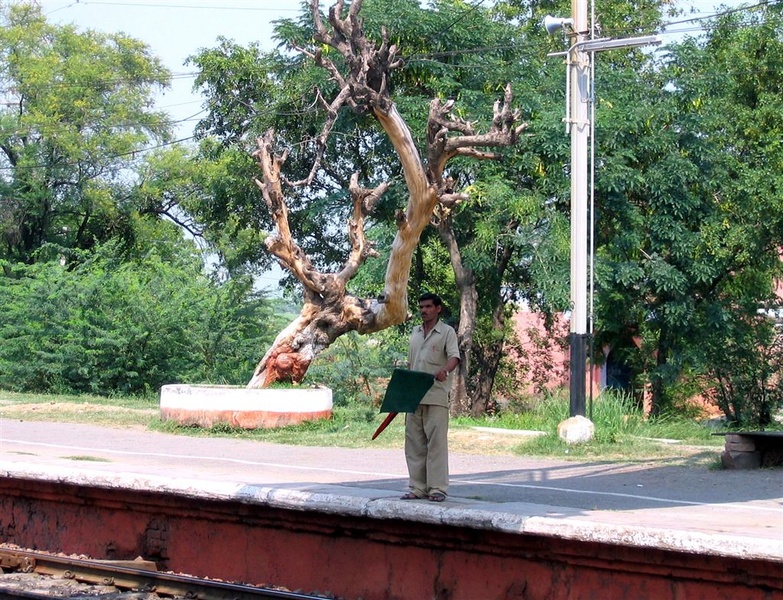 I hollered at him to stay still from the other side and he gladly obliged. I ambled over and showed him his mugshot on the screen and he was happy enough to twirl his moustache. My new found buddy and I flagged a passing MU-ed pair LGD 24438 WAG5 HA maroon BCNA rake towards PWL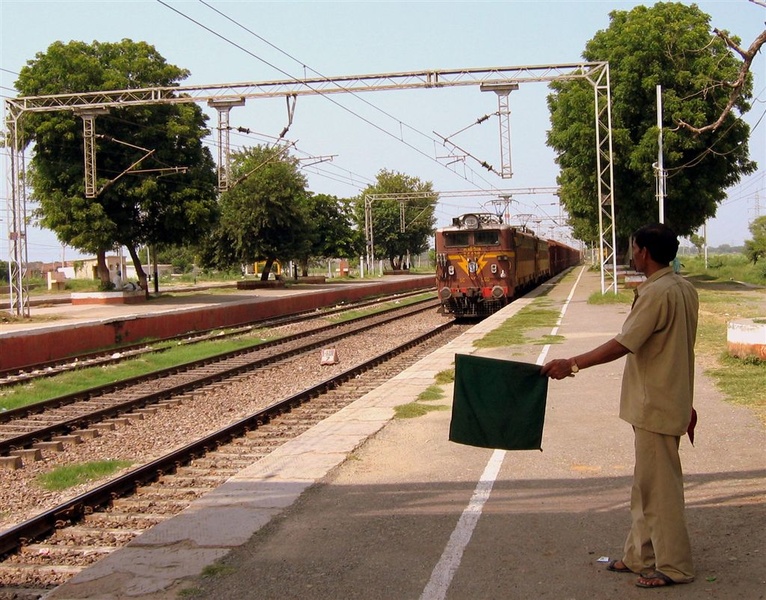 also a sky blue and cream striped CNB 27269 WAG7 BTPN rake towards NDLS on the middle line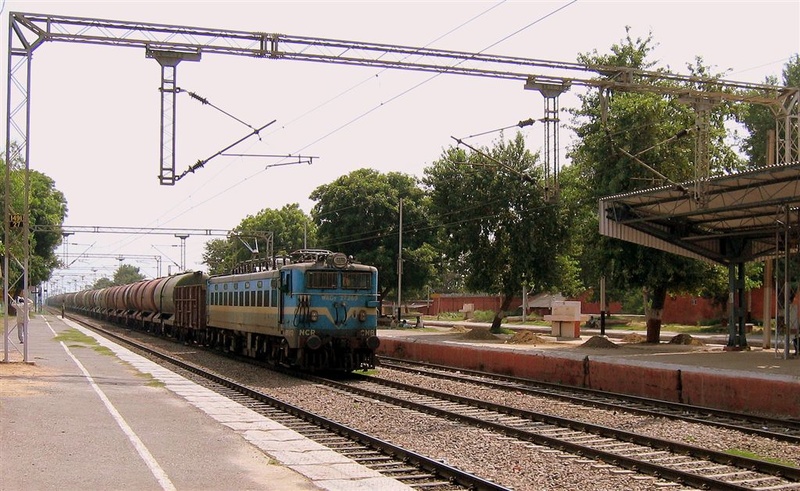 and a ET 20459 WAM 4 hauled Exp - probably one of the Up and Down 8477/78 Puri-Haridwar Kalinga Utkal Expresses that crossed within minutes of each other - the only case of both Up and down services I could see during my stay at AST.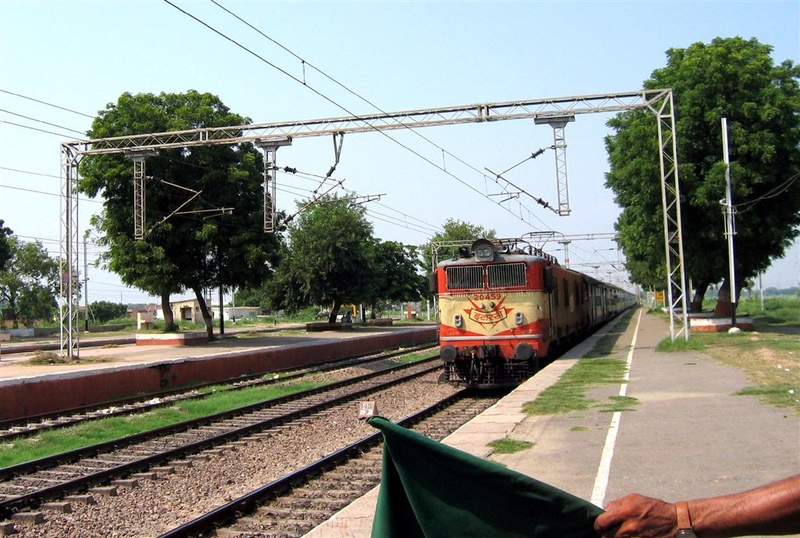 The freight line was determined to show it hadn't dozed off to sleep in the humid haze - I was rewarded by a shrieking PWL bound cream and maroon LDH 23252 WAG5 container rake, the first South bound action on the freight line of the day.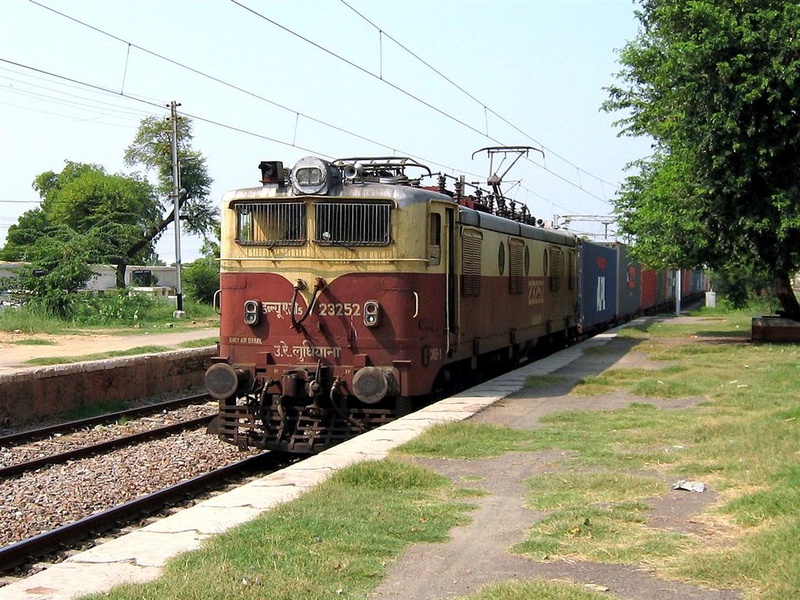 There was also a middle line taking PWL bound solo cream and maroon GZB 23808 WAG5 HR speeding past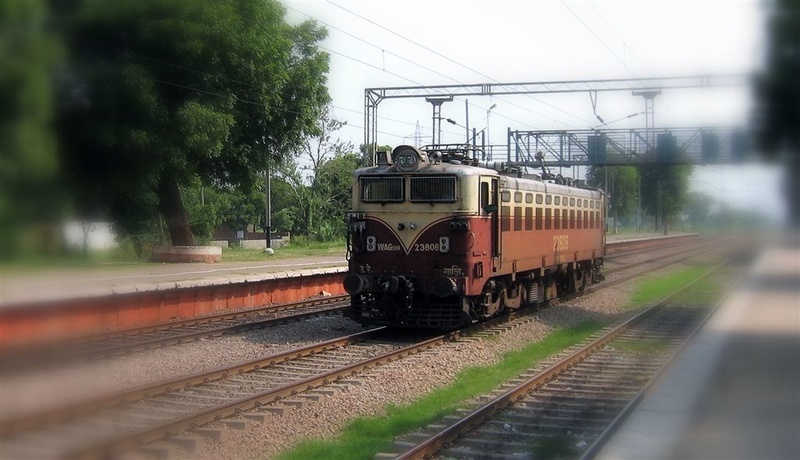 Also keeping me company was a sky blue and cream striped TKD 277xx (dirty sides) hauled container rake. And finally…. The BSL 20469 cream and orange liveried WAM 4 6P hauling the speeding 2617 ERS-NZM Mangala Exp reaching the end of it's 3000 km-plus journey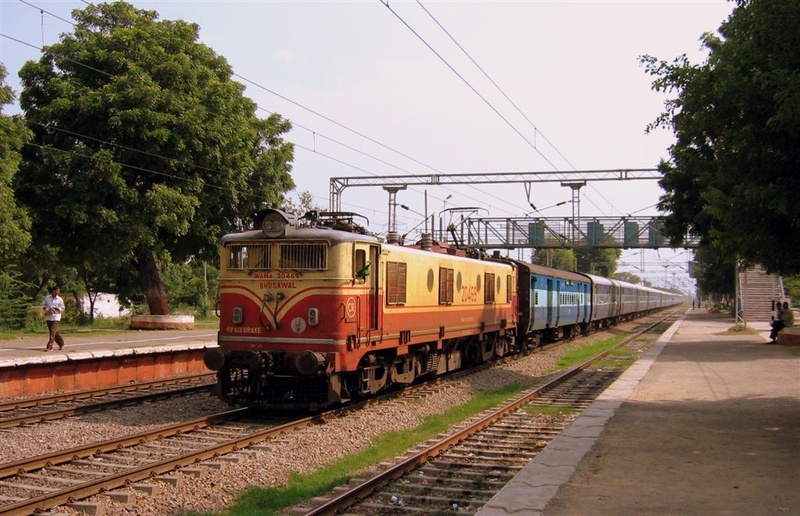 this would be my train in another 3-odd weeks as I board it from ERS to NZM. I was glad to see the train keep good time in its long haul and around 1435h was only an hour away from NZM for its 1510 h arrival…. Nice job..!
Also saw a 'clean-shaven' i.e. MU-cable less BRC 20490 WAM4 haul in the 2060 NZM-Kota Jan Shatabdi Exp with White and blue CC coaches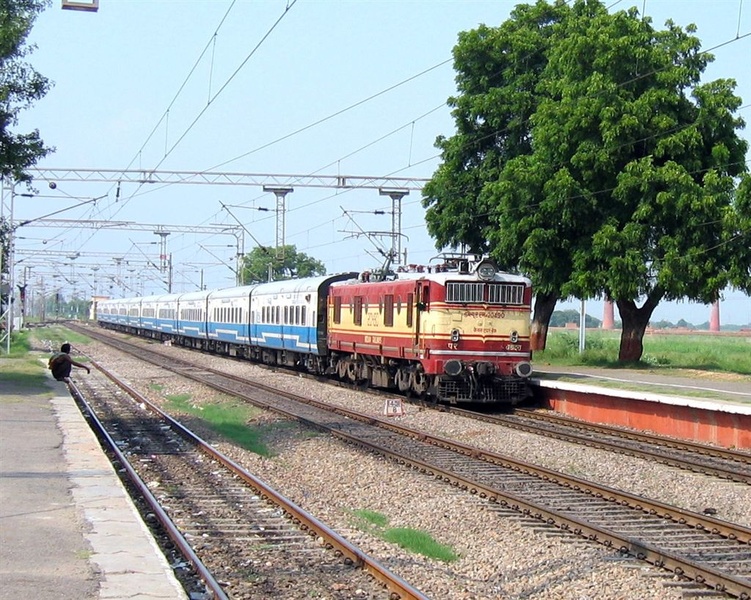 There was also the 22656 WAP4 hauled 2716 ASR-NED Sachkhand Exp on it's way to Nanded. Return was by the 1530h SSB bound EMU, where, I spotted a briefcase on a window and urged the owner to plant it elsewhere. In the sultry sun, this was one huge plus. Changed over to the Yellow and Red lines at NDLS and Kashmere Gate and hopped off at Kohat Enclave Metro station - fully 12 hours after I was there in the morning at 1730h… tired but delighted…(end)
---