The Great Circular Indian Railway Challenge
by Mick Pope
2011-02-17
---
I think I have now recovered sufficiently from this trip, after a gap of two weeks or so since it was completed, to be able to make an attempt to document and report on its progress. Why crave such an indulgence? Well it involved over 14,000km of rail travel, literally to the four corners of the network[give or take one or two points of argument] in a period of fifteen days with only two nights spent in an immobile hotel bed, although I swear I still felt I was moving on the first of those nights! It was entitled a 'challenge' and it must be said it was that and is something unlikely to be repeated very often, but then that is the point of a challenge.
Members may recall a posting on the Forum back in October 2009 inviting people to participate in the Great Circular Indian Railway Challenge. This met with a less than enthusiastic response and I got the feeling that the concept was not quite understood. Why rush such an epic journey? Why so little time for sightseeing and miss out some of the most famous tourist spots? Well I think this is a good example of the phenomena typified by the line in the old song entitled 'Only mad dogs and Englishmen go out in the midday sun'. We British do crazy things just for the sake of it to raise money for charity, like sit for 24 hours in a bath of baked beans and other stupid stunts. In this case it was to raise money for a railway related children's charity so the stunt seemed appropriate. I signed up immediately because a] I am a bit crazy, b] I like trains, c] I like India and d] I planned to be retired by the time of the trip and time was therefore available.
The planning process was exhaustive - see the thread on the IndiaMike Travel Forum to see how it evolved. I took a back seat in this as another regular Indian Railways traveller was signed up and he has extensive knowledge of timetables etc and we also gained the services of IRFCA's very own VSP. Issues that arose included just what counted as an extremity of the Indian Railways system, for example did the isolated stretch of the Jammu Kashmir line, completed after the plan was originally formed, need to be completed or would Jammu â€" Udhampur be sufficient [we decided the latter]. Another major problem was the cancellation of train services on some routes for various reasons, for example the landslide on the Darjeeling line and political unrest in West Bengal/Assam and Darjeeling all threatened major disaster to the planned route. Originally we had planed to take different routes in and out of the North East using the Rajdhani to Dibrugarh and returning on the north bank of the river by means of the Arunachal Express,. Sadly this was not possible as that train was cancelled throughout the period of our trip.It was also crucial that we did not miss any connections as this would throw the whole trip into potential failure. It was therefore essential to give sufficient connection times and to monitor delays for reason of fog etc, given the time of year.
We had an amusing diversion into what items of clothing and equipment to take, given the lack of hotel facilities for most of the trip. I agreed to try some disposable underwear of the type used in Health service hospital in the UK. I still wonder what scavengers made of their find at various points around India!
It was eventually decided that the non-Indian contingent would make use of three week Indrail passes as this was by far the most efficient use of our cash. This was debated at some length as it was grossly unfair to aspiring Indian participants as this facility is not open to them and trains would need to be booked individually, or could use be made of a circular ticket? We decided, after some debate, to use2AC although some participants wanted to do the trip in SL [not me I'm too old and decrepit for that â€" I need some home comforts!]. In the event only one Indian participant made the whole trip although others joined for a section.
It became clear to me that this was not going to be a trip that would satisfy my needs as a railfan and thus it proved to be as I found it difficult to take as many photographs as I would have liked nor to record the locomotive and locomotive changes en-route that the reader may have found interesting. I realised this was about survival! Therefore this trip report is more a general commentary on the journey and reflections on travel by Indian railways as experienced through the eyes, and other body parts, of a foreigner.
Prelude in Mumbai and Day 1 â€"the trip begins
I arrived at Mumbai International airport at 5-15am on Thursday 17th February and hooked up with Stoych from Bulgaria for the journey into Mumbai and the Chateau Windsor Hotel off Marine Drive where most participants planned to stay â€" a good choice price wise given the general level of hotel prices in the city. The other participants arrived through the day and most of the group met up at the International Café for some beer in the evening. The following day, while we waited for the evening departure on the 9005 Saurashtra Mail, we did various tourist activities although a priority for some was the purchase of tiffin tins. The theory was that the 'Tiffin Club', as they became known, would fill up their containers at strategic points on the journey thus avoiding the need to eat food provided on the train,or in case even that was not available. I must say I opted out of this club as I preferred to risk the pantry car meals or food from vendors rather than eat cold congealed food several hours old. It transpired that it did not work very well for the Tiffin Club and most of the containers in question were accidentally left on the footbridge at NDL on Day 7!
Before we departed mark made sure we all had a GCIRC 'T' shirt which were available in various colours and sizes, although I have the theory that Indian clothes only come in one size[small] and that they just have different labels sown into them! However I had at least one British manufactured XL size which I knew fitted me. We had planned to make a triumphant departure from Mumbai Central as it was known that the times of India were sending a reporter to do a story about the trip. An arrangement had been made for a band to play us off although no-one had really gone into the practicalities of this. Thus it should not have been too much of a surprise when the police and station staff rapidly intervened and we were told that the band had to stay outside the station precincts. There was some dancing in the street outside for the benefit of the cameras although we were somewhat disappointed to see that the photographer from the Times of India did not seem to posses a flashgun, it being dark at the time, and it was no surprise that we had eventually supply our own photograph for the article.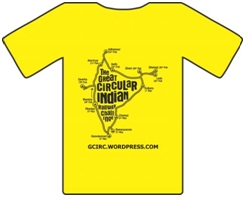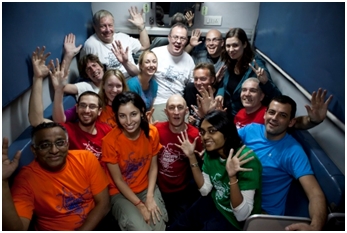 (Photo courtesy of Troy)
Eventually the party, comprising 7 from Britain, 3 from Australia, 4 from the USA, I from Singapore, I from Bulgaria and 1 from India boarded the train and we began the process, that was to become familiar, of making ourselves at home. We were watched over by 'Captain Shakti' in poster form [I won't go into details of his origins less it offends anyone] but he provided great amusement, and some puzzlement, to many passing through our carriage. I boarded with a meal from the platform kiosk consisting of veg curry, chappati, papad, sweet curd plus my first of many cups of chai.
Day 2 â€" Dwarka
It was at this stage that I realised that we had three lots of 'bloggers' in the party, one British, one Australian and one American. This meant three laptops and associated accessories which, added to the various phone and camera chargers, meant that the voltage available to power other services on the train was much reduced! Not a lot to report as it was night for much of the journey and I awoke somewhere near Sarendanagar. At Rajkot I think the train split or reversed. Dwarka was eventually reached on time and there was just enough time for the only railfan on the trip, ie me, to get a photo of WDM3 11196 which had hauled us on the last stage of the journey. We had what became known as a 'splash and dash' stop in Dwarka â€" a hotel room hired for a few hour to allow us to shower etc. We visited the temple precincts [Non-Hindus being not permitted inside] and really Dwarka had little more to offer including no obvious place to get a meal. We had a bus arrange to take us to Jamnagar as this made more sense in terms of our use of time that starting off from Dwarka or Porbander. We grabbed a quick thali in Jamnagar before boarding 9216 Saurashtra Express to Ahmedabad.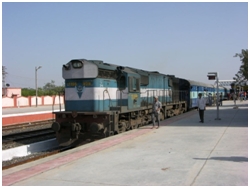 Day 3 â€"En-route to Amritsar
We were deposited at Ahmedabad at around 6am. Looking out into the early morning light it was apparent that this would be an interesting place for a railfan to observe for a while. I saw various pilot locos of classes WDS4 and 6 on the station approach and was reminded of a site rarely seen now in the UK where most passenger trains are DMU of EMU and require no shunting of stock.
We headed straight for the 'Upper Class Waiting Room' [a title that would never be acceptable in the UK where class consciousness is rife but reference to it strictly out of bounds]. We availed ourselves of the showers and I was reminded of the different approach to manners between my own country and India when various men cleaned their teeth then spat into the washbasin in which I was trying to shave - not that Upper Class then!
I recalled that I had last visited Ahmedabad in 1993 and that there was metre gauge around. Sure enough at the far end of the footbridge I spotted the unmistakable shape of some YDM4 in a rather effeminate lilac livery. I managed to photograph one at the head of a train before I spotted out of the corner of my eye the RPF man approaching. I realised that things had changed in the intervening years and so I adopted the 'act dumb' tactic. 'Oh am I not allowed to photograph the trains? Very sorry I am a visitor to your country'. Big smile but I was not going to push my luck and so retreated to the sanctuary of the Comsum outlet for a masala dosa. Seems like a good development although in typically Indian style service has to be complicated â€" to eat inside you must first get a docket from the cash-desk outside, then present it inside and there are different parts of the counter for drinks and food. It was while exploring the station precincts that I spotted the 'plinthed' W class 587 outside in the forecourt and recalled seeing its sister 574 at work on the Bilamora to Wagai line twenty odd years ago.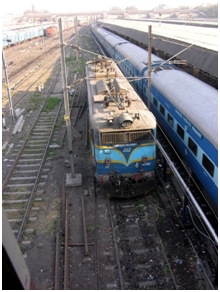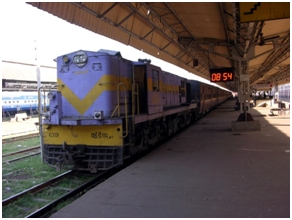 Day 4 - Amritsar
Suitably refreshed we had boarded 9223 Ahmedabad to Jullunder express heading for Amritsar although we actually lighted at Makhu so as to get into the city earlier by using a hired bus rather than take the, apparently, slow circular route that the train takes to ultimately arrive in the city.
Time for more tourist action. First we did the border closing ceremony at Wagah. Most of us found this entertaining and clearly the two opposing armies must get along quite well locally in order to choreograph everything so well! The two opposing crowds made me think of an England versus Scotland football game â€" nationalism at its most intense. Obviously the Golden Temple was the other priority and we did this at night and I rather regretted not seeing it in daylight â€" must go again. Some of the group availed themselves of free food in the temple but I had a meal in a local restaurant and had a visit from a cheerful cockroach running round the table. Perhaps he was a tourist too.
Day 5 â€" to the far North-West
We departed Amritsar at 01.10am aboard 9225 JAT Express. After a busy day we probably could have done with an earlier bedtime so it was no surprise that most people went straight into the horizontal position. Jammu is not the most welcoming of places in the grey light of a cold February morning as we were deposited onto the platform at 06-15 am. I was warmed up by the sight of a 'Jumbo' coupled to a non-Jumbo member of its class and I risked a photo.
We waited for the arrival of the Udhampur train which turned out to be a DMU. I was sad to see that such an apparently modern and futuristically designed unit should be so shabby and ill-cared for. The window next to me was cracked and jammed half open, the ventilation grills were missing, the seats ripped and walls covered with graffiti. At least the scenery going up into the hills was pretty, the bridges spectacular and we had interesting companions who were keen to chat. Udhampur station is impressively spacious and no doubt so designed with future traffic from the Kashmir Valley in mind. We 'jeeped' it into town for another 'splash and dash and I decided to rent a room by myself in case I needed a bit of peace and quiet. I ventured out in the afternoon for a tour of the town, which seemed to have little of any interest and it was a pity there was not time to explore the apparently pretty hills further afield. I did manage to photograph a shop-front strangely entitled 'Liverpool' [my old home] and another offering 'toyes, crackery and cosmatics'. I love Indian spelling of English which is probably better than English spelling of Hindi. Sadly my companions experienced one of several attempts to 'rip off the foreigner'. A wedding was taking place in the hotel and the guests invited some of the group to join the celebration. Later they found they were charged by the hotel for a small amount of food consumed in the wedding party, in spite of the fact that our leader Mark, an IT specialist, had spent some time building a website for the hotel free of charge.
So it was that we were quite glad to leave this second 'extremity' of Indian Railways at 19-05 on train 2446 Uttar Sampark Kranti Express to New Delhi.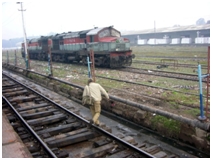 Day 6 â€" getting to Delhi [but not without a problem] and our first Rajdhani
It is not nice to be turned out of your berth in the middle of the evening and be threatened by men with guns! Ok, it was a misunderstanding on our part but we were just the innocent travellers and those with the lists should know better. On stopping at Jammu in the dead we were roused by the Ticket Inspector who wanted us all off the train as our berths were allotted to other people from that point on. Naturally this did not go down well as we had clearly had reservations through to Delhi. Half the party dutifully obeyed the uniformed one and got off while the other half started a 'sit-in', which prompted the call for armed support. The train started to leave but as if by magic the communication cord was pulled. I suspect Captain Shakti had something to do with that. This allowed more time to examine the problem which turned out to be a split booking. I should have spotted that as I had brought with me a download of the carriage and berth numbers for the whole trip as supplied by our UK agent. However my brain works slowly at night. In reality the Ticket Inspector should have spotted the 16 non-Indian names on his reservation sheet, albeit under different berth numbers. I suppose there is an explanation for split bookings but it makes no friends for Indian Railways among foreign tourists! We settled into our new berths and tried to get back to sleep.
In Delhi we had a hotel in Parharganj planned for a 'splash and dash'. I did not bother with any major sightseeing as I have been to the city many times and limited myself to the luxury of a chocolate croissant and a cinnamon roll in the German Bakery plus the obligatory 'splash' in the shower.
Afternoon at 14-00hrs saw us on the furthest platform at New Delhi awaiting the arrival of the Rajdhani rake forming train 2424 to Dibrugarh. We were seen off by our biggest fan, Dave Watson. Dave had discovered us late in the planning process on the IndiaMike forum. He was, with his wife, taking part in a holiday organised by the Darjeeling and Himalaya Railway Society but I have a sneaking feeling he would have liked to join us. Our paths crossed several times. The Raj departed behind a WAP 4.
Sadly we had lost one of our party in the northwest although it turned out to be the only time this happened. Tim, one of the US contingent, had suffered the dreaded 'Delhi Belly' even before starting the trip and had made no improvement. He returned to his temporary home in Delhi but I guess it was something more serious as he had hoped to rejoin in Delhi but failed to do so.
Day 7 â€" On the Raj
This was my first Rajdhani and the prospect of about 40 hours on the train was balanced by the service and non-stop arrival of food and drinks. I must admit the menu got a bit predictable by the second day and the train staff were a little too cheeky at the end of the journey when they not only demanded a tip but also specified how much was required! We fairly rattled along for much of the journey and kept good time. I had little opportunity to check out what was pulling us but a quick walk around at new Jalpaiguri found WDP 4 20002 in charge and in a striking dark blue livery, so much more attractive that the usual pale blue and white.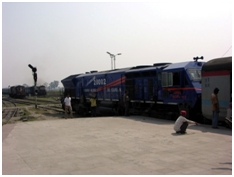 Day 8 â€" Assam, the local to Ledo, our furthest east point, and Tipong Colliery
There were times just before we set off to India that we thought we might not make this part of the journey as all trains had apparently been cancelled for a week or so beyond Gauhati. However we did it and arrived at the terminus in the early hors while it was still dark. The waiting room was locked, from the inside by its only occupant who had to be awoken from his slumbers by fierce banging on the door. A few brave members had a very cold shower while others explored the waking town. One member of the party, a trained nurse, came upon a man suffering from quite severe injuries and offered some first aid although we never found out the history behind his wounds. At last the tea stall opened bringing joy to everyone and I was able to photograph the loco destined to power our local to Ledo as the weak morning sun rose.
There was plenty of room on the local and we crawled slowly to our destination passing the big refinery at Digboi. It was clear from the reaction of the locals at Ledo that tourists do not often reach this part of the world. One shouted at us at some length although we never really found out why, perhaps she was just deranged. We had planned a visit to Tipong Colliery although our leader had given a low profile to the information that no agreement had been reached for the visit. We bounced in a fleet of autorickshaws up the rutted road to Tipong. The extent of coal mining was apparent along this road and there were rakes of wagons being filled. What was also apparent was the 2' gauge track following the road almost all the way to Tipong. This was obviously unused now as a whole bridge was missing at one point and the track covered with dirt where side roads crossed it to dwellings.
We reached the gatekeeper at the colliery and a quick exchange saw us waved through and we bounced down an even more rutted road into the steep valleys where the colliery is located, noting other stretches of 2' gauge track along the way. We also passed the loco shed were I could see the front of a narrow gauge diesel tantalisingly poking its nose out. We arrived at the operating shafts or should I say tunnels as it is a drift mine. We were allowed to explore this area and I noted the narrow gauge 'tubs' that were hauled from underground loaded with coal and also saw some loaded with pit-props. Sadly we were told that 'David', the narrow gauge steam loco built by William Bagnall of Stafford was no longer operated on a regular basis, only when requested by visiting enthusiasts. We were allowed to view it, having seen one of the diesels fired up to pull into the sunlight, and the two ex Darjeeling 'B' class locos that rest in the back of the shed.
We bounced back into Ledo and went in search of the Singpho Eco Lodge which proved to be down another very rutted road and I began to wish I had invested in Kevlar underwear rather than disposable. The promised shower facilities at the eco lodge were rather less than expected [one shower] but a jug and bucket in the washroom are better than nothing. Things looked up with the beer that arrived â€" He Man 9000 at 8% proof- and that guaranteed that the posterior parts would be anaesthetised for the journey back to new Tinsukia.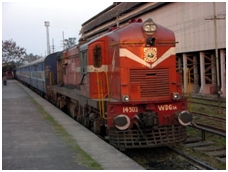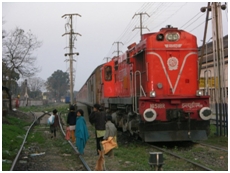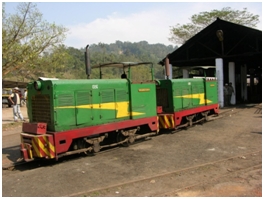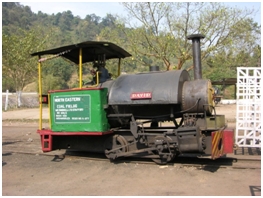 Day 9 â€" to Darjeeling after a beer with Mr Watson
At New Tinsukia we boarded our first 3AC for the journey on the eastbound Rajdhani. It is a bit of a squeeze for my 6' 2'' rather rotund body to fit in the middle or top tier[for once I did not get the bottom birth accorded to me by my advanced age]and it required a sort of diving action from the end of the berth to achieve entry. We did get transferred to 2AC at Gauhati but, at 5am, I think I would have preferred to stay in 3AC.
We arrived in New Jalpaiguri and my sentiments would be 'hope the old one wasn't worse than the new one' but perhaps this was just the result of accumulating fatigue For the first time we were beset by beggars in large numbers and I guess this is a focal point for tourists heading for the hills and so is a good hunting ground. One very irritating and well dressed man, with an equally well dressed boy of about 10 who was allegedly his nephew, tried to persuade me to give him large quantities of money. He persisted in trying to justify this with a long explanation in spite of my giving off signals that I was running short of patience. Eventually I very pointedly gave some money to the very old, crippled, lady who was tugging on my trouser leg.
The majority of the group sought transport to Darjeeling but Mark and I had been promised a beer by the aforementioned Dave Watson if we met him at the Cinderella Hotel in Siliguri. We found that hotel but Dave's party had not arrive and so we lunched. Time was running out and so when they arrived we had a quick beer and sought transport only to find that jeeps were hard to find in the plusher suburbs and the hotel offered to find one at Rp 3800 which sounded rather expensive. A taxi ride to the centre of town eventually resulted in us getting one at Rp1500. The alternative route to Darjeeling was another bottom numbing, head banging, experience but we were rewarded by the exceedingly friendly Shangrila Regency Hotel. En-route I had noted two or maybe three'B' Class locomotives at Kurseong. I ordered a quick fried rice and yet another beer [this must sound like the Great Indian Circular Beer Challenge] and crawled into a very welcome bed and slept under three blankets, it being very cold.
Day 10 â€" Steam glorious steam!
As the only railfan on the trip I headed straight for the station having not researched the current service on the line following the landslide and termination of through trains. I was pleased to see that there were two or three 'Joy Trains' running â€" how I wish they would not use such a patronising name - plus the normal diesel hauled service [NDM6 602]. I took many photos and booked onto the second of the 'Joy' trains,. This involved filling out a reservation form which seemed a little excessive â€" can't they just have a set number of tickets on a first come first served basis? It seems that there are usually two locos in steam at Darjeeling [791 and 804 'Queen of the Hills' on this occasion]and it is possible to see both standing in the shed together at certain times. I had forgotten that there is a turntable at Darjeeling â€" not sure if it sees any use these days?
I enjoyed the trip up to Ghum and the stop at Batasia and was pleased that two other members of the group chose to ride the train. I was horrified to calculate that it was twenty eight years since I had last made that journey. I spent the rest of the day wandering around the town and was intrigued by the two rolling beggars [I had heard of rolling sadhus] pushing their brass begging bowls in front and singing a tuneful duet.
Contrary to the views of several other members of the group, I like Darjeeling. Sadly it seems to shut by 8 o'clock in the evening and one could go hungry if not aware of that.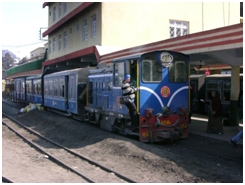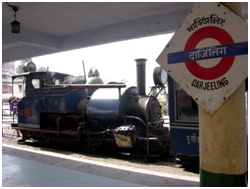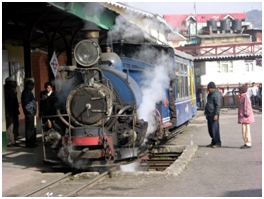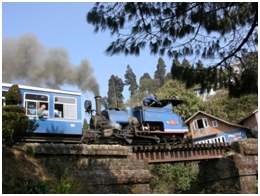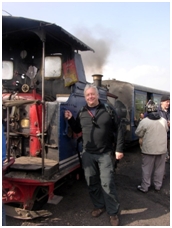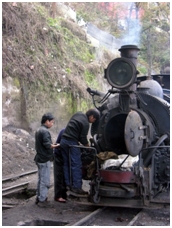 Day 11 â€" Downhill all the way to Kolkota
A cunning plan was hatched by Mark and his friends, to whom I was mostly attached for the trip. A jeep was hired with the instruction to pick them up at Ghum where they would alight after a trip on the train. I chose to stay in the jeep and chase the train to get some photos en-route.. This worked quite well. I had the luxury of a front seat on the downhill journey and we passed Mr Watson and the Darjeeling and Himalaya party at one stage as they inspected their hired steam train during a station stop.
We awaited 2344 Darjeeling mail at New Jalpaiguri where the station refreshment room lived down to expectations. The worst meal of the trip â€" no choice just a thali in which every component was cold and virtually tasteless.
Day 12 - A day in Kolkota
Arrival in Kolkota Sealdah was very early in the morning and I recalled having photographed SGS 0-6-0s on pilot duty when last here in 1980. We foolishly decided to take the trip to Howrah by ferry, not realising that they did not start until after 8am [or at least from the wharf were we were dropped]. Apart from two other tourists, from Indonesia I think, we were the only passengers.
We passed Howrah station as we looked for our identified 'splash and dash' hotel â€" on of the small ones located just over the road from the station. Getting a room proved to be a long-winded process and my temper became quite near to exploding point as we were required to individually register using a very extensive form which required information such a 'father's name' whereas larger hotels just take your passport for an hour or so and complete the register themselves. The breaking point came when I offered up a Rp500 note as part of advanced payment only to have it rejected because of a 1cm tear in the note. In response I paid in smaller notes and made the clerk check every one for damage! The room was hardly worth the money as I think I got dirtier whenever I touched anything in it and my feet were washed at the same time as my face as the washbasin had no pipe connecting it to the waste! At least I could watch a bit of cricket on the, amazingly, functioning tv.
Departure time approached and I made my ay over to the station with one helpful bit of information from a member of the hotel staff who advised that the departure platform was in the new bit of the station. Howrah has most facilities one could ask for in a station and a good meal was obtained in the a/c upstairs portion of the refreshment room. I had misread the departure tiem and there was some anxiety that the Coromandel Express was running late but we had just got the departure time wrong. Some of the party who had chosen to tour the tourist sites and had not got the information about the two bits of the station cut it a bit fine but we all got onboard eventually. I was in one of the combined 1AC and 2AC coaches and thus could see what I had missed by choosing the lower class.
We departed more or less on time at 14-50 and settled in for the long journey to Chennai. I was reminded of how lush the countryside was as we left the city.
Day 13 â€" On the Coromandel express and a brief meeting with a celebrity railfan
Nothing much to do but to watch the passing countryside dotted with brickworks and stacks of drying cow-dung patties in artistic patterns. I had missed the Chilka Lake crossing as made famous by John Lacey. We were joined, I think at Visakhapatnam by none other that the famous VSP, V Srinivasa Prasad, who stayed with us until Vijayawada. VSP had been involved in giving advice early in the planning process. He was heading back to Hyderabad but was fortunate to see his favourite express cross us on the way â€" good planning!
We rolled slowly into Chennai, the green and cream EMUs giving a clue to our proximity to the city. E passed Basin Bridge which was packed with locomotives including large numbers of WAP 4. I recalled visiting there in the fading years of steam when the equivalent WP pacifics were still present and well looked after.
We were met in Chennai by JP, Jean Philipe, an Indian resident of French Canadian origin who usually travels around India by motorcycle and 'The Jag', Jaginar Singh, who had travelled down from Delhi. They remained with us for the remainder of the trip. The party split between those who took rickshaws to Egmore and those who took the EMU. I chose the former as I had expected the trains to be crowded and our luggage would have created an encumbrance to other passengers. We lost the train contingent for a while as we were hungry and headed for a recommended restaurant across the road from the station where I had a very tasty masala dosa with exquisite chutney followed by an enormous ice cream [one gets to excuse such excesses as a reward for the discomforts of the trip!].
At 21-40 we departed on board 6701 Rameswaram Express and I found myself in 3AC again and the party quite split up around he train.
As arrival time approached I was eagerly awaiting sight of the Pamban bridge and was not disappointed as, 'doorplating', I saw it come into view as the long train passed round a left hand curve. What a magnificent, and slightly scary, sight it was as I peered out of the door to see nothing but the sea below. Difficult to hold a steady camera without fear of lurching into a mid-morning swim! Rameswaram is a pleasant terminus station and I was able to photograph WDM3a 14055 running round the train.
In some ways I should have stayed on the station as, having no religious investment in this place, I found little else to recommend it. We split between various small hotels and I got mildly 'ripped off' when I booked a double room which the rate card clearly showed as being Rp900 but for which I was charged Rp1000 and when I suggested one of my companions share, it being a double room, I was told the rate would double for some reason I could not understand. The auto-rickshaw driver had also overcharged, no doubt also getting a commission from the hotel owner. I had a look at the temple from outside but did not choose to enter. I might have been lucky as one of the group had his sandals stolen from outside, wore a replacement pair that did not fit well and went home with swollen and infected feet. Sadly close proximity to holiness does not always engender good behaviour in people. I thought the beach was disgustingly dirty for a place of pilgrimage and potential tourist interest. I needed cash and queued outside an ATM booth for about thirty minutes while a series of people had their cards apparently rejected â€"don't know if they had reached the limits of their credit or the cards were stolen. It is hard to operate an aTM with about two dozen pairs of eyes drilling into your back and at least three people trying to enter the booth with you. Anyway it gave me cash.
In the evening, after a day on my own, I ordered food in the refreshment room at the station. The staff were delighted and amused to have a 'foreign visitor' as a customer and the food was good.
We departed on board train 2789 Raweswaram â€" Cape Express at 20-45.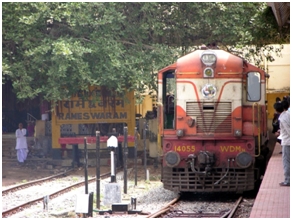 Day 14 â€" The Southern Tip at Daybreak, a rocky ride to Nagercoil and a visit to the beach
Arrival at Kanniyakumari was at 04.05 in darkness but the station was busy with pilgrims. There was some debate about alternative choices of onward travel. There was some doubt about earlier train departures fro the station as track work was in progress and so I decided to take an auto-rickshaw to the beach and then figure out a way to get to Nagercoil by road.
The beach was quite eerie being so crowded but still dark. Some chai was consumed while we waited for the sunrise. We refused the offer of 'genuine pearls' in the form of necklaces as they looked suspiciously like glass to me.
The sun did not really make a spectacular appearance as there were clouds on he horizon but it was interesting to share the experience with all the pilgrims, several of whom wanted photographs of us and we reciprocated. Eventually we slipped off to find some transport to Nagercoil and I shared an auto-rickshaw with John. The driver took our request to get us to Nagrcoil in time for the train very seriously as he explained that the main road was closed [a theme of this trip] and he drove like a maniac. We were sobered when he pointed out the site of the fishing village where thousands died in the tsunami.
We got to Nagercoil in good time and located the local to Trivandrum which was nearly empty on departure but filled up as we progressed. I was impressed by the Kerlan scenery and how tidy the towns and villages looked. There was a rare nasty moment when one of our female travellers was accosted by a male while seated alone. Jags, like a noble Sikh warrior, threw him off the train! On arrival in Trivandrum I wanted to get to Kovalem and the next rest point as soon as possible so Bella, another traveller with enough money to splash out now and then, and I hired a comfortable white Ambassador while the riff raff bargained for an auto-rickshaw for 6.
We found simple, cheap rooms in Kovalem and eventually most of the group met up in the German Bakery for one of those moments when all the discomforts seem worthwhile. A cold beer [last of the trip] and a plate of tasty pakora taken while watching and listening to the waves breaking was just so relaxing.
Back in Trivandrum we had just enough time to try out the famous coffee house.
Day 16 â€" Goodbyes and the end of the Trip
Our last train was fittingly a Rajdhani, the 2431 to Delhi. We had begun to lose members of the group. Stoych had split off in Chennai as he had a business appointment in Dhubai. Andrew dropped off in Ernakulam to meet his girlfriend and most of the American and Australian contingent dropped off in Goa when we stopped in Margao. I was sorely tempted to get off here as I knew I was going to be passing through very familiar territory as I frequently 'lineside' the stretch of track from here to Majorda. It was funny to be passing over the two great bridges over the Zuari etc, which I normally see from the bus en-route to Panjim and the north of Goa. We were split up around the train again and I was sharing a compartment with a very pleasant widow from Trivandrum who owned a clothes shop and was on her way to see relatives in Delhi. More familiar Rajdhani meals came and went.
Ultimately we reached Panvel and the end of the trip for me. Mark and friends were heading for Matheran but I was unable to join them as I had foolishly agreed to a business appointment in the local Family Court at home which turned out to be cancelled and so I was doubly annoyed! Usha and I had both got early morning flights, me to Manchester via Istanbul and she to Shanghai where she studies medicine. We soon discovered to our horror that there were no taxis at Panvel and it seemed a long way round to travel into Mumbau early on a Saturday evening only to travel out again to the international airport. I am afraid I could not work out how I might have done this by changing at some point before central Mumbai. We therefore took an auto-rickshaw to some unknown point at which we got a taxi to the airport. As we were very early we were obliged to sit in the 'waiting area' until the gates opened and managed to grab a few winks of sleep resting on our backpacks.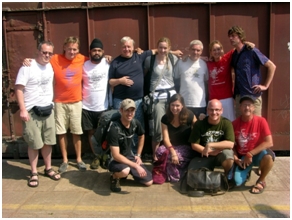 Closing Comments and What I have Learned
Ok so I am not a newcomer to India unlike the majority of my fellow travellers so I knew what to expect. At 63 I did wonder about my physical capacity to endure such a journey. My insides are pretty much immune to Indian stomach bugs although I regularly get a bad chest and this trip was no exception. Some of my companions were less lucky but only one suffered badly enough to drop out and most were surprised that eating 'platform' food and in some less than hygenic looking places did not result in problems. Most of the participants got a cold.
I think everyone thoroughly enjoyed the trip and survived the rigours of nearly constant travel remarkably well. I got the impression that everyone loved India which is a place one either loves or hates and no-one with any doubts would have tested the waters by going on a trip of this kind. We got on pretty well as a group particularly as this was a group that was at least semi-leaderless and as such nothing went monstrously wrong. Having the two nights in Darjeeling was a useful cushion that would have allowed us to catch up had any trains been very late of missed in the first part of the trip. I came home feeling exhilarated that I had taken part in an adventure that would stick with me in my memories for the rest of my life.
I would like to thank Mark for having the idea and undertaking the planning, with help form Steve and others. I would like to thank Indian Railways for running such a magnificent railway network so efficiently. No-one in the UK railway industry could imagine how different it must be to operate so many trains over such massive distances. There is room for improvement over the physical condition of the passenger rolling stock but I accept that keeping it clean and tidy is something that will have to improve as the population of India becomes more wealthy and better educated. It is also rooted in the climatic and operating conditions. No developed country would tolerate toilets that deposit their product directly onto the track for example. While India is experiencing massive economic growth it is apparent to a visitor that the impact of this is unequally experienced by the population. Parts of India are clearly up to 'first world' standards in terms of standards of living but much remains rooted in the third world. Whether economic growth will see wealth more equally shared or whether its origins and basis are in a low wage/low cost system remains to be seen. However I would like to thank the majority of the Indian population for its kindness, generosity and good humour that outweighs the behaviour of the odd scoundrel in its midst. I shall be back later in the year for a more relaxing visit.
For those wishing to read alternative accounts of this trip, and to see more photos please follow these links â€"
And if you think you want to do something similar look at this! The Second Annual Great Circular Indian Railway Challenge
---